April New products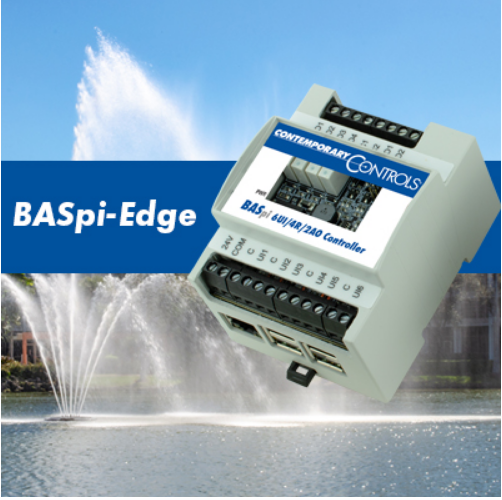 The BASpi-Edge provided the affordable and compact solution
to control the fountains at a university. The schedule of the pumps and lights for the fountains were controlled by an electronic timer, but integration to the Building Management System (BMS) was difficult due to the lack of conduit for low voltage wires to the electrical/control panel. Using a BASpi-Edge with BACnet/IP over Wi-Fi allowed the integration of the fountains to the BMS.
The BASpi-Edge is a 12-point cloud connected BACnet edge controller powered by Raspberry Pi. The Building Systems Manager, used three relay outputs to control a fountain pump, filter pump and lights. Two binary inputs were assigned to read the run status of the pumps. One of the universal inputs was setup as pulse input to connect to a water pulse meter and calculate the makeup water in one hour and send an alarm if it goes above a normal threshold. Alarms were setup for any mismatch between command and status of pumps, and email notifications are sent to facilities personnel so they could respond proactively.
The BASpi-Edge and BASview3 were instrumental in helping the Karl Corporation convert an older BEMS in a commercial multi-story tenant building to current technologies.



Automated Logic's latest OptiFlex™ controllers for the WebCTRL® building automation system help provide comfort, control, and energy savings today, while also supporting the control networks of tomorrow. The new controllers are the latest addition to the OptiFlex family, Automated Logic's current generation of flexible, scalable building controls. Automated Logic Corporation, a leading provider of innovative building-management solutions, is a part of Carrier Global Corporation (NYSE: CARR), the leading global provider of healthy, safe and sustainable building and cold chain solutions.
Echoflex Solutions' wireless capabilities and scene support make it a powerful choice
for designers and installers alike. New high-voltage versions of Echoflex's popular controllers that support 240-347 VAC input bring their amazing features and ease of use to all venues, no matter what type of power they run. This high-voltage option is also available on Echoflex's Power Load Controller. The new model of Power Load Controller (ELEDR) gives users scene support and motor control in one compact, powerful package.
Get off your butt and get one of these robutts - big smile

Scout is an autonomous home robot for intelligent monitoring. Equipped with many advanced sensors and AI algorithms, Scout is an ideal assistant for home monitoring with no blind spot. Its capabilities include object recognition, voice control via Amazon Alexa, and monocular SLAM (Simultaneous Localization and Mapping).
Robot security guards are on patrol at Abu Dhabi's largest mall to help keep shoppers safe during the Covid-19 pandemic.
Two robots equipped with surveillance and thermal cameras roam the floors of Yas Mall every day and night to report live to the operations room.
The sophisticated security team was drafted in to ensure "an extra eye" is cast over the sprawling venue when upholding health and safety measures have never been more important. "If people are not wearing their masks, they are reported to the control room and are then reminded to put on their masks," said Yasser Al Marzooqi, head of retail at Aldar Properties, which manages Yas Mall.
Abu Dhabi's Yas Mall Uses Robots To Enforce Social Distancing