InterNet / IntraNet Interface is HERE!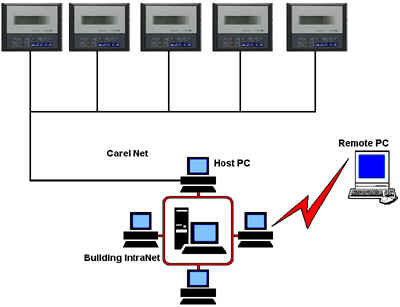 DGH Systems is proud to announce our new InterVisor software for Carel controls. This new software allows Supervision of Carel controls through a web browser over a building IntraNet or through the World Wide Web.
Imagine – no more tedious polling of remote sites by modem! 1 site or 1,000 sites, they all go to your website.
Just check your Email!
For more information visit the site at http://www.dghsystems.com/
---
THE COMPLETE LINE OF DIGITAL ENERGY MONITORS FROM SIEMENS BUILDING TECHNOLOGIES MEASURES ENERGY TO OPTIMIZE EFFICIENCY
Joining the Digital Energy Monitor (DEM) 1000 is the DEM 2000. This family of innovative, affordable meters -- from Siemens Building Technologies, Inc., -- measure energy consumption (kWh) and demand (kW), and now provides valuable power diagnostic information. A key component of the Siemens solution for utility cost management, the DEM helps managers improve the assessment, management and prediction of energy costs. The new DEM 2000 now enables managers to not only better understand their facility's energy usage but also gain insight on the characteristics of the energy they are using. The digital power transducers have direct connection to the Floor Level Network of the APOGEE(TM) Automation System. And both series' transducers can connect to new or existing field panels in the APOGEE system such as the Modular Building Controller, Remote Building Controller, Floor Level Network Controller or Stand-alone Control Unit.
The DEM family combines a state-of-the-art communicating microprocessor-based power transducer and high accuracy split-core instrument grade current transformers in a single package. In addition to measuring energy consumption and demand, the new DEM 2000 measures other power diagnostic information such as apparent and reactive power, power factor and a variety of voltage and current settings. Using the data, managers can better understand energy baselines or load profiles, identify equipment performance problems, determine equipment and system efficiency solutions, forecast building demand, and support budgeting and cost allocation applications.
"Traditionally, customers use building automation systems to collect energy use data, which requires separate meters to relay the signals back to the field panel," says Product Manager from Siemens Building Technologies. "The DEM only needs wiring for the direct connection to the Floor Level Network. This unique design means fewer parts, reduced wiring and much lower installation costs."
For more information about Siemens, visit www.sbt.siemens.com.
---
Dynalite Releases ControlSoft™ User Friendly Control Software
Dynalite has released ControlSoft™, an easy to use software package specifically designed for simple end user control of Dynalite lighting systems. ControlSoft features: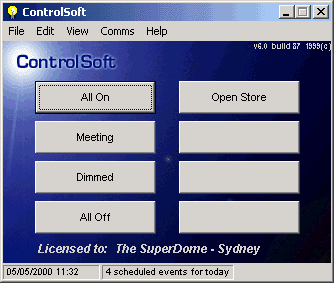 On Screen "Virtual Control panel" - that is completely user reprogrammable (ie: Virtual buttons with "English" names - "Foyer to Morning Setting", "Home Theatre to Audio Visual Mode" etc.
Scheduler - Easy to use "Calendar" of events, that the end-user can manipulate as required (ie: Whole House to Welcome mode at 5.15pm today, Foyer to Early Morning mode at 5.00am everyday except for 25/12/99, Garden Lighting Sequence to Late night Mode at 11.00pm every day except Sundays)
Macro's - Easy to build Macro's that are assignable to any virtual button (ie: Office On Macro: Turn Office Lighting to On, Wait 3 seconds, Turn On Air Conditioner, Wait 1 Second, Open Curtains)
Preset Level Settings - Now the client can easily program and re-program channel level settings within area presets in a user-friendly manner.
Client/Server - Ability to utilize the clients own LAN to control the Dynalite system so that any PC on their network can control any lighting/Control circuit/s.
Logging and Reporting - Ability to log to a standard MS Access data base all data regarding usage of Circuits, for calculation and reporting of "Lamp Burn" times, usage patterns, Automatic E-mail either internal or external of reports, fault reports, or usage data.
For more information contact us contact us.
---
DANFOSS GRAHAM ANNOUNCES NEW NEMA 3R DRIVE PACKAGE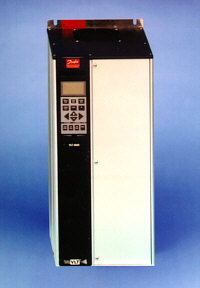 Milwaukee, WI . . . . Graham is introducing its new NEMA 3R Adjustable Speed Drives for roof top and other outdoor applications.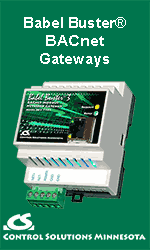 The new NEMA 3R VLT 6000 drives are now available through 60 HP at 460/575 volts and through 30 HP at 208/230 volts for NEMA 3R applications with the same ease, and options and leadtimes as the NEMA 1 units.
Danfoss Graham has designed a standard package that houses the drive and options panel in the custom NEMA 3 R enclosure. All of the normal options can be accommodated. The drive and options are mounted separately within the enclosure for service replacement ease.
Enclosures are made to UL NEMA 3R standards and carry the UL 3R. These enclosures meet the strict UL specifications for protection from rain, snow, sleet, and external ice formation; corrosion resistance and ultraviolet light resistance. The 14 gauge galvannealed cold rolled steel has continuously welded seams, a drip shield over the door, and wall mounting ears. The fan powered air intake(s) is filtered, and the outlet(s) has a bug and bird screen. The enclosure incorporate dust caps protecting the key-locking 1/4 latches which firmly seal the high-density urethane gasket. The door is positively grounded for safety. The pins in the concealed, corrosion resistant hinges can be removed. The tan, textured polyester powder polymer paint finish coat is applied over an iron phosphate primer. The internal adjustable thermostat controls the standard heater to keep the drive and options between 40 and 85 degrees F and reduce the possibility of condensation when the drive is not powered.
Visit Graham's Web Site: http/www.grahamdrives.com Graham's e-mail address is: graham@grahamdrives.com
---
Home Automation, Inc. Introduces HAI Phast Link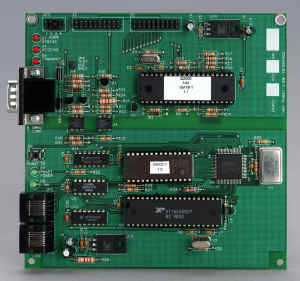 Home Automation, Inc. (HAI), the leading manufacturer of integrated automation and security systems, announces the availability of the HAI Phast Link. The HAI Phast Link interface allows connectivity between HAI's OmniPro controller and the Panja Landmark system. The OmniPro is HAI's most powerful home automation system allowing for true intuitive automation of security, fire protection, lights, appliances, and heating and air. With the HAI Phast Link homeowners with the HAI OmniPro system can now integrate their home automation system with the home theater capabilities of the Panja touchscreen.
"HAI has understood, since its inception in 1985, the importance of having our products work together with other manufacturer's products" notes Jay McLellan, HAI President. "We recognize the importance of homeowners personalizing their home automation system to meet their specific needs and budgets. HAI prides itself in offering enhanced security and automation systems to meet ALL needs; whether it's to manage a 10,000 square foot house with a sophisticated home theater system, or to automate the security, fire protection, lights, appliances, and temperature control of a small condo on a small budget. We accomplish this by building on our Omni family of systems and accessories and working closely with a variety of Connectivity partners."
The HAI Phast Link mounts in the OmniPro enclosure on the OmniPro expansion bus. Included is an Omni-Link serial port for set up and testing of the OmniPro system, as well as two Phast Link connectors for the Panja system. The HAI side is electrically isolated from the Panja side for superior reliability.
All HAI products are sold through its worldwide network of Distributors and installed by over 800 trained dealers. For more information on the HAI Phast Link or any of HAI's other automation products please call (800) 229-7256 or visit the HAI website at www.homeauto.com.
---
---


[Click Banner To Learn More]
[Stay Informed - Subscribe to our Update Mailing List]
[Home Page] [Contact Us] [The Automator - Current Issue]
[News] [Resources] [Products] [Systems] [About]

Visit Home Toys to Learn about Home Automation
Web Design by Enviromation