NEW PRODUCTS
New Software for Palm Computing® Handhelds Offloads Data Loggers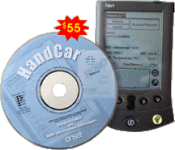 Onset Computer introduces HandCarTM software for Palm Computing handhelds to readout and launch HOBO® and StowAway® data loggers. Data from many data loggers can be stored in the Palm device, and later offloaded to a PC for graphing, analysis or export to other programs. HandCar allows users to manage their data loggers on location using the popular Palm device, eliminating the need to take the loggers back to a PC for launching and data offload.
The HandCar software provides functions to verify logger operation, view current measurements, and check battery status (for loggers that support this function). During launching, HandCar also re-synchronizes the data logger clock. HandCar runs on the Palm III, Palm V and Palm VII organizers. An optional Palm to PC interface cable is available for offloading data to a PC without the need for a docking station.
For more information contact Onset Computer Corporation Email: sales@onsetcomp.com, Web: www.onsetcomp.com.
---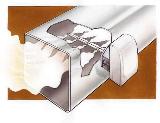 Each year, Vulcain produces thousands of gas detection networks and a wide range of stand-alone gas monitors to meet a diverse and expanding global demand.
Featuring proven infrared sensing technology coupled with microprocessor controlled digital transmission, the 90DM3A offers a level of precision and efficiency second to none. Features include: 5-year limited warranty; Proven infrared technology; 4-20mA and 0-10Vdc outputs; Specific CO2 reading; Long life expectancy; Easy calibration; Optional relay output; Optional LCD display.
---

New from Kavlico are the Models P792 and P892 Low Range Differential Pressure Transducers, designed for use in VAV systems, fan static pressure, duct air flow, building pressurization and filter monitoring applications. The sensors utilize Kavlico's time proven ceramic capacitive sensing technology, providing excellent long-term stability, repeatability, and EMI performance.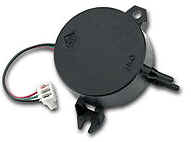 The sensors are available in pressure ranges of ±0.5" H20 to ±1 PSI and have linear, amplified DC voltage outputs. The P792 is a direct replacement for Kavlico's P592 and P593 sensors, incorporating an identical foot mounting arrangement. The P892 is specifically intended for printed circuit board mounting and features a plug-in connector with 0.025" square pins on 0.100" centers. Both models have been designed with a non-conductive housing material.
In addition to these two new sensors, Kavlico offers a complete line of general purpose and OEM transducers for building service and industrial applications such as for steam and hydronic systems, tank level measurements, and compressed air pressure monitoring.
For more information visit www.kavlico.com
---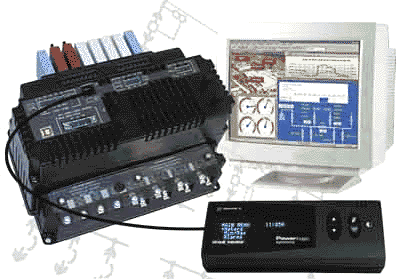 Square D is pleased to introduce the POWERLOGIC® Series 4000 Circuit Monitor - a quantum leap forward in electrical monitoring technology.

The most powerful Circuit Monitor available
Extremely high accuracy, copious memory, built in analytical tools. The Series 4000 was designed for the and large energy consumer. The Series 4000 will provide the information needed to confidently enter the evolving world of deregulation - it can be adapted to meter almost any time-of-use or real-time rate. The Series 4000 also monitors more than electric utilities - water, air, gas, and steam, for example. Values can be scaled and displayed in any unit - including dollars!
Easy to Use
Logs, alarms, profiling, work on power up with minimal set up. Your time should be spent figuring out how to make your plant run more reliably and less expensively, not programming and integrating. While you can later customize your Series 4000 Circuit Monitor to do specific tasks for your facility, you can also use most powerful functionality - such as transient detection, high speed data logging, and statistical profiling - out of the box.
For more information visit http://www.powerlogic.com/
---
Intrinsyc Software Inc - Solutions to rapidly CREATE your Internet device
CerfBoard - compact, high-performance reference platforms give customers a head-start on developing Internet devices. Comes with broad communications capabilities and processor options from industry partners Intel and Hitachi. Intrinsyc helps customers develop Internet devices and information appliances – small, embedded computers hidden in everyday things such as vehicles and home security systems and in commercial and industrial products such as vending machines and factory floor controllers – by using a combination of our licensable technologies and design services
For more information visit http://www.intrinsyc.com/
---
---


[Click Banner To Learn More]
[Stay Informed - Subscribe to our Update Mailing List]
[Home Page] [Contact Us] [The Automator - Current Issue]
[News] [Resources] [Products] [Systems] [About]

Visit Home Toys to Learn about Home Automation
Web Design by Enviromation