---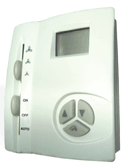 Spartan Peripheral Devices is introducing three new fan coil thermostats, TE150, TE151 and the TE153.
These energy efficient electronic room thermostats are equipped with 3 speed fan switch, internal or external summer/winter changeover, P+I modulating, 0-10Vdc output, digital display and an easy to adjust digital set point.
For more information on these products visit www.spartan-pd.com/prodtherm.htm
---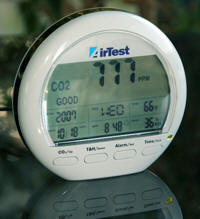 AirTest will be introducing The AirTest™ Personal Air Quality Monitor - Booth #405
AirTest will be introducing The AirTest™ Personal Air Quality Monitor at the upcoming ARI exhibition in New York. This desktop monitor measures carbon dioxide, humidity and temperature and displays the results on a large LCD screen. Date and time are also displayed. Designed as a very affordable (under$200), plug-in monitor, ideal for the home, workplace or IAQ investigations. The display will also interpret the indoor carbon dioxide readings and indicate if ventilation rates are "good", "normal" or "poor". The AirTest Monitor requires no maintenance or calibration and uses advanced sensor technology previously only available in professional air quality diagnostic and control equipment. Product will also be available for purchase on AirTest's web site the week of January 20th. AirTest will also be introducing an very affordable desktop laser particle counter at the show. For more information visit www.AirTestTechnologies.com
---
Kepware is Exclusive Licensee of WeatherBug for Automation
Portland, Maine; Kepware Technologies announced that it has signed an agreement with WeatherBug®, the world's leading source for real-time weather information, for the purpose of licensing weather information through Kepware's KEPServerEX OPC technology, to the Automation industry.
KEPServerEX is the latest generation of Kepware's OPC server technology. It was designed to allow users to quickly setup communications from equipment to control systems via a wide range of available "plug-in" device drivers and components. KEPServerEX will now support Internet Connectivity to real-time weather information, available as a licensed service. The WeatherBug for Automation driver will be delivered as an additional plug-in, joining the over 100 automation protocols already supported. Weather variables include: Date, Time, Station Location, Temperature, Relative Humidity, Wind Speed, Average Speed, Max Speed, Light Intensity, Rain Levels and more.
For more information visit www.kepware.com
---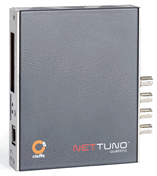 Intelligent IP devices from CIEFFE
CIEFFE designs and manufactures intelligent DVRs-NVRs, encoders/decoders and IP cameras. CIEFFE also provides compression,. transmission and analysis algorithms at the highest levels. CIEFFE's NETTUNO Quattro is a network encoder with neural motion detector, capable of encoding video and audio from up to 4 analogue video/audio source in real time with H.264 algorithm. Each channel can be configured with a different encoder. NETTUNO can be powered through Ethernet port (PoE compliant). NETTUNO Quattro can manage motion tracking and behaviour analysis thanks to CIEFFE algorithm Deepath2, which correlates events by time, space, and other parameters.
For more information visit http://www.cieffe.com

---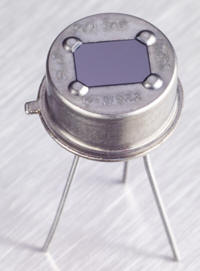 New DigiPyro™ Dual Element Pyrodetector Models Provide Standard, Low-Cost Digital Sensor Solutions
PerkinElmer Optoelectronics, a global technology leader in digital imaging, specialty lighting and optical detection technologies, announced the addition of two new products to the DigiPyro family of digital pyroelectric infrared sensors, the DigiPyro™ PYD 1988 and DigiPyro™ PYD 1978. PerkinElmer's family of DigiPyro pyrodetectors are used for home and industrial motion sensing applications such as intrusion alarm, motion-activated light switches, and door openers. The DigiPyro family of pyroelectornic infrared detectors offers significantly improved EMI immunity over analog offerings. The two new DigiPyro models utilize the same dual element configuration with an integrated A/D converter as other DigiPyro product family models, but are now available with two new window detection sizes. The DigiPyro PYD 1988 has a window detection size of 4.60 x 3.4 mm˛ and the DigiPyro 1978 has a window of 3 x 4 mm˛. These provide cost-effective digital upgrades to the corresponding models in PerkinElmer's LHi family of analog pyrodetectors.
For more information visit www.perkinelmer.com
---
AKCP announces skype feature for securityProbe product
AKCP Inc., the oldest and largest manufacturer of SNMP-based devices for environmental and security monitoring solutions introduces a major firmware upgrade for the securityProbe. The AKCP securityProbe product line function has been extended further with the release of a new software update. This software update adds new tools to what is already considered to be the technology leader in notification communications. The addition of Skype support is the most striking new feature in this release. With the addition of Skype you now have an alternative to the securityProbes built in communication suite that currently support emails, serial voice modems, SMS, and MMS. This gives the securityProbe the ability to send out alerts via it's unique text to speech notification option to any phone in the world, including mobile phones and VOIP phones. You can also use the Skype notification feature to send SMS messages to most mobile phones anywhere in the world. Another feature added to this firmware release is windows pop up notification. This allows you to send sensor status to any PC on your LAN that has window notification enabled. For more information visit http://www.akcp.com
---
eTo Inc Products
- eTo3G :Wireless 3G : is a quasi- state of are design solution that allows customer to perform max throughput in reliable and stable access into network on our GPRS DTU/GPRS Router / CDMA DTU /CDMA Router / 3G Router / 3G Modem Card. with ability to quickly and accurately provide last mile wireless solution.
- eTo11 :Wireless WiFi : is a full-wave outdoor WiFi solution that allows installer to perform extremely accurate integrity and high performance, capacity, simple installation, Sophisticated design and reliable performance and typically 2-3x faster than competitive solutions with lowest cost for selective on Outdoor Access Point and outdoor mesh AP. Provides a customized hardware platform to enable porting customer own design software.
- eToETH : Access Switch is a fast and stable performance integrity solution that is able to perform in any rugged environment and, it allows networking administrator of organization to perform real time monitoring and management of the device via user friendly GUI.
eToETH : stylish VOIP solution about SIP IP PBX , WiFi Phone , IP phone ,and scalable SKYPE PBX and standalone version SkYPE PBX
- eToAccess , G.SHDSL ATM router / TDM NTU with existing copper line transmission
For more information visit www.etotek.com.tw
---
How to Win in the Automation Business
Pinto's Points: How to Win in the Automation Business provides insightful pointers on how to succeed in the automation business and an overview of today's and tomorrow's hot technologies. It covers management topics, globalization, sales and marketing, as well as nanotechnology, micro-electronic mechanical systems, robotics and wireless systems. Once again Jim Pinto has gone beyond business as usual to explore the implications of future technology and how it will change the global automation marketplace.
Order this resource by 3 January and SAVE 15%! Just use coupon code HWB57 when you order online at www.isa.org/pintopoints
---
---


[Click Banner To Learn More]
[Home Page] [The Automator] [About] [Subscribe ] [Contact Us]