---
Tridium Announces the Release of Niagara

AX®
Third Generation of the Niagara Framework® provides quantum leap in flexibility, openness and functionality












RICHMOND, Virginia — Tridium announced the general market release of NiagaraAX the latest version of its market leading Niagara Framework®. Niagara is a software framework specifically designed to address the challenges of building device-to-enterprise applications, Internet-enabled products and Internet-based automation systems. NiagaraAX provides a unified, feature rich platform which streamlines the development process significantly reducing implementation costs for manufacturers and systems integrators.
NiagaraAX creates a common environment that connects to almost any embedded device imaginable, regardless of manufacturer or communication protocol. NiagaraAX models the data and behavior of devices into normalized software components, providing a seamless, uniform view of device data to the enterprise via a wide variety of IP-based protocols and XML-based connectivity options, and open API's.
NiagaraAX advances the state of the art with many new capabilities including: an open communication driver development kit, an extensible component model, a built-in reporting engine that automatically generates PDF documents, support for dynamic data displays in standard PDA's and cell phones, enhanced tools for creating animated information displays in standard web-browsers, support for web-services for easy integration with enterprise applications, and the ability to run on smaller, lower cost processor platforms.
---
Marathon Partners with Tridium, Inc.
Enabling Simple, Affordable Continuous Uptime for Unified Manufacturing Platforms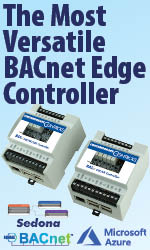 Littleton, Mass., USA — Marathon Technologies Corporation, the leading developer and supplier of fault- and disaster-tolerant solutions for industry standard Microsoft® Windows® environments, announced that it has signed a software alliance agreement with Tridium, Inc., a leading provider of software technology for device-to-enterprise applications and Internet-enabled products. This agreement will enable Tridium customers to purchase a fully integrated, supported solution that combines Tridium's Niagara Framework® software, which integrates diverse manufacturing systems and devices into a unified platform, with Marathon FTvirtual Server™ software, which provides simple, affordable, continuous uptime for any Windows application.
---
Invensys' Com-Trol unleashes "Powered by NiagaraAX" CrysalisTM to serve commercial refrigeration markets
New Product Line Uses Niagara Framework to Connect and Manage Smart Devices over Internet
RICHMOND, VA and Mansfield, OH — Tridium Inc. and Com-Trol, a division of Invensys PLC, have collaborated on the development of a new controller built using the NiagaraAX software platform, Tridium's 3rd generation automation framework. Com-Trol recently introduced Crysalis™ the new line of commercial refrigeration and building systems controllers built using the NiagaraAX platform at the FMI show in Chicago. By adopting NiagaraAX as their development platform, Com-Trol dramatically reduced development cost and shortened time to market thanks to NiagaraAX's comprehensive software platform. NiagaraAX includes web-based GUI builder, communications driver toolkit, real-time control engine, alarm manager and reporting tools.
---


[Click Banner To Learn More]
[Home Page] [The Automator] [About] [Subscribe ] [Contact Us]