---

Trend's TouchView-W Combines Wireless Monitoring with Sophisticated Technology and Intuitive Interface
Trend Control Systems USA (www.trend-americas.com) today launched the TouchView-W, a BACnet®- based communicating sensor-controller with built-in humidity sensor and an integrated wireless receiver. The wireless receiver communicates to different combinations of sensors for occupancy and detection of doors and windows, and reports directly to preloaded applications. The TouchView-W offers incredible value with several input and output (I/O) points, 11 pre-programmed applications and an intuitive interface. The addition of the wireless receiver to Trend's traditional TouchView controller minimizes installation costs of the physical install of the product by eliminating the need for multiple wire runs. Eleven pre-loaded applications simplify programming and engineering time while enabling additional energy savings. The decrease in both wiring requirements and programming efforts reduces commissioning times and increases cost savings for building owners.

For more information visit http://www.trend-americas.com


---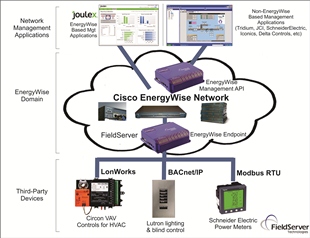 FieldServer Technologies partners with Cisco expanding the reach of Cisco EnergyWise to BAS devices
FieldServer Technologies, a leading developer of building automation interface protocol gateways, announced today the release of the Cisco EnergyWise Endpoint driver allowing third party building automation devices to be accessed via Cisco EnergyWise, a Cisco network service that allows for energy monitoring and management. FieldServer is proud to align with Cisco by developing this capability that has the potential to massively expand the adoption of EnergyWise in existing and future Cisco networks. EnergyWise is an innovative architecture built into Cisco switches and routers enabling access for monitoring, reporting and reducing energy consumption across an entire corporate or institution infrastructure. Cisco EnergyWise enables the utilization of the network as the platform for energy command and control.
For more information about FieldServer Technologies, please visit its Web site at http://www.fieldserver.com/products/drivers/EnergyWise.php

For more information on EnergyWise visit the Cisco Systems website: http://www.cisco.com/en/US/solutions/ns726/intro_content_energywise.html
---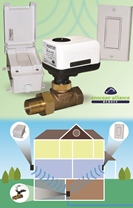 Spartan and EnOcean bring you peace of mind
Spartan introduced the new version of theirs Digital Wireless Main Water Shutoff Valve. This kit allows simplicity and security in ensuring the home stays dry and the investment is preserved. The basic kit is as simple as using a light switch and since it is wireless it can be mounted anywhere inside the home. The kit can be installed near the door so that when leaving the room all the users need to do is to press the switch "down" like turning off a light and the main water valve will close. This switch can be addressed to the valve to be able to control so that users never run the risk of leaving their home wondering if their turned the water off or not.

For more information on the complete range of EnOcean based wireless products from Spartan, please visit www.spartan-pd.com
---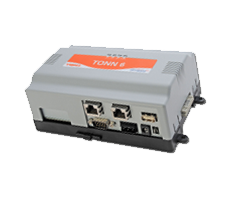 Trend's Open Network Node: A Powerful Integration Tool
Trend Control Systems (www.trend-americas.com) today launched the Trend Open Network Node (TONN), a networking device that enables the Trend system to interface and integrate with third party systems like BACnet®, LONWORKS®, Mbus®, MODBUS®, SNMP® and KNX®. The TONN utilizes the Niagara AX Framework® to integrate HVAC systems and non-HVAC systems in a building. The introduction of the TONN into Trend's product offering opens up new opportunities for interfacing and integrating into a customer's Building Energy Management System (BEMS). Using the Niagara AX Framework, the TONN can communicate to a variety of building systems including meters, boilers, access systems, and many more to create seamless control and communication throughout a building. By utilizing a TONN, a building or facility manager can now view, monitor and control all aspects of a building using a centralized Trend system thereby saving time and money with a reduction in repetitive and redundant supervisory actions.
For more information visit http://www.trend-americas.com


---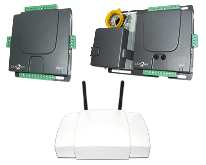 SCL Elements launches powerful line of CAN2GO wired and wireless controllers and gateways
SCL Elements launched its second generation of CAN2GO™ controllers and gateways. They offer unprecedented wireless range, multi-protocol support and processing power – enabling each unit to simultaneously control dozens of devices and handle multiple applications. The second generation CAN2GO Universal and VAV controllers, as well as the GW2 gateway, all boast 400MHz processors, 64MB of RAM and 2GB of flash storage. They can provide simultaneous control and BACnet IP integration of digital and analog I/O, Modbus peripherals and EnOcean and ZigBee wireless devices. The added power allows each locally programmable unit to handle more wired and wireless control points at no extra cost. All three products offer high powered antenna options for EnOcean and ZigBee wireless communication. The extended wireless range enables one CAN2GO unit to manage multiple rooms and building areas, decreasing building automation installation time and hardware costs.
For more information visit www.can2go.com


---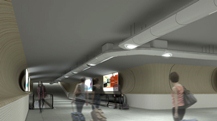 3M Architectural Markets Introduces the 3M™ Sunlight Delivery System

St. Paul, MN – June 23, 2011 – 3M Architectural Markets introduces the 3M™ Sunlight Delivery System, a new daylighting solution that captures and harnesses sunlight in an energy-efficient lighting system for commercial buildings. This sophisticated hybrid system combines multiple technologies to bring sunlight deep into interior spaces and provides consistent light levels throughout the day. The technology holds promise for both energy efficiency and improving the productivity and morale of building employees. The 3M sunlight delivery system provides the industry with a new method of daylighting that offers significantly greater capabilities than existing alternatives. Traditional daylighting methods such as skylights or tubular daylighting devices present a number of challenges. These systems can require multiple entry points and are often limited to top floor applications. They can also contribute to heat gain and loss for the building, and require regular maintenance.

For more information visit www.3MArchitecturalMarkets.com


---

Command Relays from ACI are a "Snap" to Install!

ACI has announced the release of their Command Relay line. The Patented DIN rail mounting option allows for flexibility by "Snapping" the relays to an ACI current switch, current transmitter, another ACI relay, or to a 3.5mm DIN rail. To help reduce the stocking inventory needed, ACI offers six models with a Form 1C SPDT Relay Output with a Pilot Duty rating. They also offer 115 and 230 VAC Options for use in Line Voltage applications. They also have a UL industrial listing and CE Approval.

For more information visit www.workaci.com


---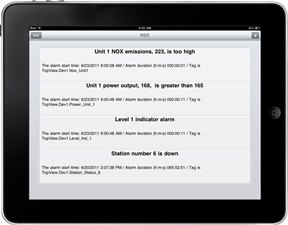 Exele Releases RSS Capability for TopView Alarm and Notification Software
Exele Information Systems, an industry leader in alarm management, notification and remote monitoring software has announced major enhancements to their TopView® software suite with the release of TopView 6.10 with Alarm RSS capability TopView Alarm RSS capability allows users to subscribe to one or more TopView Alarm feeds from a variety of desktop and mobile devices. As with other RSS feeds, the TopView Alarm RSS feed can contain multiple feed items (alarms), item headlines (alarm message), item description (alarm details) and links. TopView is a powerful, easy-to-configure process monitoring and alarm management tool that works seamlessly with existing SCADA, PLC, Historian, and Database products. TopView is used extensively wherever data measurements need to be monitored - wind farms, oil & gas, water & wastewater, electric power generation; process industries such as chemical, pulp & paper, pharmaceutical and food processing; building automation and IT system performance.

Visit Exele online at www.exele.com
---
Robustel - Remote Publishing to LED Signage via SMS

Industries such as transportation or finance often use LED signage to present information, such as traffic congestion information or real-time stock quotes. Cellular technology can allow such messaging and communication for previously untapped, hard-to-wire locations, such as on highways and on buildings. Message display can be controlled in real-time from a remote monitoring location. A Robustel Gorugged M1000 Smart GPRS Modem can be used for simple setups that do not require advanced computing functions.

Visit www.robustel.com for more information. 

---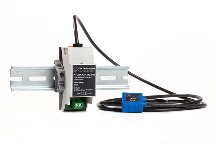 Easily Monitor Current Usage of Loads up to 2000 Amps with ATCR Current Transducers from NK Technologies
Innovative design enables installer to pass the coil around the conductors, without having to disconnect existing wires

NK Technologies introduces ATCR Series Current Transducers. ATCR flexible loop current transducers are a perfectly matched and factory calibrated sensing coil and True RMS signal conditioner that use just two wires to provide the power supply and output signal, while eliminating the need to disconnect existing wires. This makes them a uniquely simple and convenient means of monitoring resistive or inductive loads to detect current usage on large machines using AC current up to 2000 amps. They meet UL508 and CE requirements, making them suitable for global application.
For more information visit www.nktechnologies.com
---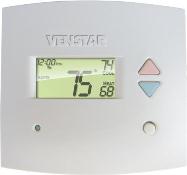 Venstar's New Light-Activated Slimline Platinum Commercial Thermostat Saves Energy by Automatically Controlling HVAC Systems
Venstar®, a leading thermostat and energy management systems supplier, announced the availability of its new Slimline Platinum commercial thermostat (Model T2900) with light activation that turns the thermostat on and off based on the level of light, helping facilities save energy and go green. Venstar's T2900 is the only commercial thermostat available today that allows the user to disable the light activation functionality and use the thermostat as a fully functional, seven-day programmable thermostat with up to three occupied periods per day, allowing for maximum flexibility. Its pre-occupancy fan purge feature can be programmed to freshen the air before the room is occupied. When equipped with the optional ACC0430 Humidity Module, the T2900 commercial thermostat can be programmed for reheat operation to initiate dehumidification cooling cycles while running second stage auxiliary strip heat, allowing simple and effective humidity control.

For more information visit http://www.venstar.com/Thermostats/
---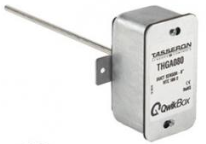 New from Tasseron! Introducing the Qwik Series line of HVAC temperature sensors.

Featuring a Patent Pending Qwik Connect system which eliminates using wire nuts and tape, the Qwik Series HVAC temperature sensors makes installations easier, faster and more reliable, saving your contractor time and money! The Duct Temperature Sensors come in three styles. The Qwik Box, in a galvanized enclosure, IP40 & also available in IP54, the Qwik Mini, in a plastic enclosure, IP54 and the Qwik Flange, which is also available with a VAV plenum rated cable option, in 6' 9' or 12' lengths. The Qwik Series offering also includes an Immersion Sensor, Outdoor Sensor, and a Strap mounted Pipe Sensor.

For more information visit http://www.tasseronusa.com



---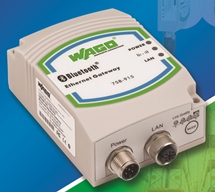 WAGO Bluetooth® ETHERNET Gateway

WAGO Corporation's new 758-915 Bluetooth® ETHERNET Gateway wirelessly transfers ETHERNET protocols, such as PROFINET, MODBUS/TCP or EtherNet/IP via Bluetooth® 2.0. Replacing communication lines between two automation systems, 758-915 features a 400 meter range courtesy of an international, license-free 2.4-2.480 GHz ISM band. This is ideal for mobile applications or those where cable-based data transmission would be too costly, complex or impossible. 758-915 employs Frequency Hopping Spread Spectrum technology and Low Emission Mode(tm) for coexistence with other technologies such as WLAN. The 758-915's on-board "Mode-Button" simplifies connections and automation system configuration. Web-based Management provides additional configuration options, e.g., password or IP address; on-unit LEDs provide configuration and diagnostic status.

For more information visit www.wago.us


---
High Speed Open Data Logging

There are many advantages of logging data in an open format to SQL Server, Oracle, mySQL, Access, and CSV files compared to closed proprietary systems.
• Access data directly from any third party reporting tool.
• Utilize each database engine features to the full extent.
• No additional fees to access your data.
• Do not be limited to proprietary trend and reporting tools.
With OPCDatabase.NET it is possible to log millions of records to SQL Server in one call. With a resolution of 100 nanoseconds and data buffering on network loss or database engine failure it is easy to see why companies are standardizing on OPCSystems.NET for their SCADA solution.
For more information visit www.opcdatabase.com


---
Matrox Mura Display Wall Controller Board News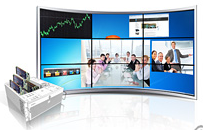 Matrox Mura MPX Series' New Edge Overlap Feature Facilitates Multi-Projector Soft Edge Blending - Now available with Matrox Mura MPX Series display wall controller boards, the Matrox PowerDesk Edge Overlap feature provides an easy, cost-effective solution designed to drive seamless images over multi-projector setups. Matrox Edge Overlap duplicates the GPU's output edges, allowing projector edges to be physically overlapped with one another. The fine detail of manipulating the number of overlapped pixels at a per-pixel level is managed via the Matrox PowerDesk desktop management software with easy-to-use controls.

DTI VuWall Software Now Optimized with Matrox Mura MPX Series to Affordably Drive Collaborative Display Walls - The DTI VuWall™ video wall application is now compatible with the high-performance Matrox Mura™ MPX display wall controller boards that are built on a PCI Express x16 Gen2 platform, and uniquely include up to four inputs and up to four outputs. With VuWall controlling the various video inputs and layout configurations, this alliance now makes it simple for AV professionals to affordably build easy-to-use, scalable solutions for corporate boardroom, digital signage, and control room environments.

For more information visit www.matrix.com

---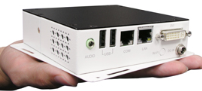 World's Smallest X86 Digital Signage Player SI-18 With G-Series Fusion APU
IBASE Technology (TASDAQ: 8050), a world-leading manufacturer of single board computers and embedded systems is introducing the SI-18 Signature Book – an ultra-compact digital signage player powered by the AMD Embedded G-Series APU. The AMD Embedded G-Series APU, packs two (2) CPU cores and eighty (80) GPU cores on one piece of silicon. It supports applications DirectX® 11, Direct Compute 11, OpenCLTM 1.1 and OpenGL 3.2. Also included is AMD's UVD3 hardware video decoder which handles full HD playback of MPEG2, MPEG4, H.264, WMV9 and VC-1 video streams.

For more information visit http://www.ibase-usa.com

---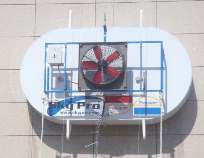 A new touch-less, dual Skydrowasher™ Window and Building Wash System is now available.

Skydrowasher™ Window and Building Washing System is an automated washing solution for high-rise window cleaning services and commercial building owners. Sky Pro announces a new automated window and building wash system that cleans a high-rise building's windows and exterior using high pressure water to "scrub" the surface from a distance up to three feet. The Dual Skydrowasher™ High Pressure Window and Building Washing System is ideal for cleaning buildings with window offsets, curves, recesses, overhangs, protrusions, inset glass, asymmetrical frames or other architectural features that make traditional cleaning methods difficult, if not impossible. The new model has two high pressure spray bars so you get double the cleaning capacity. The original Skydrowasher™ System has a single spray bar. Weighing only 400 lbs. with hoses, the new Dual Skydrowasher™ System uses turbo nozzles mounted within a high-impact plastic shell. There are few moving parts and it does not require electricity to operate as it runs on water pressure alone. Because it's so lightweight, it is easily transported from building-to-building, as is the three-arm roof top outrigger. This outrigger is designed specifically for use with the Dual unit.

For more information visit www.skypro.com

---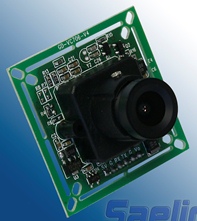 Saelig Introduces Versatile Serial Camera Module - Transfer Camera Images via Serial or NTSC

The C429-RS232 - a highly integrated, compact serial and encoded video camera module which can be attached to any host system requiring an economical video or still camera for embedded imaging applications. The module uses an OmniVision CMOS MT9V011 VGA color sensor, matched with a versatile Vimicro VC0706 control chip to provide a complete low cost, low power camera system. The C429-RS232 has an on-board RS232 serial interface for direct connection to any host PC system with a COMport for control or image communication. Video output in NTSC or PAL is also simultaneously provided. C429-RS232 comes in a compact form factor (38mm x 38mm x 25mm) with built-in 60 degree lens. Simple serial protocol commands instruct the camera to send a 640x480 image for viewing or storage. Serial transfer rate is at 115.2Kbps for transferring color or monochrome images in VGA (640x480), QVGA (320 x 240), or QQVGA (160x120) resolution. Real-time video output is provided at 30 fps as CVBS signal, NTSC or PAL. The C429-RS232 needs only 80mA from a 5V supply.

For more information visit www.saelig.com
---
---


[Click Banner To Learn More]
[Home Page] [The Automator] [About] [Subscribe ] [Contact Us]