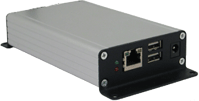 CatNet Systems introduces the CatNet CH1 web-based user interface.

CatNet CH1 is a stand-alone, embedded, web-based graphical interface for building automation and process/access control systems. Multiple protocols are supported including LonWorks, ModBus/485, ModBus/TCP and BACnet/IP.

For more information visit http://www.catnetsystems.com
---

Berk-Tek's Announces Improved Cable Performance with LANmark™-10G2 Augmented Category 6

Berk-Tek, a Nexans Company, a leading copper and fiber optic cabling manufacturer, announced today that recently completed process improvements to the LANmark™-10G2 cable have resulted in higher performance for this Category 6a UTP cable. Berk-Tek has increased all crosstalk parameters over the previous design, which was guaranteed to meet component performance as specified by ANSI/TIA/EIA-568-B.2-10 Category 6a (or Augmented Category 6). As part of Berk-Tek's continuous product improvement process, the improved LANmark-10G2 cable now provides 2 dB of near-end crosstalk (NEXT) and power sum near-end crosstalk (PSNEXT) headroom and 4 dB of far-end crosstalk (FEXT and PSFEXT) headroom over the defined cable performance standards as stated in the ANSI/TIA/EIA-568-B.2-10 document.

For more information visit www.berktek.com.
---

Learn the Necessary Tools of Communication for Instrumentation-Related Work
Control System Documentation: Applying Symbols and Identification, 2nd Edition
Thomas McAvinew and Raymond Mulley

Ideal for engineers, managers, salespeople, technicians, and students, this book brings together in one place most of the symbols and identifiers that are related to instrumentation, subjects them to objectively critical review, and gives practical examples of their application in the form of sample P&IDs and numerous examples of symbols and tagging concepts.
Visit www.isa.org/books for more information and to order.
---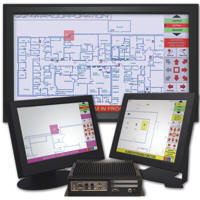 Comark Corporation Demonstrates Cutting Edge Computing Solutions in Healthcare Technology
Focused on improving the delivery of information in the healthcare industry with efficient and effective computing solutions, Comark Corporation will be an exhibitor at the 2009 HIMMS Conference & Exposition being held from April 4th through the 8th at McCormick Place in Chicago, IL. In BOOTH # 4037, Comark will demonstrate their healthcare solutions including automated visitor and patient self-check-in, large screen interactive way finding systems, and nurse call stations. Also on display will be Comark's UL864 9th edition recognized, ULCS-527 recognized, and UL1069/C22.2 No. 205 recognized computer and display solutions.
To learn more visit us at www.comarkcorp.com.
---

The PC replacement for digital signage and kiosks
SpinetiX is proudly presenting its HMP100, the world's first Hyper Media Player. The HMP100 will replace the pc-based legacy solutions because of its amazing advantages such as small size, interactivity, low power consumption and the absence of servers ... This is the next generation of digital signage and kiosk solutions: Same performance as a PC but ultra compact, reliable and cost effective!
For more information visit www.spinetix.com
---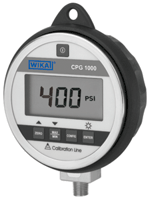 WIKA Announces CPG 1000 Digital Precision Test Gauge
WIKA Instrument Corporation (WIKA) has released the CPG 1000 high accuracy digital test gauge. With an accuracy of 0.05% of full scale and 18 selectable pressure units, the CPG is capable of handling all test gauge needs. Rugged and durable—featuring a rubber boot, stainless steel case and wetted parts as standard—the CPG 1000 is CSA U.S- approved for Class 1 Div 2 Groups A, B, C and D. The CPG 1000 is suitable for a wide range of industries and applications, including calibration service, instrument and control workshops, laboratories and quality assurance.

For more information visit www.wika.com
---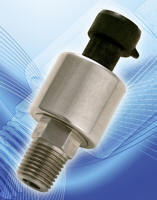 Kavlico General Purpose Pressure Sensor Utilizes a Mixed-Signal CMOS ASIC

Kavlico, a global business unit of Custom Sensors & Technologies (CST) has developed the P255 general purpose pressure sensor with advanced electronics for enhanced performance. The mixed-signal CMOS ASIC provides for improved EMI/RFI and accuracy specifications. Specifically designed for pressure measurements of 0-15 to 0-1000 PSIA/PSIG, the P255 is a robust device utilizing a ceramic diaphragm that can withstand exposure to a wide array of liquid and gaseous process media. Excited by 5 Vdc, the P255 provides a linear amplified output of 0.5 to 4.5 Vdc that is proportional to pressure. The sensor has low power consumption, superior long-term stability, and excellent repeatability and hysteresis. Other significant features include over-voltage, reverse polarity, and short circuit protection.
For more information visit www.kavlico.com
---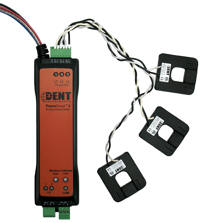 DENT Instruments Launches New PowerScout™ Series of Networked Power Meters for Commercial, Retail and Industrial Submetering Applications

DENT Instruments, a global leader in the design and manufacture of power and energy measurement instruments, announced the introduction of the PowerScout™ Series of networked power meters. The PowerScout™ was developed to be the front-end metering 'engine' in energy management and building automation and control systems. It provides accurate and timely energy consumption data that is the foundation for efficient energy management. The PowerScout™ 18 is a multi-circuit (CT) version that allows it to be configured for monitoring multiple electrical circuits sharing a common voltage source, or for current only monitoring of branch circuits. The PS 18 is well suited for data center monitoring, tenant sub-metering, and for accountability metering in commercial, retail, and industrial facilities.

For more information visit www.DENTinstruments.com
---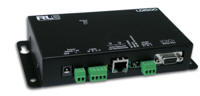 RLE Technologies announces the release of the LD1500
RLE Technologies announces the release of the LD1500, their most cost effective distance read leak detection panel. Unlike any leak detection system on the market the LD1500 has an HTML interface that allows users to view alarm status and configure system settings using a Web browser. The LD1500 offers adjustable leak, delay and contamination thresholds. Designed specifically for integration into Building Management Systems (BMS) and Network Management Systems (NMS), the LD1500's robust communications include: HTML (Web) interface, TCP/IP, TFTP, Modbus TCP/IP UDP/IP, BACnet/IP BACnet MS/TP and more.
For more information visit www.rletech.com
---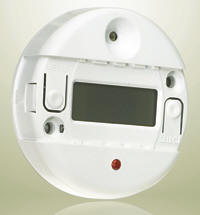 Automatically Calibrating Daylighting Controller Optimizes Performance for Increased Savings
Watt Stopper/Legrand has introduced a self-calibrating daylighting controller that reduces time-consuming installation and setup. The LS-102 Daylighting Controller provides closed loop, single zone, on/off switching of most types of lighting in response to daylight contributions. The device is the first of its kind to continuously select and display on and off setpoints. Typically, on/off closed loop control devices require multiple calculations of on and off setpoints during set up, adding complexity and cost to installation. The LS-102 continuously and automatically calibrates itself, eliminating the need for repeated manual calibrations to capture changing light levels as room reflectance levels change.
For more information visit http://www.wattstopper.com
---
AKCP Power Monitor Sensor
The new Power Meter sensor is specifically designed to be used with AKCP's Linux based line of securityProbe units. Combining the Power Meter Sensor and securityProbe creates a fully IP enabled power monitoring product. AKCP's new Power Meter sensor is more rugged in design and communicates through the RS485 port. It has been integrated into the securityProbes popular 80 virtual sensors feature. Users can be alerted on the sensor exceeding a pre-defined threshold with AKCP's industry leading notification options like: SNMP traps, email, SMS, MMS and Skype support.
For more information visit http://www.akcpinc.com/company/powermonitor.htm
---
---

[Click Banner To Learn More]
[Home Page] [The Automator] [About] [Subscribe ] [Contact Us]