Onset Introduces Intrinsically Safe Temperature Logger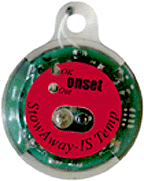 The StowAway-IS Temp data logger is rated intrinsically safe for recording temperatures in hazardous locations. Its small size, wide temperature range and splash-proof design make it ideal for deployment in harsh industrial environments.
The StowAway-IS Temp carries the Intrinsically Safe Rating for use in areas where there are potentially explosive concentrations of gas (Class I) or dust (Class 2), either continuously (Division I) or intermittently (Division 2). It specifically covers gases in groups A-G, and dusts in groups A-D, F & G. The StowAway-IS Temp has been tested to NEMA 6P (IP67), but is not intended for extended deployment in water or epoxy-permeating vapors.
Convenient Data Offload with Optic Shuttle The optional pocket-sized Optic Shuttle provides a convenient way to readout and relaunch the StowAway-IS Temp in the field. The Optic Shuttle with the StowAway-IS Coupler also allows for triggered start on location. The StowAway-IS Temp will begin shipping in late September.
View website for more information: www.onsetcomp.com
---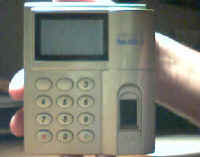 Data Management Incorporated Introduces their new Finger Print Identification Unit MONBAN
We are proud to introduce our new product "Monban" with the technology and know-how of CHKK. Monban means "Gate keeper" in Japanese. Monban is a product developed by our parent company CHKK that has been selling fingerprint identification units for the past five years in Japan. Monban will guard any or all of your doors.
(1) Compact size - We have squeezed the size to 120*420mm and cut the thickness to less than one inch by adopting a silicon fingerprint sensor and a high density mounting.
(2) High performance - All in one unit With the "Monban" unit you can enroll, identify a finger, and manage the data enrolled all in one unit. It is easy to operate and view with our large backlit LED display.
Accuracy of identification - "Monban" has succeeded in reading dry fingerprints that were difficult to read using traditional identification units. Our unique patented fingerprint identification algorithm is combined with a silicon fingerprint sensor from the leading manufacturer in the US.
For more information visit the web site at WWW.4DMI.com
---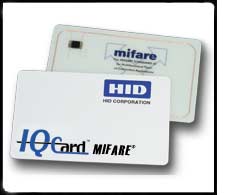 HID Corporation's IQCard MIFARE®
13.56MHz Contactless Smart Card
The IQCard MIFARE® can be used for diverse applications such as public transportation, access control, road toll, park & ride, airline ticketing, customer loyalty and ID cards. Sixteen securely separated files enable complex applications and provide room for future expansion.
For more information visit the web site at www.hidcorp.com/products/smart/iqcard_mifare.html
---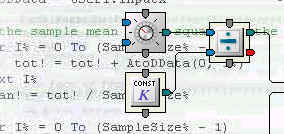 GRAPHICAL TOOL CAPTURES COMMON EXPERIENCE TO EXPAND PROGRAMMING PUBLIC
SoftWIRE 2.0 Marks New Direction in Computer Productivity
MIDDLEBORO, Mass.- Measurement Computing Corporation today announced the release of SoftWIREä 2.0, Graphical Programming Add-In for Microsoft® Visual Basic 6.0. SoftWIRE, a technological breakthrough in programming tools, allows non-programmers to take advantage of the Visual Basic environment to quickly create powerful programs. No programming experience is required.
SoftWIRE 2.0 expands existing capabilities to include advanced database, TCP/IP, arithmetic, financial and analysis functions. Controls that interface with Microsoft Excel and Access provide seamless office application integration. With more than 130 SoftWIRE-enabled ActiveX controls, revision 2.0 expands SoftWIRE beyond measurement and control, into office and Web automation.
"SoftWIRE Technology is to Visual Basic what Visual Basic was to traditional BASIC. Combining graphical and visual programming in the world's most popular programming environment makes the computer infinitely more powerful," said Bendrix Bailey, CEO, SoftWIRE Technology, LLC and chairman, Measurement Computing Corporation. "The reason why SoftWIRE graphical programming controls are easy to learn and use may be simply stated: I recognize it, I understand how it works, and I can wire these things together. The entire system is based on common sense and common knowledge."
For more information http://www.softwiretechnology.com
---
---
[Stay Informed - Subscribe to our Update Mailing List]
[Home Page] [Contact Us] [The Automator - Current Issue]
[News] [Resources] [Products] [Systems] [About]

Visit Home Toys to Learn about Home Automation
Web Design by Enviromation