---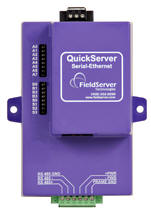 QuickServer from FieldServer Technologies
Cost-effective, high-performance gateway

FieldServer Technologies proudly announces the release of the latest in protocol gateways for the Building Automation industry, the QuickServer. The new QuickServer is a high performance, fully configurable, cost-effective gateway that enables users and integrators to easily interface devices to the common protocols used in the industry. QuickServer utilizes the same proven technology that has made FieldServer the leading gateway in the building automation industry. This easy-to-use gateway can interface up to 250 points utilizing BACnet/IP, BACnet MS/TP, LonWorks, JCI Metasys N2, Modbus TCP, Modbus RTU and SNMP. Integrators and users have trusted FieldServer for over 10 years to provide the interoperability they desire in buildings worldwide. The QuickServer continues to provide the user with the trusted FieldServer support they have always found at FieldServer. QuickServer is available in two models, one with two serial and one Ethernet port, and another with a LonWorks, serial and Ethernet port. All necessary instructions and software are provided on-line or with the optional accessory kit. Two drivers are provided with each QuickServer at no additional charge.
For more information visit www.fieldserver.com/QuickServer/
---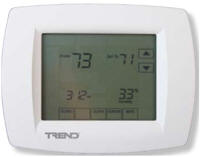 Trend's BACnet-based TouchView Combines Sensor and Controller into One Effective Solution
Trend Control Systems USA launched the TouchView, a BACnet®-based communicating sensor/controller with a built-in humidity sensor. It includes preloaded applications that support common uses and can be configured on the screen without the need for 963 Supervisor, making the TouchView controller very easy to use. The TouchView offers pre-programmed universal inputs, relay outputs and analog outputs in a single, cost competitive unit with a user-friendly interface. As a configurable controller, the TouchView is ideally suited for specific and common applications such as fan-coil units, heat pumps and AC units. Each application supports passive infrared (PIR) and Space Temperature set backs. All this makes the TouchView the perfect solution for any installation that provides users with an easy-to-use interface to control their environment, including retail, restaurants, offices, places of worship and many more.
For more information visit www.trend-americas.com
---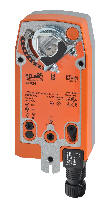 Belimo New Generation AF & NF Offers A Lot More in Much Less
New AF and NF spring return actuators provide more features in a 25% smaller housing! Low power consumption, 35% - 50% more torque and faster running times (with MFT technology) offer new solutions for control dampers, control valves and retrofit applications. The New Generation spring return actuators are suitable for use in control dampers up to 45 square feet* (with new AF) and up to 22 square feet* (with the new NF), air handling units, control valve, retrofit and replacement solutions and tandem mounted applications where higher torque is required.
For more information visit www.belimo.com
---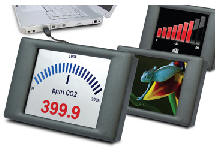 Saelig Announces Rapid Route to Customized Live Meter Displays
Saelig Company, Inc. has introduced SGD 24-M - a new, customizable high contrast, 2.4" TFT color display with built-in touch screen, dual analog inputs, alarm outputs and SPI and I²C bus capabilities, ready-made for creating a wide range of display instruments. SGD 24-M is configured using Panel Pilot, a unique Windows-based software platform that allows users to design and customize a range of color displays with the click of a mouse to suit individual applications and measurements. Currently, six analog, digital and bar graph styles are available to be downloaded via USB to the display. Colors, text labels or scaling options can all be chosen as needed. Once all selections have been made using this simple click-through application, the custom configuration can be saved and downloaded to the display.
For more information visit http://www.saelig.com


---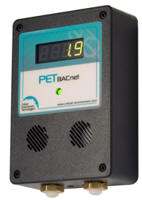 CETCI Launches PET BACnet Gas Detection Transmitter & GEM Multi-Purpose, Self-Contained Gas Detector
Critical Environment Technologies Canada Inc. (CETCI) is proud to announce the launch of PET BACnet gas detection transmitter. PET is a new economical Parkade Emissions Transmitter that communicates via BACnet protocol MS/TP signal. It is available with electrochemical and temperature sensors to detect carbon monoxide (CO), nitric oxide (NO), nitrogen dioxide (NO2), sulphur dioxide (SO2), oxygen (O2), and temperature. Features include thermal resetting fuse, tri-color LED indicator for power and alarm, and an optional 4-digit LED display. It includes new sensor CEF (Calibration Extending Firmware) that takes into account the aging of the sensors so that less frequent calibrations are acceptable in non-critical applications. Calibration and maintenance procedures are easily performed in the field without requiring access to the controller. PET is ideal for use in non-hazardous vehicle exhaust environments, commercial HVAC and light industrial applications.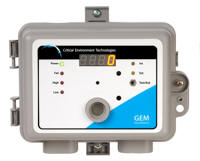 Critical Environment Technologies Canada Inc. (CETCI) officially launches GEM multipurpose, self-contained gas detector to add to their growing product line. GEM is a Gas Emissions Monitor that is economical for non-hazardous commercial applications. Applications include, but are not limited to, parking garages, repair shops, arenas, and manufacturing plants. It is available in one or two channel configurations accommodating accurate "smart" sensors. Features include CSA/UL/CE certifications, integral and/or remote sensors, two 5-amp dry contact relays,4-20 mA linear output signal, and optional 4-digit LED display. It includes new sensor CEF (Calibration Extending Firmware) that takes into account the aging of the sensors so that less frequent calibrations are acceptable in non-critical applications.
For more information on the entire range of gas detection systems and IAQ instruments, please visit
www.critical-environment.com.
---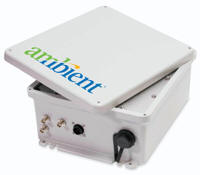 The Ambient Smart Grid® Node
The Ambient Smart Grid® communicates - in real-time, at high-speed - the critical data from grid assets about power demand and line conditions to make the smart grid work. With Ambient's open standards-based platform, utilities can pick and choose the smart grid applications and technologies best suited for their unique infrastructure plans, while protecting against possible obsolescence.

Ambient Smart Grid:
Provides the needed speed and data bandwidth for current and future needs, from demand response and real-time pricing to load management and outage response.
Communicates across multiple technologies including RF, Wi-Fi, cellular, Ethernet and/or low bit rate PLC.
Is based on open, IP standards for complete interoperability.
Provides "intelligence at the transformer" with energy sensing and load monitoring, outage notification and location information.
Is scalable for today and tomorrow's initiatives.
Core elements of the Ambient Smart Grid solution include:

For more information visit http://www.ambientcorp.com/smartgrid.html
---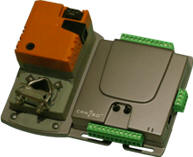 Can2go VAV controller with bidirectional EnOcean/ZigBee control and embedded BACnet gateway
A flexible VAV controller that allow facility managers, contractors and OEM manufacturers to deploy integrated solutions for HVAC, lighting, VAV and more, quickly and efficiently linking multiple devices based many standard protocols. Usage: interoperable with any BACnet compliant building management system or as a stand-alone fully programmable device.

Control features; Equipped with pressure sensor and optional actuator; Supports VAV functionalities and applications; Programmability with real-time scripting; Control of wired end-devices (6 inputs and 6 outputs); Wireless bidirectional control of EnOcean end-devices (optional); Wireless bidirectional control of ZigBee end-devices (optional); Embedded gateway - Bidirectional EnOcean to BACnet IP gateway - Bidirectional ZigBee to BACnet IP gateway - Embedded BACnet IP server and interface; The controller hosts a complete BACnet IP building automation web-based interface; Connecting the Ethernet port of one or more controllers to a LAN will make the entire building automation system manageable from a web-browser; No extra software or server required.
For more information visit http://www.can2go.com/en/products/vavcontrollers.htm
---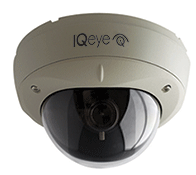 IQeye Alliance-mx
Alliance-mx Standard and High Definition dome cameras provide exceptional image quality in the most demanding indoor/outdoor environments. Alliance-mx uses MAIN Profile H.264 to deliver exceptional high-definition clarity at up to 30 frames-per-second. A high-quality, ultra-strong polycarbonate bubble and powder-coated aluminum body make Alliance-mx vandal resistant yet esthetically pleasing in any scenario.
For more information visit http://www.iqeye.com/products/alliance-series/alliance-mx.html

---
---


[Click Banner To Learn More]
[Home Page] [The Automator] [About] [Subscribe ] [Contact Us]