---
Distech Controls has unveiled the ECL-600 Series of microprocessor-based programmable controllers.

The ECL Series are the first controllers to obtain the LonMark Static Programmable Device certification. The Series' two models, the ECL-600 and ECL-610, are designed to control a wide variety of HVAC systems such as air-handling units, chillers, boilers, pumps, cooling towers, and central chiller plants, and can be custom programmed using EC-gfxProgram graphical programming interface. The EC-gfxProgram 4.0 offers a common graphical programming interface for Distech Controls' LonWorks and BACnet controllers. This open-system offering can help increase productivity at installation, reduce overall project cost, and allow for optimized equipment operation.

For more information visit Distech Controls
---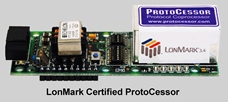 FieldServer - LonMark Certified OEM Gateways from ProtoCessor

ProtoCessor OEM Gateways from FieldServer Technologies have won LonMark Certification as gateways with changeable Network Variable types. The LonMark Certified products include the ProtoCessor FPC-F04 Embedded Gateway Module, the ProtoCarrier/ProtoCessor FPC-CD2 OEM Gateway and the ProtoNode LER external LonWorks Gateway. ProtoCessor is the OEM brand from FieldServer, a member of LonMark International who has been providing integrators and end-users with LonWorks gateways for over 10 years. The design of the ProtoCessor LonWorks OEM Gateway from FieldServer Technologies provides the manufacturer the unique capability to interface 1000+ network variables with a single configurable gateway versus only 50 – 250 found in similar products. Thus, the ProtoCessor LonWorks OEM Gateway provides unsurpassed, cost-effective integration power.

For more information about the ProtoCessor LonWorks OEM Solution from FieldServer Technologies, visit the website at www.ProtoCessor.com.


---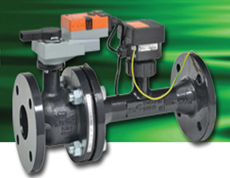 Belimo - Pressure Independent Valve Innovations for the Design of Tomorrow, Today!
The ePIV is a two-way valve which is unaffected by pressure variations in a system. The ePIV directly measures flow by combining a magnetic flow meter and a 2-way control valve. The actuator has a powerful algorithm that modulates the control valve to maintain the flow setpoint set by the controller. The flow reading is reported back to the controller using a standard signal, and this value can be used by the Building Automation System (BAS) to perform advanced control and energy strategies. The ePIV is a valve designed specifically for HVAC applications and complements the existing line of pressure independent valves (PICCV).

For more information visit www.belimo.com or www.piccv.com.

---
Planar Video Wall Solutions
The leader in large-scale video wall and digital display systems, Planar video walls are designed for the most demanding environments. Our digital displays, software and services are used by customers worldwide to operate and communicate more effectively--every moment of the day.

Control Room--Mission-critical control room environments require the highest performing video wall technology available.Only Planar's control room display solutions deliver.

Digital Signage--Digital signage applications demand precise and brilliant visual performance. Communicate your message even under the most demanding conditions with Planar Digital Signage displays.

Contact Planar today to learn more about our diverse array of display solutions. http://www.planar.com/


---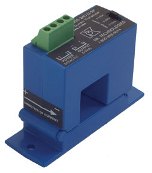 Achieve Accurate, Cost-effective Machine Current Monitoring with New ATQ Series Current Transducers from NK Technologies

NK Technologies introduces ATQ Series Frequency Output Current Transducers. With a patented open collector transistor frequency output design, the ATQ series is used as an input to high speed counter or frequency PLC modules, panel meters or programmable relays, to accurately monitor machine current usage to within ± 1 percent of range. Multiple ranges from 0-2 to 0-200 amps are available to provide resolution that fits the needs of the particular applications. A split-core enclosure simplifies installation by eliminating the need to disconnect the monitored conductor to install the sensor. The ATQ series are intended for use where no analog inputs are available.

For more information visit http://www.nktechnologies.com/

---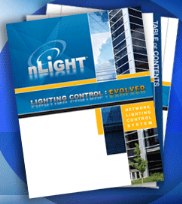 Acuity Brands Controls is pleased to announce publication of the updated catalog for nLight, our award-winning network-based lighting control system.

nLight connects intelligent digital controls to create a lighting control system with distributed intelligence that can be easily configured to satisfy virtually any lighting control requirements. Multiple control options—including manual and time-, sensor- and daylight-based strategies—can be cost-effectively and simply integrated to maximize energy savings and flexibility. The catalog offers comprehensive product details, pages illustrating sample configurations for typical commercial building applications, a design guide, best practices, lighting coverage patterns, wiring diagrams and a Quick Reference guide summarizing features and benefits. These tools, presented in easy-to-use formats and supported by clear and concise diagrams and illustrations, will help designers create integrated solutions that satisfy virtually any project need.

For more information visit http://www.acuitybrands.com/Home.aspx

---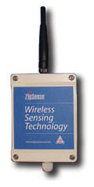 ZigSense Modbus Gateway available from Conlab

Conlab presents the ZigSense Modbus Gateway, which utilises the ZigBee Network Manager. The ZigSense features wireless sensors that uses mesh network technology to establish communications between remote nodes and the coordinator. In the mesh networks, the nodes are communicating either directly or indirectly through the ZigBee routers then to the network coordinator. The mesh network uses Ad hoc On-Demand Vector (AODV) protocol routing, which when used makes the network silent until a connection is needed. When the node requires a connection to the coordinator, it broadcasts a request to the network. If the message does not reach the coordinator directly, the other nodes on the network would forward the request and record the ID of the requesting node.
The Modbus feature, in the ZigSense Modbus Gateway, is an established communications protocol, which data from remote nodes is automatically mapped inside the gateway holding registers and is made available to PLCs, SCADA stations, HMI and data loggers. The ZigSense Modbus Gateway, available from Conlab, enables writing back to the remote nodes while taking into consideration the inherent sleep-wake cycle of the remote nodes.
For more information visit http://www.conlab.com.au/
---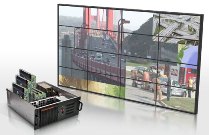 New Trenton Video Controller Systems Feature Matrox Mura MPX Boards
Matrox Graphics Inc. and Trenton Systems announced three new Trenton video wall controllers, tested and validated for use with Matrox Mura™ MPX display wall controller boards. A single Mura MPX PCI Express x16 board facilitates video switching, signal conversion, scaling and de-interlacing across four inputs and four outputs, while combining multiple Mura MPX boards in a single Trenton system simplifies hardware required for larger video wall, digital signage & corporate AV projects.

For more information, visit Trenton at http://www.trentontechnology.com/.

---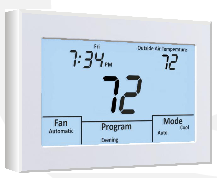 Jackson Systems Introduces the Comfort System™ T-21-P Touchscreen Thermostat

The Comfort System™ T-21-P is an amazingly affordable, feature-rich touchscreen thermostat available exclusively from Jackson Systems. The T-21-P can be battery powered or hardwired which makes it ideally suited for use in residential or light commercial applications. The T-21-P touchscreen thermostat features a slim profile that makes it an attractive addition for many applications. The large backlit display helps illuminate the large numbers and icons, thus making the T-21-P easy to read and use.

More information about the Comfort System™ T-21-P Touchscreen Thermostat can be found online at www.jacksonsystems.com
---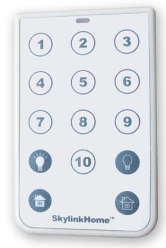 SkylinkHome's Wireless Control System controls your home lighting and electronics inside and out

The SkylinkPad allows complete control of your home with the push of a button. The pad, which comes in a variety of different models, includes six different options, from one to 14 button keypad choices. The one button pad is perfect for children, giving them the convenience of turning their bedroom light off or on, while the 14 button pad allows the home owner to control everything in the house. The six different pads are available with 1, 2, 3, 7, 10 and 14 button configurations and can work together on the same system so everyone in the family can use their own. The credit card sized SkylinkPad can also be used for more than one location, allowing you to control your home, vacation home, parents' home, office, warehouse, business locations and much more. The system uses wireless receivers plugged into wall outlets or lamp sockets as well as control modules which can be wired out of sight. For professionals, the Skylinkhome Wireless Control System has modules with three wires that can be installed almost anywhere.

Visit www.skylinkhome.com for more information.


---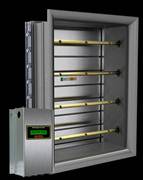 EBTRON and TAMCO collaborate to develop new AIR-IQ product line
EBTRON, Inc., the technology leader in precision airflow measurement for more than twenty five years, and TAMCO, Inc., leading international manufacturer of premium quality, low maintenance, low leakage airflow control dampers since 1955, have successfully completed joint engineering, evaluation, testing and production system integration for the AIR-IQ airflow measuring damper assembly. The new AIR-IQ product line combines innovative products from both companies to be assembled at the TAMCO-USA manufacturing facility in Arizona. The AIR-IQ will be available to Air Handler/OEM customers through TAMCO Factory Sales and through all EBTRON representatives for other market segments. The intelligent and reliable AIR-IQ airflow measuring solution provides precise airflow measurement and control with low leakage performance. Comprehensive laboratory testing verifies measurement accuracy of ± 5% of reading throughout the entire measurement range, without blade position interaction, and up to AMCA Class 1A air leakage performance. This exceeds the performance capabilities of any other known similar device.
For more information visit www.EBTRON.com or www.TAMCO.com
---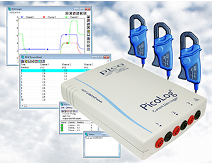 New USB/Ethernet Line Current Data Logger from Saelig

Saelig Company, Inc. has introduced PicoLog CM3 - a USB and Ethernet networked current data logger. This compact, easy-to-use instrument measures the power consumption of any line-connected equipment, building supplies, and machinery. CM3's three channels allow it to monitor current in single-phase or 3-phase AC installations. Applications include monitoring three-phase motors and generators, measuring the consumption of heating, ventilation and air conditioning (HVAC) systems, and balancing phases in multiphase supplies. CM3 logger is supplied complete with three AC current clamps and a powerful data acquisition software package. The dual USB/Ethernet interface means that this data logger can be located almost anywhere, from a local desktop to the other side of the world. CM3 can operate as a USB-only device, as a USB-powered device with Ethernet interface, or as a Power-over-Ethernet (PoE) device.

For more information visit www.saelig.com.

---
Building Automation Program - New Certificate and Degree in Building Automation Systems
Industry is seeing a growing demand for a workforce that combines some of the traditional skill sets of building technicians with advanced skills in controls programming, networking, and systems integration. "Control Technicians" or "Building Automation Technicians" present an emerging and rapidly expanding market of high-wage employment for community college graduates. Their skill sets will also be needed for increasing green workforce demands to implement energy management, efficiency and sustainability measures in buildings.

Laney Collgege has developed an in-depth curricular pathway for students to gain expertise in maintaining, programming, and troubleshooting building control systems. Energy efficiency theory and best practices are interwoven throughout the entire course sequence.
Download flyer for details:

http://www.laney.edu/wp/environmental_control_tech/files/2011/08/ECT_2011_Fall_CoursesFlyer.pdf
---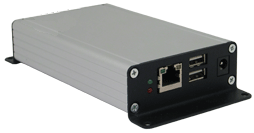 CatNet HMI/Web Server

CatNet HMI is a stand-alone, embedded, web-based graphical interface for building automation and process/access control systems. Multiple protocols are supported including LonWorks, ModBus/485, ModBus/TCP, BACnet/IP and BACnet MS/TP. Some of the features include animated graphic screens, scheduling, historical trending, runtime accumulation and alarm monitoring. All of these features are supported even with devices that do not natively support them. CatNet will automatically toggle outputs and change setpoints on schedule, collect runtime and trend data, and monitor alarm conditions. CatNet uses Flash memory for internal storage. It contains no hard disk or other moving parts. The Linux operating system is used for enhanced security and stability. CatNet is totally self-contained. All set up and user interactions are performed via a web browser. No dedicated PC or external applications are required. The user interface utilizes Adobe Flash to allow for advanced graphical features, platform-independence and drag and drop setup. Absolutely no knowledge of HTML, XML, Flash, JavaScript or any other programming language is required to set up or use CatNet.

For more information visit http://www.catnetsystems.com
---
---


[Click Banner To Learn More]
[Home Page] [The Automator] [About] [Subscribe ] [Contact Us]