---

Everyone likes the inventory savings and installation flexibility that result from "one size fits all" pressure sensors.

Terry Troyer,
HVAC Product Marketing Manager
Setra Systems, Inc.
Be Cautious when Specifying Multi-Range Pressure Sensors













Everyone likes the inventory savings and installation flexibility that result from "one size fits all" pressure sensors; however, you will likely pay the price for instability on low range applications. Multi-range pressure sensors can produce inaccuracy and poor stability when the range of output adjustment is stretched too far…that's where Setra's unique design differs from the rest.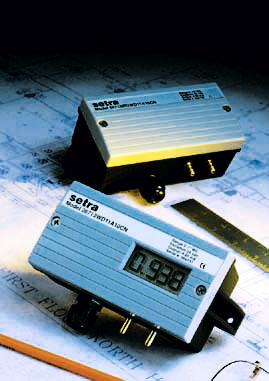 Most multi-range pressure transducers use turndown ratios of 10:1. Some manufacturers have chosen to achieve low range pressure sensor operation by using higher range sensors, and over-boosting circuit gain to provide low pressure sensitivity. In one application a 5" WC sensor is being used to achieve 0.1" WC full scale operation. This setup requires a 50X increase in gain from the circuit over standard sensor/circuit sizing. Despite intricate correction from microprocessor based circuits, you will probably have to deal with significant output noise and short and long term instability.
Setra maintains excellent accuracy and stability for its multi-range pressure sensors by limiting the turn down ratio to 3:1 and by using true low range sensors that are carefully selected for adequate output. Our sensor selection is based on fixed motion sensors that have uniform, high performance over all pressure ranges. Setra's patented stretch diaphragm capacitive sensors have both high-output at very low pressures and extremely high overpressure capability. Tensioned metal diaphragm sensors have great overpressure performance so the low ranges are not load-limited like other technologies. So, when stability counts and you need the flexibility of multi-range transducers, ask for Setra's 267MR multi-range pressure transducer.
---
About the Author
Terry Troyer is a 17-year veteran of Setra from 1983 until 2000 working as a senior member in the engineering department. In 2003 he rejoined Setra as the HVAC Product Marketing Manager for Setra Systems, working in the HVAC Business Unit. As an engineering professional for over 34 years, he has a diverse background in product management and design.
Terry's career started with Lockheed Corporation as a Structures Engineer, where one of his main responsibilities included performing design analyses on leading Lockheed aircraft. Later, he moved on to lead in the design and development of pressure and flow instruments in the HVAC market for Dwyer Instruments. He has also had engineering positions in the automotive sector for the Control Division of Ranco, Inc., and Waters Manufacturing, a leading manufacturer of premium potentiometric devices.
As a previous member within Setra's engineering department, some of his major accomplishments have been:
• Repackaged HVAC Model 264 pressure transducer to improve durability and cost.
• Renovated Model 209 for mass customization options.
• Developed 206 and 230 OEM pressure transducers.
• Introduced first specialty gas (UHP) products, including Models 215, 216, 217, 225, 227 and 237.
If you would like to contact Terry, please contact him directly at troyer@setra.com.
---

[Click Banner To Learn More]
[Home Page] [The Automator] [About] [Subscribe ] [Contact Us]