---
Your Buildings' 21st Century Edge





What are the takeaway lessons here regarding how edge analytics controllers will disrupt the current building industry?






Alper Üzmezler,

BASSG LLC.

&




Therese Sullivan,

Principal,



One way to gain perspective on disruptive technologies is to look backward to see forward. Tony Seba, an instructor in Entrepreneurship, Disruption and Clean Energy at Stanford's Continuing Studies Program, does this with these early 20th-Century Easter Parade images. The images suggest that the vehicle market went from almost all horse-driven to almost all motor-driven in just 13 years. They support Seba's position that today's car industry could see a near total change over from internal-combustion-engines to electric vehicles in just a few years, not decades.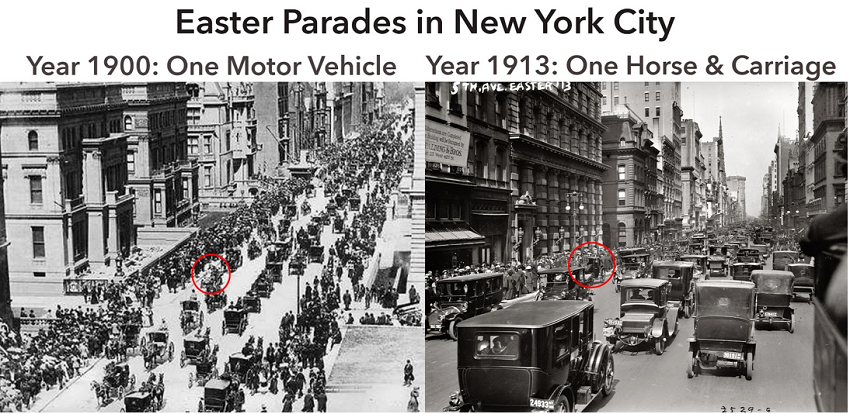 The images are a dramatic statement about innovation in cars. But, what do they say about buildings? Not much. The bricks and mortar constructions look about the same. Nevertheless, inside some of those Manhattan buildings, there were architecture firms innovating at a pace too. Architects were sizing up the new elevator and escalator technology as well as the electric motors to drive them, just beginning to envision the new taller structures that would change the skyline. Disruption in the way we design, construct and operate buildings may never be as visible or thrilling as what is happening in cars; but, the two industries are inextricably linked. Looking at what is happening in edge control and analytics in cars is a good way to understand how comparable technology will bring buildings into line with 21st Century service demands.
We see, for example, that new edge controllers – those that support the full software stack needed to collect, store and run analytics on time-series data from a building's many digitized sources – are going to be a powerful force in building automation. They have sufficient compute and storage resources packed into a footprint not much bigger or more expensive than a mobile phone. They are of interest to stakeholders from specifying engineers to controls contractors to occupants that want to pull building performance data from wherever it exists and push it to wherever it can help them make better decisions and be more productive. But, do we see the size or speed of the disruption they are bringing?

Just as Tony Seba looks backward to see forward, there is a lot to be learned by looking sidewise at the Connected Car to see what is on the horizon for the Connected Building. Most software-is-eating-the-car discussions start with the On-Board Diagnostics specification, OBD-II. OBD-II specifies the standard hardware connector to vehicle computers as well as the protocol for communicating standardized diagnostic trouble codes. Car makers around the world have been evolving and supporting this specification for expressing car performance information since the first version was introduced in the early 1980s. While it is not an Application Programming Interface (API) per se, it is stable and detailed enough for software developers to use like an API.

A prime example of a car edge device that leverages OBD-II is the mobile diagnostics adapter from Automatic Labs. Unlike previous PC-based and hand-held OBD-II readers, which were targeted for use at car repair shops by certified car mechanics, the Automatic adapter and competitors like Verizon Hum are marketed directly to car-owning consumers. Their developers recognized that car owners would use car data in ways never considered by car mechanics. So, they launched their edge devices along with mileage-tracking apps that interfaced to the type of cloud accounting services used by small businesses, gig workers and entrepreneurs. And, they mashed in Google Maps and other web mapping services to create trip tracking apps attractive to more business users and parents of teen-drivers. To further popularize the device category, they worked to build a community of 3rd-party app developers around their car diagnostics adapters through an app store modeled on Apple iTunes and Google Play e-commerce sites. The ecosystem contributed a host of new online services targeted to car owners that involve mobile shopping, home-automation management, even fitness—and yes—newer, better ways to work with car repair shops and related services.

It all seems to be working well for Automatic Labs. It was just purchased by SiriusXM. Verizon, SiriusXM, these are not traditional car companies. They are data companies carving out their share of the growing Connected Car market. They have a powerful market position in that the data they are collecting and analyzing is valuable machine-learning training data for the coming era of autonomous cars.

What are the takeaway lessons here regarding how edge analytics controllers will disrupt the current building industry? First, there is the necessity of an open specification that is sufficiently detailed and supported to serve as an API for software developers. What is the BAS-industry equivalent of OBD-II? BACnet protocol mainly addresses communications and syntactical interoperability. Project Haystack, on the other hand, focuses on semantic interoperability and is more suitable for application development inside and outside the traditional buildings industries. Then, in the BAS world, you need BMS software to express the architecture of the target hardware and functional logic of the controller. The open-source Sedona BMS framework used in combination with open-source Haystack modeling is as close to an OBD-II equivalent as the BAS industry has right now.

Next, just as the target market for Connected-Car adapters is much larger than the car mechanic shops that previously used OBD readers, Connected-Building edge analytics controllers will not just be used by controls contractors. A primary category of user will be building optimization professionals. Building optimization is a growing field with systems engineers, commissioning advisors, energy managers as well as master systems integrators merging into it. These professionals are distinguished by their ability bring together time-series data streaming in high-volume from equipment and sensor systems of many brands and glean valuable insight from it. In a recent interview on the videocast ControlTalk Now, one leading engineer with such credentials, Matt Schwartz of Altura Associates, describes the work this way:

"It's our job to leverage data to find issues in buildings faster and to track them to resolution. But we go further, we ask owners or other stakeholders 'How might you leverage this data to be more successful?' Then we work with our clients to integrate building performance data into their workflows. Leveraging analytics to find the full value in their data is becoming key to almost every proposal we submit to our clients."

The point being made here is analogous to the recognition by Automatic Labs and Verizon Hum OBD-II innovators that the car performance data in the hands of end-users would be used in ways far beyond car maintenance.

Matt Schwartz and others at Altura Associates are early users of edge analytics controllers. During the interview, he describes deploying about a dozen to pull pressure and flow readings at strategic locations from a massive centralized compressed air system that serves a large university campus:

"Field data is already in Haystack format, so it is a cinch to pull it into our cloud analytics platform. The EACs also store and trend data locally, so it is accessible by the customer and other parties that understand open Haystack. They have enabled us to quickly identify and implement leak repairs. The campus now knows, for example, how much compressed air it wastes and how much that is costing."

One final point of comparison between Connected Building edge analytics controllers and Connected Car diagnostic adapters concerns the flexible nature of 21st-century work. The buzz about Automatic Labs car plug-in first gained momentum among entrepreneurs and small business people who needed to keep track of their mileage for expense reporting. With office-sharing startup WeWork reporting amazing worldwide growth and an astronomical market valuation in the 10s of $billions, it seems like the market expects a good portion of the office buildings along the Manhattan Easter Parade route and in city centers everywhere to be flexible workspace soon. It follows that core building services like power, heating/cooling, ventilation, lighting, and security will need to be tracked and expensed like car mileage when this happens. This trend alone will fuel demand for edge analytics controllers and the building performance data that they make accessible.
For more information contact Alper at alper@ankalabs.com

---


[Click Banner To Learn More]
[Home Page] [The Automator] [About] [Subscribe ] [Contact Us]