---
---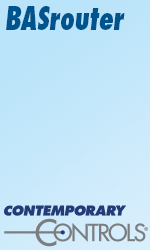 Exclusive Preview: Delta Controls 2020 Virtual Summit (December 3-4)
Delta Controls discusses upcoming virtual conference, emerging technologies and the future of building automation.
With Robert Hemmerdinger, Chief Sales and Marketing Officer
· Can you give us an overview of the 2020 Virtual Global Conference coming up on December 3 and 4?
For the last few decades, we have organized an annual event for our partners. This year was the perfect opportunity to open this up to the public – making it live and free to anyone interested, since we have shifted to a virtual format. The 2020 Virtual Global Conference (December 3-4) – will be studio-based and explore all things Delta Controls, our current solutions, products we'll be releasing during the upcoming year, and the future of building automation and connectedness.
From IoT to Node-RED to cellular communication, tracks will be about the future of the marketplace – where we are and where we are going. We truly believe there is an opportunity right here and right now for the industry to jump on. We want to push the industry forward as a whole. We did this in the past by helping to develop BACnet when it was an emerging technology, and we are at it again by pushing out the latest IoT and SaaS solutions.
· What are some of highlights that attendees can look forward to?
It'll be hard to narrow it down to just a few. The live event is hosted by John Nicholls, president of Delta Controls. Sessions are a mixture of thought leadership, product deep dives and a sneak peak at our upcoming technologies pipeline. We'll have sessions featuring Delta Controls' partners from around the world as well as our team of industry experts.
One session that I view as a "must-attend" is hosted by CTO Chris Kwong at 11:25 am ET on the first day. His session will hit on relevant industry trends that are impacting the entire building automation industry, including the digital transformation of buildings, the shift in workforce demographics, the globalization of a remote workforce, the future of IoT, and how engineers need to evolve into data engineers as roles evolve. All of these drivers are creating simultaneous challenges and opportunities.
Of course, there will be plenty of time to break down our own building automation technologies, such as the AHR Innovation Award-winning O3 Sensor Hub. With a top-down view from the center of the room, the O3 Sensor Hub detects motion, sound, light and temperature with the highest levels of accuracy. It features an open platform and multiple IoT interfaces that make it possible to communicate and integrate with almost any system. Attendees should also stay tuned for the unveiling of our newest product line. I can't give too much away, but it will become one of the most connected building controllers available on the market.
· What is the main takeaway you hope will resonate with attendees?
It really is the theme of the event – "right here, right now." The pandemic has undoubtedly created a new normal, and its impact to the built environment will be everlasting. The technologies and opportunities related to building automation are evolving today. Many people could be pulling back on the reigns when it comes to development, but we are pushing forward full-force. The emergence and need for no-touch offices and workspaces will create fundamental shifts for how building automation is implemented. From a vertical approach, hospitals and retail environments are also going through significant changes. At the end of the day, we want attendees to think about how they can evolve buildings to help their business – not just maintaining an environment.
· Since we are approaching the end of the year, would you like to share any predictions for 2021?
This hits on the key theme mentioned earlier around the no-touch building. There will be more demand over the coming year for IoT-enabled sensors that can reduce touchpoints in a building, people count, contact-trace and even monitor temperatures. However, do not expect all of these devices to be separate on a wall or ceiling. The smart building sector's future lies upon sensor fusion that combines multiple technologies and functionalities into a compact device that can use edge computing for cleaner data streams. Sensor fusion is something we've fully championed in our O3 series and will continue to do so moving forward. Combining this with AI to identify tenant patterns creates a better understanding of how facilities are being used, which will unlock better utilization of spaces, improved strategies on lowering energy consumption and enable easier contact-tracing. All of these factors are intertwined and will be woven in throughout our event sessions.
· How can people learn more about Delta Controls and your event?
Visit the Delta Controls' website, follow us on Twitter @deltacontrols and on LinkedIn. Our social media hashtag is: #DeltaRightNow. You can also learn about the conference from our event page: 2020 Virtual Global Conference.
---


[Click Banner To Learn More]
[Home Page] [The Automator] [About] [Subscribe ] [Contact Us]