---
Building Technologies to Support Energy Efficient and Sustainable Designs
A key educational component of Cascade Meadow is a web-based 'window' into its infrastructure to illustrate the benefits of green technologies and to generate thought-provoking ways for individuals, businesses and organizations to adopt similar sustainable efforts in their own environments.


Marlee Rosen,

Rosen Associates
Cascade Meadow Wetlands & Environmental Science Center, an impressive new facility located adjacent to restored upland and wetland habitats in Rochester, Minnesota, is utilizing a variety of products from Kepware to gather critical data for environmental education and management of its 'green' facility.

Cascade Meadow intends to be a catalyst for educational activities that promote sustainable living now and in the future. Cascade Meadow supports effective and efficient use of water and energy resources in the southeast Minnesota region and also provides a central location for exhibits, educational programming and sponsored events.

Cascade Meadow is proud of its sustainable structure and is pursuing U.S. Green Building Council's "Leadership in Energy and Environmental Design" (LEED) certification for its two-level 16,000 square foot beautifully architected building. Surrounding the building are extensive restored native landscapes and a sizable pond that provides a cohesive environment with the building. There are a total of 75 acres of upland and wetland natural habitats in which the Cascade Meadow organization intends to develop an extensive open trail system for its visitors.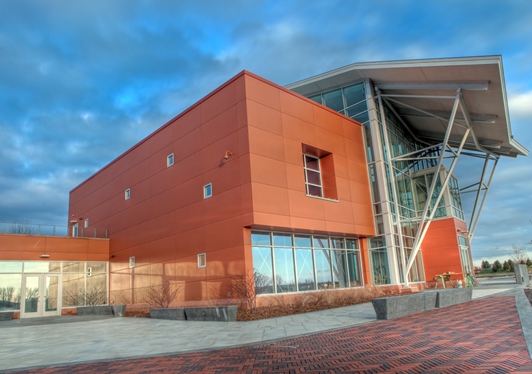 A key educational component of Cascade Meadow is a web-based 'window' into its infrastructure to illustrate the benefits of green technologies and to generate thought-provoking ways for individuals, businesses and organizations to adopt similar sustainable efforts in their own environments.
Cascade Meadow: A Profile for Green
The structure of the main education center was built using some of the most energy efficient materials available. For instance, many of the walls were constructed using insulated concrete forms (ICF). Other walls and roofing were developed using structural insulated panels (SIPs). There are 'green' roofs and special windows that tint electronically in order to conserve energy.

To provide heating and cooling, the building uses a water source heat pump and the air handler has built-in energy recovery equipment. At the site reside a horizontal axis wind turbine, a vertical axis wind turbine, a solar hot-water system and three photovoltaic solar panels, each with a specific solar technology for energy efficiencies. PV station, for example, uses thin film solar cell technology and is mounted on a rack system that tracks the sun as it moves across the sky. PV Station 2 also tracks the sun but uses a more common "polycrystalline" solar cell technology; and PV Station 3 has polycrystalline solar cells, but rather than tracking the sun, the array is mounted on a rack that will be adjusted based on the season (angle of the sun).

Three separate systems are used to monitor and control the building's processes:
Electrical energy consumption metering system
Electrical energy production system (for renewable resources)
HVAC or building mechanical system

It's the critical data collected in these three separate systems that will provide ongoing transparency into the energy efficiency of Cascade Meadow and which will be available, in real time, to science center visitors and off-site users via a web interface.

Making the Connection

With three independent management systems, Cascade Meadow was faced with a significant challenge - how to integrate the data collected from each of these disparate systems into a single comprehensive 'dashboard'. The dashboard will be able to provide a consolidated overview of operations as well as serve as a showcase for the energy efficiencies generated by Cascade Meadow's green technologies.

Integrated Technology Engineering, a company also based in Rochester that has a long history of solving complicated industrial and automation engineering challenges, was selected for this project because of its roots in industrial and municipal automation and wide range of electrical and mechanical engineering services. Cascade Meadow wanted an experienced integration team that could develop a flexible application that would be able to integrate the important data from all three building systems into one location. This data would then be presented in a dashboard for educational purposes as well as to manage and control the facilities operations.

Dylan Christopherson, project engineer, led the team that identified and specified the technology needed to meet the vision set forth by Cascade directors.

"When the building was designed, a lot of thought was put into the systems that Cascade wanted to install but there were no specifications in place for tying all the pieces together seamlessly. For example, they knew they wanted renewable systems onsite and wanted to be able to manage them from one central location. They also had a need to monitor the energy use of the lighting and electrical systems as well as the building's HVAC equipment. All three of those systems were installed by separate contractors with no connectivity between them. We were brought in to bridge that gap."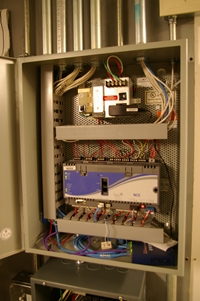 Integrated Technology Engineering choose products from Kepware, including the KEPServerEX OPC Server v5, Modbus Drivers, BACnet Drivers and the Datalogger to create a comprehensive informational environment that meets all the specifications desired by Cascade Meadow.

"We're using Kepware because it's the most flexible software that we know of that could communicate with three different systems and bring all that information in to one place where we could make it useful. Kepware is highly flexible and has been used before with great success," Dylan adds.

System Profile – Gathering Data

Cascade installed Square D PowerLogic as its electrical use monitoring system and is connected over Ethernet. The PowerLogic equipment is capable of a moderate amount of data logging and reporting. According to Dylan, Cascade uses the PowerLogic Modbus gateway to communicate directly with the energy monitoring sensors that are connected on the Modbus loop. Kepware's Modbus Driver is being used to communicate with the Square D PowerLogic system to currently monitor about 10 I/O points. This system monitors and records electrical usage for three key areas. It is able to determine how much of the building's total electrical use is consumed by the mechanical systems, interior and exterior lighting.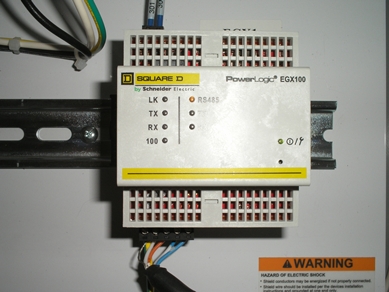 The Electrical Energy Production system also uses Modbus. The Integrated Technology Engineering team is using Kepware's Modbus driver to communicate with an Obvius AquiSuite controller. "Similar to the PowerLogic system, we're not communicating directly with the controller but using Kepware to 'talk' to the Modbus devices that are on that loop – which includes the horizontal axis wind turbine, vertical axis turbine, three solar panels and two weather stations. We're able to monitor all of these components and evaluate their performance," Dylan says.

The Johnson Controls HVAC/Building management system is a stand-alone system that controls the air handler and heat pumps in order to keep the building comfortable and properly ventilated. This system uses Kepware's BACnet Driver to record some of the available data so that the performance of the building mechanical systems can be evaluated.

"We're able to monitor the temperature of every room in the building via intelligent thermostats. We can monitor outdoor air temperature as well as air data in every stage of the air handler, such as return air, supply air, mixed air temperatures, water temperatures entering and leaving the coils, and status of the energy recovery wheel."

Cascade has also installed in-floor radiant heating and with the system that's in place, is able to monitor the temperatures of that system. The energy for the heat pumps comes from a geothermal loop installed in an onsite pond. "From the BACnet controller, we have information on how much energy is being pulled from the pond or how much energy is rejected to the pond. There's also a solar panel to heat domestic water, i.e. for hand-washing, showers, etc. We can monitor how much energy that system is collecting. All of this information is available via Kepware's BACnet driver," Dylan explains.

Kepware's DataLogger Key to the Dashboard
Kepware's DataLogger, which easily logs data from an OPC server into any ODBC-compliant database, is being used to record data into an SQL database. From that database, Cascade's user interface designer is creating the envisioned 'dashboard' of the systems within the facility.

"That dashboard will be used publicly to increase the visibility of systems that are usually hidden from view and internally to evaluate the performance of their systems," Dylan added. "Cascade will have displays at the site for groups. For example visitors can look outside at the wind turbines spinning and look back at the dashboard display and see that they're generating five kilowatts. Or, the website can be used for students in an off-site classroom as an educational tool.

Kepware made getting that data to the database very straightforward. We've got a single solution that we're using to integrate three different systems that had no previous connectivity," said Dylan.

Installation and Go-live

Within only two weeks Integrated Technology Engineering was able to initiate communication with all three systems using KEPServerEX v5, Kepware's Modbus TCP/IP and BACnet drivers, which are reading all the information from the various sensors from all three systems and delivering the information to the DataLogger, which is sending it to a SQL database.

"Kepware made it easy. Normally, automation systems are designed around a common framework or protocol. Since that was not the case at Cascade Meadow, we needed a solution that could handle anything we threw at it. That's why we chose Kepware," Dylan adds.

What's next?

With its focus on energy and water resources, Cascade Meadow is planning to expand their activities to include monitoring variables like soil temperature, stratification and the water temperature of the onsite pond. They'll also be expanding the information systems to include trending data as well as comparing the benefits of its energy-efficient technologies with more traditional alternatives.

Cascade Meadow intends to stay at the forefront of providing its community with programs to promote 'environmental literacy' for the benefit of today's residents and future generations.


---
About the Author

Marlee Rosen is a researcher and freelance writer/editor for Rosen Associates. She covers the building automation, energy, manufacturing and security industries.


---


[Click Banner To Learn More]
[Home Page] [The Automator] [About] [Subscribe ] [Contact Us]