---
A Simple, Seamless and Affordable Smart Intelligent Lighting Solution
According to a rapidly growing number of Public and Commercial Building owners/developers/managers and users, open standards convergent building control solutions make business sense, i.e. profits.




Mike Welch,
Managing Director & Co-founder,
Control Network Solutions Ltd

Simple?

Until recently, building developers/owners/managers and users would go to traditional lighting controls companies for their intelligent lighting solutions.

Today, however, they can contact any one of a growing elite global group of certified BMS/BA System Integrators and ask them to quote for their next intelligent lighting project.

Click here, for the current list and if you can't find one listed, click here to ask.

What such qualified and certified System Integrators will do is directly connect networks of intelligent light fittings to these web convergent technology platforms. Using the same web browser tools they use for engineering, control, maintenance and management of all the other building sub-systems, they will simply apply them to these connected light fitting networks.

Many less hardware components are required than when compared to traditional intelligent lighting solutions and are available from multiple sources globally. This means less cost to purchase, install, maintain and run, with no loss of functionality.

At anytime should the BMS/BA System Integrator of the moment not deliver the service the End Client expects they simply employ another one. After all, they are contracted on the basis of their performance 24 hours a day, 52 weeks a year and not because their name is on the installed equipment!

See picture below –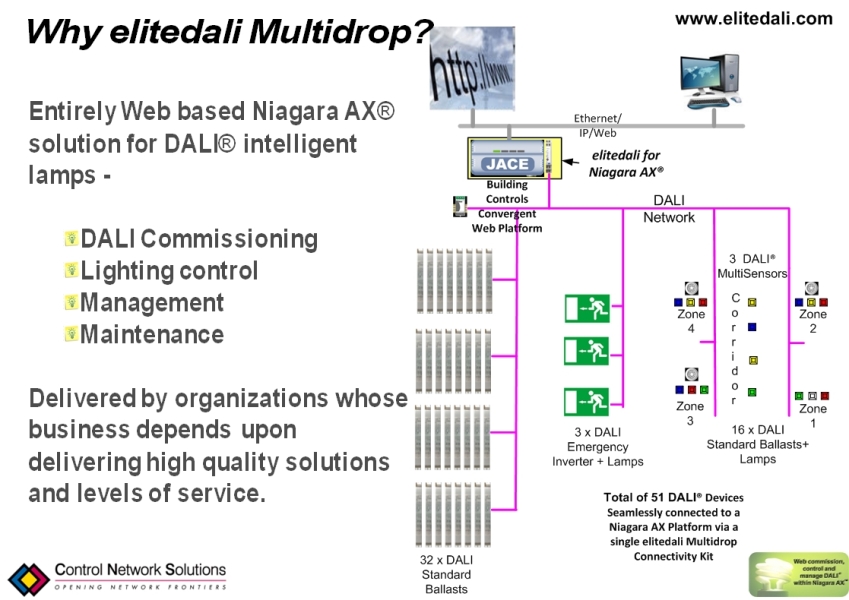 elitedali for Niagara AX Simple&Seamless 1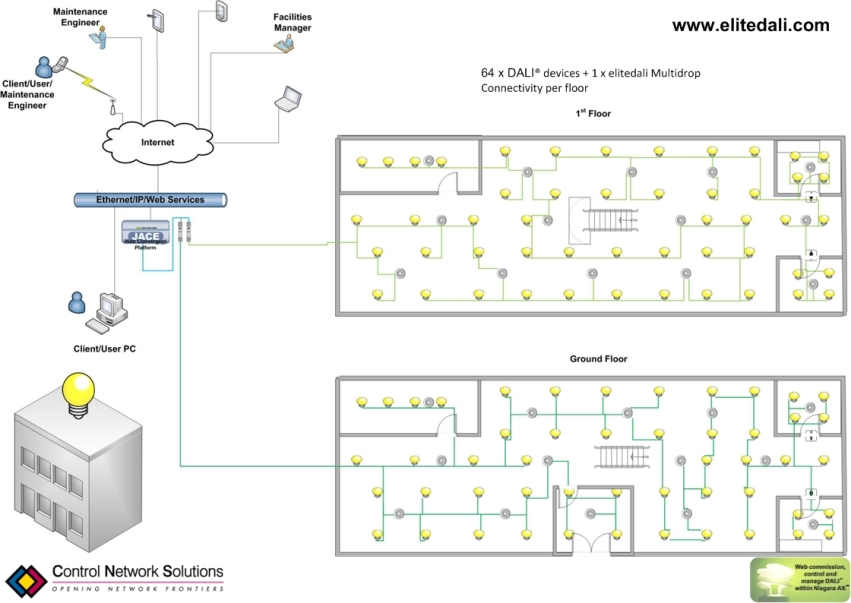 elitedali for Niagara AX Simple&Seamless 4

Seamless?

All the data points in the fittings, as per the published EN 60929 standards, will be accessible for the System Integrator to use in whatever way necessary to deliver what the End Client needs. All the features in the web convergent platform that could be utilised for non-lighting connected systems will be useable for such a natively connected lighting system including but not limited to control, logging, alarming, scheduling and visualisation.

See picture below: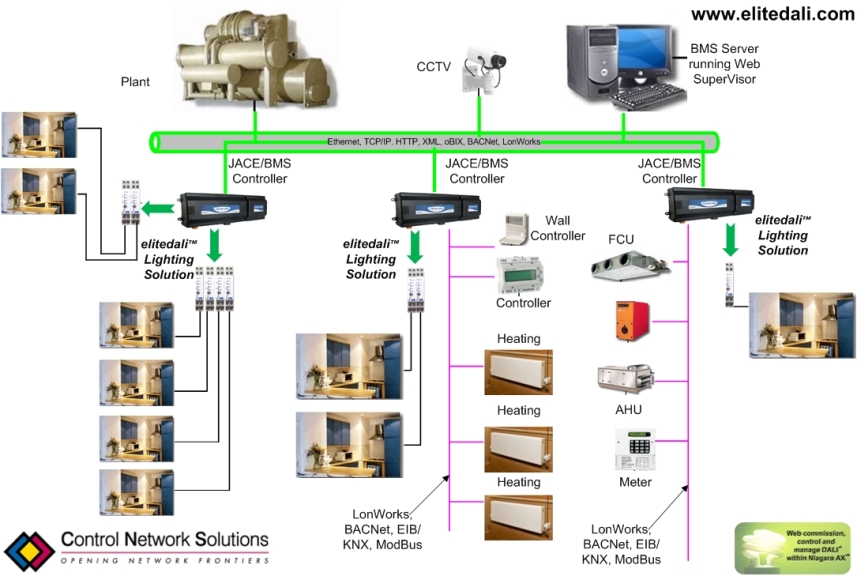 Affordable?

Simple:

Rapidly growing numbers of global suitably Certified BMS/BA System Integrators
Growing numbers of global web convergent technology platform OEM's
Hundreds of suitable intelligent light fitting manufacturers globally
More than 1,000,000 suitable intelligent light fitting ballasts and drivers from fluorescent to LED are manufactured globally everyday
ROI reducing as energy and maintenance costs rise and solution costs reduce, typically 2 - 3 years now, CIBSE, Energy Star
Much reduced lighting control equipment
Less installation
Lower operating costs
Real-time control of the lights
Seamless integration between intelligent lights, other building subsystems and business and enterprise systems for better operational efficiency
Web based enables remote access via Intranet and Internet for all needs from engineering to user
Suitable for both retrofit and new build
Higher ROI on BMS/BA system installation
Highly flexible
Owner owns all the data and information directly accessible to them

Why should Public and Commercial Buildings install intelligent lighting solutions?

According to a rapidly growing number of Public and Commercial Building owners/developers/managers and users, open standards convergent building control solutions make business sense, i.e. profits.
As lighting is one of the largest electrical loads in such buildings with ongoing operational and maintenance costs it makes sense that such systems are digital, dimming and individually addressable based upon the global DALI standard.
Electrical lighting loads account for between 25% and 60% of such buildings total demand and fully automated and intelligent dimming lighting can save up to 75% of this.
Cost of DALI lighting ballasts and LED drivers is reducing fast. Example in 2010 average reported US DALI ballast price was 140 – 160USD, today it's 40 – 60USD and the RoW is 40USD or less.
Increasing local, state, national and international regulations now require such solutions to be installed at both retrofit and new build stage
CO2 Emissions legislation and taxation makes such solutions necessary
Higher rental and property sales prices are recorded for buildings that include such solutions
Additionally operational and maintenance efficiencies create greater financial savings than those from just energy savings
Modern intelligently controlled work environments attract high quality staff and tenants who stay longer.
How does the Building Developer/Owner/Manager and User make the right choice?

Here are five key questions to ask to assist in making the best choice-

Is the lighting solution based upon internationally recognised open published intelligent communication standards?
How much of the solution is based upon these standards?
Can you add or retrofit lamp ballasts and lighting controls product from other manufacturers/suppliers that meet these international open standards to this solution?
Are the products both hardware and software created and supplied by the lighting controls company?
Who is delivering the solution?

Then check with your local Vykon, Honeywell, Trend, CentraLine, WEBs AX and other Tridium OEM Partner System Integrator about elitedali for Niagara AX, and confirm you have been offered a truly native Tridium Inc technology DALI lighting solution.

Which Intelligent Light Fittings should I choose?

The only global open standard for intelligent, addressable and dimmable light fittings from fluorescent to LED is known as Digital Addressable Lighting Interface (DALI®). This is subsequently published as IEC60929 Appendix E and is administered by the DALI organisation, see www.dali-ag.org.

This standard means that hundreds of DALI lighting ballast and LED driver manufacturers worldwide make products that can all interoperate with each other on the same DALI network proven over the last ten or more years in hundreds of thousands of buildings globally. Just click here to see just how many appear in Google.

A DALI lighting network requires no special cables and is simple enough for a suitably qualified electrician to install. Each DALI fitting has a unique address and there can be up to 64 DALI light fittings in a single DALI network.

Many DALI networks may be connected to the web convergent technology platforms to provide highly scalable lighting solutions.

As the functionality of the DALI lighting system is not determined by the wiring but by how fittings are grouped/zoned and controlled from within the web convergent technology platform, there is pretty much infinite flexibility to make changes to how the lights work at anytime - every second if you wish and without commissioning engineers even needing to be on site or even the same country.

Why open standard web convergent platforms been such a global success?

Building Management Systems (BMS) and Building Automation Systems (BAS) based upon such convergent web based technology, such as created by Tridium Inc have proven to be efficient and effective. They enable multiple manufacturer systems to be seamlessly integrated together with unified views of data and devices along with the capability to engineer, control, maintain and manage from within a web browser.

Think of these convergent technology platforms much like a Smart phone which is simply a computing platform, running an operating system upon which runs any number of applications and with a range of connectivity options using globally standard communication protocols and a common user interface.

These solutions are delivered by hundreds of trained organisations across the world and the hardware is available from many and growing numbers of world-renowned OEM suppliers to the buildings control industry.

This enables global solutions to be delivered locally based upon the quality of service, not the name on the equipment.

This also means more building developer/owner/manager and user choice from first delivery all the way through the building and installed equipment's lifetime.

As these solutions leverage Web technologies the building developer/owner/manager and user can now imagine access to data, information and user interfaces that would have been very challenging and bespoke only a few years ago.

Further these platforms also directly and seamlessly connect to business and enterprise applications enabling machine data and system information to be shared with them and business data to be incorporated into the controls environment.
---
About the Author
Mike Welch is Managing Director and Co-founder of Control Network Solutions Ltd based in Hampshire, England, 45 minutes from London. With a degree in Engineering, Mike has worked in sales and marketing of leading edge technologies from semiconductors to intelligent peer to peer control networking.
CNS has created open standard solutions for the M2M, Convergent and CCRE global market, both client specific and off-the-shelf, for 15 years. It has been a Certified Niagara AX Product Developer and Tridium Partner since 2005.
CNS launched in 2011 a fully web based DALI lighting solution now in its third release called elitedali Multidrop for Niagara AX®. This will be the basis of the next generation of its converged web based DALI® Niagara AX™ lighting solutions for Niagara AX System Integrator Partners worldwide.


---


[Click Banner To Learn More]
[Home Page] [The Automator] [About] [Subscribe ] [Contact Us]