---
Viewing the AHR Expo Exhibits
with Virtual Vision
As you walk the floor this year note how all of the exhibitors are using virtual and of course social media to greatly increase their impact, while increase your understanding of their products and services.

Ken Sinclair for AHR Expo show issue

.
I was requested to write a short piece for the AHR Expo daily show issue regarding the truly amazing use of virtual media on the floor this year.

"Virtual" refers to the seeming of anything, as opposed to its reality.
A few years ago we thought virtual vision was something used by video gamers, but we now understand that our ability to project ourselves virtually has everything to do with our future existence and our present position in the convergence of the Internet of Things.
As you walk the floor this year note how all of the exhibitors are using virtual and of course social media to greatly increase their impact, while increase your understanding of their products and services. That raises the questions; why am I here and not viewing this all virtually?
Virtual is the seeming, as opposed to reality. You are at the 2012 AHR Expo in Chicago to better understand the reality of what you have been viewing virtually online. You want to better understand the reality by meeting real people and touching real products. You need to better understand these virtual depictions of our industry so you may return home as the messenger able to explain with confidence the virtual visions of products and services to your peers.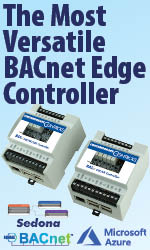 Our industry needs to create new value out of "virtual-ness". By using our rapidly evolving networking tools we need to project our data, using graphical animations of our invisible cornerstones of comfort, energy, and environmental impact. We need to "Make the Invisible Visible" so all may collaborate freely and in real time with any platform, anytime, anywhere. The tools now exist and we need to open up the industry and share our information in the cloud with new partners we've never met, allowing them to add value to our data with powerful web services.
Our virtual-ness will allow us to connect seamlessly to "Touch" computing. New input methods will be the dominant trend of 2012. Tablet computers might seem like a nice alternative to desktop and laptop computers, but they're replacements. Just as the command line (remember that?) gave way to graphical user interfaces, so the mouse will be superseded by touchscreens. This will be followed by the rise of gestural interface and other new graphic user interfaces, (GUI) trends, plus all that will be HTML5.
As you walk the floor and grasp the reality that is our industry, note how the exhibitors depict themselves in Virtual Vision and start mapping your journey to better understand its power.
---


[Click Banner To Learn More]
[Home Page] [The Automator] [About] [Subscribe ] [Contact Us]