---
| | |
| --- | --- |
| PDFs of Power Point Presentations from AHR Expo Chicago 2012 | |
I linked the pdf's of the presentation to the title of each session. We had good interest in the sessions and requests were made for these presentation to be posted. If you missed the sessions this is your chance to take a peak at what we were talking about.

4 Free Sessions on How to Make Sustainability and Energy Visible

The New Visibility & Interactions in the Building Automation Industry PDF
9:00 am Monday, January 23th
Speakers - Jim Sinopoli & Ken Sinclair

"Making the Invisible Visible" is about how we as an industry depict our invisible cornerstones of comfort, energy, and environmental impact? How can we best show what cannot be seen: Temperature, Comfort, Electricity, Performance and their relationship to sustainability, and the necessary information to maintain all. We now have amazing anywhere graphics and the ability to interact dynamically with online social media while morphing our real time data to the world, but have we truly thought about what we will say? Our powerful far reaching real time network connections transport the invisible via the cloud but it is the graphics and their dashboard representations that convert the Invisible to Visible. This is the place where art, science, and communication meet while the world watches. As an industry we have never before had the opportunity to lead, but from our past obscurity we are becoming very visible everywhere. This session will also cover a few Predictions for 2012 plus the new products, innovations and developments since AHR Expo 2011 Las Vegas.

New Open Source Technologies that are Changing the Industry PDF
1:30 pm Monday, January 23th
Speakers - various industry experts with Ken Sinclair mediating

'Open' is a fundamental key word that has driven the BAS industry over the last decade and will continue to drive it in the future. Open standards, open protocols, open architecture and open web are some of the key concepts. This session will explore several open source movements including Project Haystack, Open ADR and others.

Building automation systems have made it fairly easy to collect and control vast quantities of data from our buildings including environmental conditions, equipment operation, and energy usage. However, the reality today is that this data only exists in a low-level, unorganized format, which is difficult to analyze to find patterns, issues and opportunities for improved performance. This session will include an overview of Project Haystack an open source project, which allows anyone to get involved. The OpenADR Alliance "Open Automated Demand Response" was formed to accelerate the development, adoption and compliance of OpenADR standards throughout the energy industry. The Sedona Framework is the industry's first open source development framework that provides a complete software platform for developing, deploying, integrating, and managing pervasive device applications at the lowest level. How to "open" industry programming languages and other proprietary bits of our industry will also be discussed.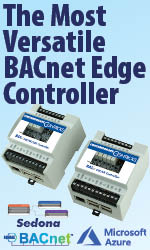 The Tools of Visibility and Interaction PDF
9:30 am Tuesday, January 24th
Speakers - Jim Sinopoli & Ken Sinclair

The marketplace and client needs for BMS systems are changing significantly as buildings and building management are becoming more complex. The pressures are coming from the need for greater visibility and transparency in energy consumption, the introduction of new technologies, and the evolving skill sets and knowledge required of facility personnel. Our real time network connections transport the invisible via the cloud but it is the graphics and their dashboards representations that convert the Invisible to Visible. What are the tools that make this possible? Improved or advanced BMS systems will need to have "middleware" software tools and be able to standardize data from a variety of sources and systems into an open database structure. Come an hear about real life projects and the successful transition from obscurity to visibility.

The Visible Campus – Bringing Sustainable & Energy-Wise Designs to Focus PDF
1:30 pm Tuesday, January 24th
Speakers – David Branson & Ken Sinclair

Implementing designs with advanced techniques for energy efficiency and resource conservation are only part of the equation – holistic solutions involve continued buy-in from all stakeholders. Regulations and standards have aided in bringing these methodologies into the building construction and finance industries, but a paradigm shift requires the embrace of building occupants and operators. This session will build on our opening session "Making the Invisible Visible". We will examine current industry attempts to bring stakeholders into the mix, and explore up-and-coming ideas. We'll discuss how social media may help generate holistic solutions. Come and hear how visible campuses emerge.

---


[Click Banner To Learn More]
[Home Page] [The Automator] [About] [Subscribe ] [Contact Us]