---
Ensuring Innovation at Every Level of the Building

...uses non-proprietary hardware and can incorporate many legacy technologies, eliminating significant upfront costs when setting up the system.



Kurt Gokbudak,
Consultant Solution Architect,
Schneider Electric



At Schneider Electric, we have a longstanding, market-leading presence in the building services and management technology space. There are many layers to the solutions we provide and the success stories we have with our varied base of clients across such industries as commercial buildings, healthcare, hospitality, and education.

EcoStruxure Building

The crux of our offerings is EcoStruxure Building, the industry's first open innovation platform for buildings. EcoStruxure Building is part of our EcoStruxure architecture. It is our IoT-enabled, plug and play, open, interoperable architecture and platform, delivering enhanced value around safety, reliability, efficiency, sustainability, and connectivity. EcoStruxure leverages advancements in IoT, mobility, sensing, cloud, analytics, and cybersecurity to deliver Innovation at every level, from Connected Products and Edge Control to Apps, Analytics & Services.

EcoStruxure Building's open, end-to-end IP architecture enables quick connectivity of IoT devices for faster commissioning and changes and provides for edge control and collaboration between building systems and third-party systems and devices. It helps to extract and enhance efficiency, not only energy efficiency but integration, operational and engineering efficiency. It enhances the comfort and productivity of building occupants, which is key to hiring and retaining talent. Additionally, because it is scalable and future-ready with its IP capabilities, it helps building owners and developers to increase the value of their real estate for the long term. EcoStruxure Building improves building value, offering building owners and real estate professionals up to a 15 percent premium on their buildings and up to 6 percent additional rental value.

For developers, systems integrators and members of our EcoXpert partner program, EcoStruxure Building is designed to enable up to 30 percent faster deployment through:

Smart Connector framework for creating a new system and app functionality
Enterprise Central allows for 10x more scalability to easily execute site expansions

Mobile commissioning, engineering efficiencies and development applications for speed, repeatability, and consistency
With the next generation of EcoStruxure Building, we offer even more innovation to take building operational efficiency to the next level. New elements include:

EcoStruxure Building Advisor application automatically delivers condition-based maintenance across multiple sites to resolve up to 80 percent of building issues remotely, decrease unscheduled maintenance by as much as 29 percent, reduce energy costs by up to 30 percent and reduce occupant complaints on average by 33 percent.
EcoStruxure Building Operations 2.0 is enhanced with best-in-class cybersecurity and delivers a customized native user experience through a responsive WebStation and mobile apps to engineer once, deploy-all-devices and provide mobile access on the go. The open, standards-based platform using the Smart Connector framework enables systems integrators to build innovative applications and offers actionable insights through reporting and dashboards that are simple to set up.
SmartX IP Controllers and SmartX Living Space Sensors are next-generation multipurpose field controllers and sensors that leverage industry standards and IP-based open protocols for a 30 percent increase in engineering efficiency and 20 percent faster commissioning leveraging the eCommission mobile app.

With EcoStruxure Building at the core, Schneider Electric fosters innovation and collaboration for its buildings clients.

EcoStruxure Access Expert

Also under the EcoStruxure umbrella, our EcoStruxure Access Expert is an open, cloud-based system that provides security personnel with round-the-clock access to video monitoring, intrusion detection and alarms, visitor management and building management operations. It is also one of the only platforms of its kind with mass messaging capabilities, supporting both email and SMS texting, allowing security operators to quickly and easily communicate with visitors, staff, students, and contractors during emergencies.

In addition, Access Expert allows organizations to save significant budget on set-up costs. It uses non-proprietary hardware and can incorporate many legacy technologies, eliminating significant upfront costs when setting up the system. Traditional security and building automation integrations have severe limitations and often require custom builds that are costly to develop and maintain. Access Expert integrates access control and building management systems (BMS) on the BACnet protocol, supporting open standards and delivering true building integration and automation. This allows customers to fully leverage the potential of their buildings and protect their existing infrastructure by enabling many legacy technologies to be upgraded to today's features and standards.

Finally, EcoStruxure Access Expert uses edge control to reduce operating costs. IP- and POE-enabled technologies within Access Expert allow organizations on tight budgets to provide cost-effective, safe and secure environments for all building occupants without increasing capital expenditure.

Success Stories

Galapagos Tortoise Restoration Initiative
Solutions are great, but they don't mean much if they're not driving meaningful change for clients. Schneider Electric's Buildings Business has numerous examples of coordinating value-driven partnerships and helping clients in various ways, and one of the more unique ones is their partnership with Automated Control Logic to restore the Galapagos giant tortoise species to its natural habitat.

Galapagos giant tortoises are massive herbivores that often reach more than 500 pounds. Before humans arrived on the Galapagos Islands, approximately 250,000 tortoises are thought to have lived there, but today, only an estimated 20,000 survive. Together, the Galapagos National Park Directorate and Galapagos Conservancy embarked on an ambitious program — the Galapagos Tortoise Restoration Initiative — to restore giant tortoise populations to their historical distribution and numbers. The project is supported by the Roosevelt Wild Life Station.

The gender of a tortoise is determined by the temperature of incubation, with females developing at slightly higher temperatures. In order to restore these species, tortoise experts and Galapagos National Park rangers can greatly speed up the process by collecting eggs from wild nests, and then bringing them into captivity for incubation and rearing until they are of sufficient size to better survive in the wild at approximately five years old.

Before enlisting the help of Automated Control Logic, the incubator heat delivery system used in the Galapagos National Park's Tortoise Centers was a single hair dryer in each incubator, controlled by a thermostat. The Galapagos Tortoise Restoration Initiative, through SUNY College of Environmental Science and Forestry in Syracuse, NY, reached out to Automated Control Logic to redesign its incubator heat delivery system using the latest Schneider Electric technology in order to deliver on the mission of the restoration project successfully. Automated Control Logic, a certified EcoXpert™ BMS partner, was selected for its deep expertise in heating systems and controls, as well as its longstanding partnership with us.

Using our technology, Automated Control Logic designed a new heat delivery system to precisely control the temperature in the tortoise incubators so that the Galapagos National Park and Galapagos Conservancy personnel could adjust it to ensure that eggs experienced stable development and to produce a higher percentage of females than males.

Due to the successful installation of the new heating systems, the Galapagos Tortoise Restoration Initiative team expect that 5,000 - 10,000 hatchling tortoises will be hatched from these incubators over the next two decades. This will effectively increase the current global population of Galapagos giant tortoises by 25 percent in just one generation.

Penn Medicine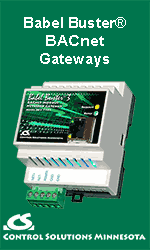 Also, this past September, we announced our participation with the PennFIRST team in designing and building a new state-of-the-art pavilion featuring smart building technology for power and building management systems for the University of Pennsylvania Health System (Penn Medicine). Schneider Electric's EcoStruxure for Healthcare, an IoT-enabled digital hospital architecture, is enabling Penn Medicine to reduce costs, optimize energy use, increase staff efficiency and much more, long into the future.

As part of the Integrated Project Delivery process, the PennFIRST team selected us as the key trade subcontractor (KTS) for low voltage integration and building management systems. We joined the existing PennFIRST team, which includes several other trade contractor partners, Penn Medicine as owner, Foster+Partners, and HDR as architectural designers, BR+A for engineering design and Balfour Beatty and L.F. Driscoll for construction management.

Also through the electrical KTS, William A. J. Shaeffer's Sons, we were selected as the energy and power management supplier. Schneider Electric's team has a strong existing relationship with Penn Medicine, having worked with the healthcare system for over 15 years. Our power management systems allow Penn Medicine to ensure that their power distribution network is running efficiently. This includes reducing the number and duration of unplanned power outages, reducing energy consumption, reducing unplanned maintenance, optimizing the loading of key equipment and ensuring regulatory compliance with reporting and tracking on power systems and availability, all while ensuring patient safety and satisfaction.

Over the last two years, we have worked with the PennFIRST team as a technology consultant reviewing the low voltage systems and possible integrations to be designed and delivered in the new facility. We have worked with the team to set up technology vendor demonstrations, conduct user group workshops and recently commissioned and built a Low Voltage Integration Lab in the project's co-located office near the project site. Through their extensive experience implementing smart buildings technology in leading healthcare facilities, Schneider Electric has over 100 healthcare solution use cases that deliver value in a hospital environment to build the hospitals of the future.

Now as a KTS, Schneider Electric will continue to work with the PennFIRST team to configure and evaluate the low voltage systems and use cases that leverage EcoStruxure for Healthcare as the technology backbone in the patient room for clinical and patient value. One example of a use case is our Clinical Environment Optimization solution, which saves energy by automatically adjusting room conditions based on occupancy information and allows patients to ensure that they are comfortable by setting their room temperature through the patient room control mobile app. These savings can then be used to address maintenance backlogs, and for investing in patient care initiatives.

Driving Innovation for Clients

The innovation doesn't stop here, as Schneider Electric's Buildings Business counts such institutions as Hilton Garden Inn Dubai, Edge Amsterdam, and Grand Medica as clients. These success stories continue to drive us towards our mission of leading the digital transformation of energy management and automation in buildings.


---


[Click Banner To Learn More]
[Home Page] [The Automator] [About] [Subscribe ] [Contact Us]