---

EMAIL INTERVIEW - Madeleine Bath & Ken Sinclair
Clasma is the marketing and conference company that is organizing BuilConn Europe in Brussels,
October 26-28, 2004 www.builconn.com/europe
Madeleine Bath is the contact in Brussels for BuilConn Europe
madeleine@clasma.com
---

Europe centric Advisory Board for BuilConn Europe
Sinclair: How are plans progressing on BuilConn Europe?
Bath: Very well indeed Ken. We are four months away from the event and are well on track. We have an Advisory Board in place, registration is open, content is being developed and sponsors as well as exhibitors stepping up to the plate supporting this important event for Europe.












Sinclair: I saw the Advisory Board, I noticed many names I didnít recognize.
Bath: Being predominantly a European event, it was important for us to have key players in Europe; I believe you currently work mainly in North America which is why you may not know many of the names. In Europe these names are the thought leaders in integration of HVAC, Security and IT.
Sinclair: How are open systems being adopted in Europe?
Bath: In addition to the two dominant standards you see in North America, LonWorks and BACnet, in Europe we have a third equally dominant standard Konnex (or KNX for short). It is the collaboration of EIB (European Installation bus), BatiBUS and EHSA (European Home Systems). Since the acceptance of integration is more mature in Europe, the use of these open systems protocols is gaining support across Europe.
Sinclair: And BuilConn is set to be the scene where this will be brought to some conclusion?
Bath: BuilConn Europe will certainly bring these together. As to a conclusion, thatís not for me to predict, not at this time anyway. Delegates to BuilConn in Brussels will certainly be able to learn a significant amount about how these standards perform in the interplay of technologies to bring integration and convergence a step closer to reality.
Sinclair: Will IT be a big component of BuilConn Europe?
Bath: Yes it will; Iíve just confirmed Cisco and NextiraOne as Keynote and presenter at BuilConn, we are working on confirming a number of other high level IT executives to bring their perspectives to building systems. Organizations such as oBIX will be represented to bring forth the XML and Web Services subject to the European market.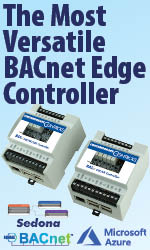 Sinclair: Which countries in Europe are showing interest in BuilConn?
Bath: The main interest seems to be coming from the UK, Ireland, the Benelux countries (Belgium, Netherlands and Luxemburg) as well as Scandinavian countries, Germany and France. The make up of the Advisory Board is a good representation of those markets. These are also the countries that are implementing integrated building solutions with open systems.
Sinclair: Will BuilConn be an annual event in Europe, and will it always be in Brussels?
Bath: Yes, BuilConn will be in North America in the spring and Europe in the autumn, as far as the actual venue in Europe, well, that is not defined yet.
Sinclair: Good luck with the event.
Bath: Thanks Ken, we hope to see you here in beautiful Brussels in October.
---


[Click Banner To Learn More]
[Home Page] [The Automator] [About] [Subscribe ] [Contact Us]