---

EMAIL INTERVIEW - Anto Budiardjo & Ken Sinclair
Anto Budiardjo, President of Clasma, Inc.,
Clasma is the marketing and conference company that is organizing BuilSpec Education Seminars
in partnership with Consulting Specifying Engineer (C-SE).
Please send comments and questions to antob@clasma.com.
---

BuilSpec 2004 – Specifying in a time of convergence
Sinclair: There is a new term in the industry: BuilSpec. Tell me about it.
Budiardjo: BuilSpec is a series of one-day educational seminars we are organizing this fall in partnership with Consulting Specifying Engineer (C-SE). The objective is to bring much needed education on the dynamics driving open systems, integration and IT convergence to consulting and specifying engineers.












Sinclair: Is it like a mini BuilConn?
Budiardjo: To some degree it is. BuilConn is the annual gathering of the industry to progress the convergence subject; BuilSpec, on the other hand, is taking that subject on the road to consulting and in-house engineers, people who need to know how all of this will impact how they go about specifying and designing building systems.
Sinclair: Educational seminars on the road—what do you mean?
Budiardjo: BuilSpec will be delivered to eleven cities around the U.S., and each event will be held at a hotel where key experts will deliver the educational material to engineers from that particular region. A number of sponsor companies will also be at hand to help engineers understand their views of these exciting times in our industry.
Sinclair: What about the content? How objective will it be?
Budiardjo: Unbiased objectivity is one of the most important criteria of BuilSpec. Unlike many vendor- or technology-based seminars, BuilSpec is not tied to any specific angle of technology, approach or vendor. Our mission is to explain the facts about the relevant technologies in a balanced and meaningful manner to help move the industry along in delivering value to building owners and the industry.
Sinclair: Tell me BuilSpec's view on open systems.
Budiardjo: BuilSpec will explain what open systems is, why it is good, and how to navigate the numerous technologies and approaches in designing and specifying open systems. BuilSpec attendees will leave with a clearer understanding on how to implement open system in the buildings they are designing or specifying.
Sinclair: How are you going about developing the content?
Budiardjo: As a result of organizing BuilConn, we have access to a very significant network of experts and material sources from all corners of the industry. Additionally, we have the contribution of the editorial teams at C-SE who are without a doubt the best group as far as knowledge about the issues facing engineers today. Topics such as LonWorks, BACnet, oBIX, Wireless, Master specification, TCP/IP and XML will be collated and explained in a manner that will be immediately useful to the engineers who attend.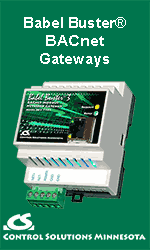 Sinclair: Will sponsors be creating the content?
Budiardjo: No. As we have done at BuilConn, there will be a strict non-commercialization policy of the educational content at BuilSpec. Our sponsors will have an opportunity to separately communicate their message to attendees but the educational content is being developed by Clasma, C-SE and the advisory board we have created.
Sinclair: What level of support are you getting from the industry?
Budiardjo: A single word to describe the support would be "phenomenal". Every stakeholder that we have approached has easily understood the value in communicating this very difficult message to engineers. Key players are either stepping up to the plate to support us or working to do so. It has been very encouraging.
Sinclair: Which cities will be visited and how do people register?
Budiardjo: The cities we are working on are listed on our web site as is a preliminary agenda. Registration will start in August when we have all of the details in place.
Sinclair: How do my readers get more information?
Budiardjo: They can visit our web site www.builspec.com, where they can also subscribe to BuilSpec-related updates.
---


[Click Banner To Learn More]
[Home Page] [The Automator] [About] [Subscribe ] [Contact Us]