---
EMAIL INTERVIEW - Maria Corsi & Ken Sinclair
Maria Corsi, Technical Director of the National Building Controls Information Program, Iowa Energy Center
Maria Corsi joined the Iowa Energy Center as Technical Director of the National Building Controls Information Program in October 2002. Her primary role is to define and manage projects aimed at providing stakeholders with unbiased information and performance test results of controllers, control components, and control strategies. Prior to joining the Energy Center, Maria spent over four years as a Research and Development Agent at Natural Resources Canada in Montreal. Her work there centered on the development of a software tool that detects and diagnoses operation problems as well as assists with energy management and commissioning of heating, ventilating, and air-conditioning systems. Maria was also a key collaborator in a multi-partner initiative to develop the next generation Intelligent Building Automation System. Maria obtained her Bachelors and Masters degrees in Building Engineering at the Department of Building, Civil and Environmental Engineering at Concordia University in Montreal.
---
DDC Online: Your One-Stop Resource on Direct Digital Controls












Sinclair: What is DDC Online?
Corsi: DDC Online is a web-based resource that specifying engineers, commissioning providers, building owners, facility managers and others can draw upon to make informed decisions about building controls based on credible information. DDC Online includes a catalog of product lines of the leading manufacturers of building direct digital control (DDC) systems presented using a generic architecture and common terminology, thereby simplifying the task of comparing products of different manufacturers.

Manufacturers of DDC systems naturally strive to differentiate their products from those of their competitors. Product capabilities and the terminology used to describe these capabilities are two of the ways this is done. DDC Online strips away the artificial differences (the terminology) to help professionals in the building industry see the functional differences (product capabilities) between product lines of different manufacturers. Currently, 21 manufacturers with nationwide distribution and a full complement of HVAC controllers are represented on DDC Online.

DDC Online also presents introductory material on DDC systems that aids in the understanding of the product descriptions. Topics range from the elements of a control loop to types of control responses and various types of network topologies. There are also descriptions of various control devices, explanations of the different approaches for programming control logic, and an overview of communication issues. Another section of DDC Online describes a wide range of input and output devices and the terminology (e.g., accuracy, repeatability, hysteresis) used to characterize the performance of these devices.
Sinclair: Describe the generic architecture used on DDC Online
Corsi: The generic architecture developed for DDC Online consists of eight distinct layers that delineate the capabilities of the product line. These layers are:
| | |
| --- | --- |
| Operator interfaces | Primary control units |
| Internet/IT network | Supervisory interface |
| Communication interfaces | Secondary network(s) |
| Primary network | Secondary control units |
For each manufacturer, the layers are populated with appropriate devices and/or communication information. A quick screening of the architecture diagram of various product lines can identify those lines with an appropriate level of sophistication for the application of interest. A more detailed side-by-side comparison of architecture diagrams can show key differences in controller capabilities, whether proprietary or open protocols are used for communication, and the speed at which communications take place on the primary and secondary networks.

Users of DDC Online can double-click on controllers in the diagrams and view more detailed information about that particular controller. Templates are used to present this information so that the same information can be readily located for a comparable controller from another manufacturer.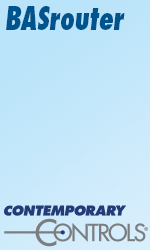 Sinclair: Where does the DDC product information come from? Who verifies it and how often is it updated?
Corsi: Product information is based on technical specifications provided in the manufacturer literature. Information is often provided with the collaboration of the product manufacturers or is obtained from publicly available product literature. The information is verified by a consulting engineering firm to ensure that it is properly presented within the generic architecture and terminology. Major updates are done once a year, typically after the annual ASHRAE Winter meeting.
Sinclair: How can manufacturers be listed on DDC Online?
Corsi: DDC Online lists DDC System manufacturers that have a comprehensive product line(s) specifically designed for building HVAC applications and supported by nationwide sales, service and distribution network. There are several criteria evaluated to determine whether a particular manufacturer's product line should be listed on the DDC Online Web site. Briefly, these criteria involve:
1. Depth and completeness of the product line for total Building HVAC System control applications, i.e., from the VAV Box to Central Plant Control

2. Energy management and control capabilities of the hardware and software

3. Level and type of product distribution and service/support – national, regional, distributor, representatives, etc

4. Product and equipment that is readily available to the general commercial market

5. Market share of the general commercial and institutional market

Some other initial questions we might ask include: Does the product line have any crossover, shared or parallel devices with any other manufacturer? Does the product manufacturer manufacture, assemble, and produce its own equipment and develop its own software?

Once the company satisfies the initial qualification criteria, we proceed with a more detailed review of the technical documentation for the product line and technical specifications for the equipment.
Sinclair: How can individuals access DDC Online?
Corsi: DDC Online is a free resource that is available at www.ddc-online.org. Novice and seasoned engineers alike regularly refer to DDC Online for manufacturer product information, as well as use its guide to industry terms and the tutorial of system input/output.

For the first time, the Iowa Energy Center is accepting Sponsoring Partners for its DDC Online Web resource. Companies can now reach DDC Online's 6,000 unique visitors a month by becoming a Sponsoring Partner. Building owners, design and specifying engineers, commissioning providers and other industry professionals who want to stay current with the rapidly evolving world of Direct Digital Controls know DDC Online is a valuable resource. This long-standing and trusted site provides information on products offered by major manufacturers of DDC systems. The site is recognized for its unique generic architecture and common terminology that allows easy comparison of product features.

The Iowa Energy Center is dedicated to maintaining and updating the information provided on DDC Online, a crucial and costly task that could not be done without support from our Sponsoring Partners. For more information about reaching DDC Online users, look for sponsorship information at www.ddc-online.org or contact Maria Corsi at (515) 965-7343 or mcorsi@energy.iastate.edu.

DDC Online was developed by the Iowa Energy Center in conjunction with the U.S. Department of Energy Office of Building Technology, State and Community Programs; Pacific Northwest National Laboratory; and Facility Dynamics Engineering.
---


[Click Banner To Learn More]
[Home Page] [The Automator] [About] [Subscribe ] [Contact Us]