---
| | |
| --- | --- |
| The ZigBee Alliance | Ken Sinclair |
Last month our readers showed an extreme interest in wireless, so this month I have decided to do a quick review of the ZigBee Alliance which is leading the new wave in wireless networking. From their web site http://www.zigbee.org/ I copied the following;












Mission
The ZigBee Alliance is an association of companies working together to enable reliable, cost-effective, low-power, wirelessly networked, monitoring and control products based on an open global standard.
Objective The goal of the ZigBee Alliance is to provide the consumer with ultimate flexibility, mobility, and ease of use by building wireless intelligence and capabilities into every day devices. ZigBee technology will be embedded in a wide range of products and applications across consumer, commercial, industrial and government markets worldwide. For the first time, companies will have a standards-based wireless platform optimized for the unique needs of remote monitoring and control applications, including simplicity, reliability, low-cost and low-power.
Mission and Objective are stated simply and the screen captures below from their ZigBee Overview show where the open standards focus is;
Short Range, Low Data Rate networking between the personnel area network; PAN and the local area network; LAN
ZigBee open standard is able to move text, graphics, and simple internet information
The screen capture below greatly increases our understanding of where this exciting new standard fits. It is not likely to replace BACnet or Lon but will compete at the lower Short Range, Low Data Rate networking level.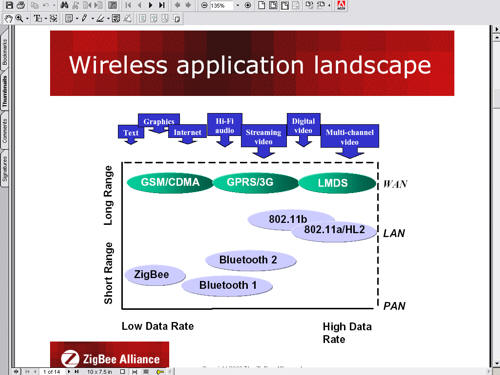 This next screen capture show the total impact of ZigBee reach with Short Range and Low Data Rate. Truly amazing!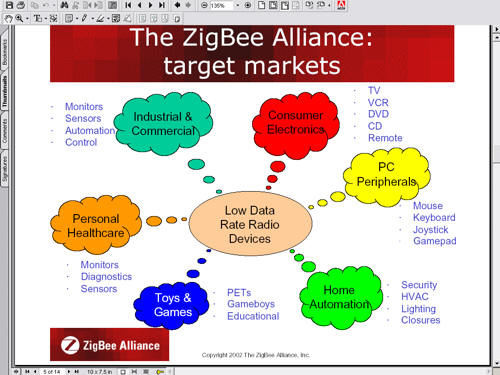 Want to find out more View presentations from the May 19, 2004 Open House.
Their FAQs provide more insight.
Who is the ZigBee Alliance?

The ZigBee Alliance is a rapidly growing, non-profit industry consortium of leading semiconductor manufacturers, technology providers, OEMs and end-users worldwide. Membership is open to all. ZigBee Alliance members are defining a global specification for reliable, cost-effective, low power wireless applications based on the IEEE 802.15.4 standard. Our current membership is 68+.
Who is supporting the ZigBee Alliance now?

A rapidly growing list of industry leaders worldwide has committed to providing ZigBee-compliant products and solutions. Over 68 member companies are actively working to define the ZigBee specification, including six promoters (Honeywell, Invensys, Mitsubishi, Motorola, Philips, and Samsung) and participants that include semiconductor manufacturers, wireless IP providers and OEMs. The rate of growth and interest in the ZigBee Alliance continues as documented by the overwhelming 350+ attendees at the San Jose Open House in November 2003.
What is the goal of the ZigBee Alliance?

The goal of the ZigBee Alliance is to create a specification defining mesh, peer-to-peer, and cluster tree network topologies with data security features and interoperable application profiles. The ZigBee specification provides a cost-effective, standards-based wireless networking solution that supports low data rates, low power consumption, security and reliability.
What are some examples of ZigBee applications?

ZigBee technology is well suited to a wide range of building automation, industrial, medical and residential control & monitoring applications. Essentially, applications that require interoperability and/or the RF performance characteristics of the IEEE 802.15.4 standard would benefit from a ZigBee solution. Examples include:
Lighting controls

Automatic Meter Reading

Wireless smoke and CO detectors

HVAC control

Heating control

Home security

Environmental controls

Blind, drapery and shade controls

Medical sensing and monitoring

Universal Remote Control to a Set-Top Box which includes Home Control

Industrial and building automation
This is the short story for more info step through all the valuable information on their web site http://www.zigbee.org/
---


[Click Banner To Learn More]
[Home Page] [The Automator] [About] [Subscribe ] [Contact Us]