---
Realcomm 2015


Feel Secure in Your Discomfort and Excitement. It Means You're Listening.


Therese Sullivan,

Principal,
Realcomm/IBcon 2015 happened last week, and the phrase that captured this moment in commercial building operations was 'uncomfortable excitement.' The pre-conference Cybersecurity Forum pounded home themes of threat awareness and security tech. To quote speaker Marty Edwards, U.S. Department of Homeland Security (DHS)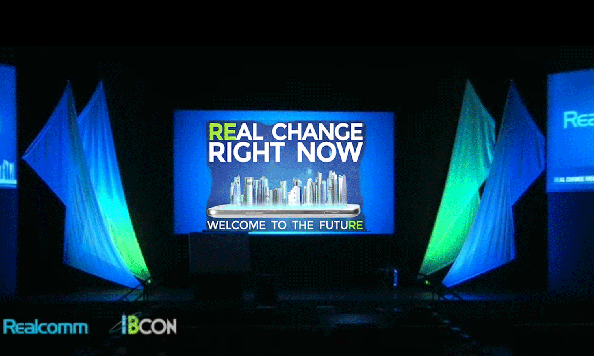 Edwards' presentation on threats was followed by a panel on how the industry is responding with participants Cisco, Intel, Siemens, SchneiderNA, and Tridium. We heard about how they've hardened their products. For example the new Tridium JACE 8000 won't boot up if it detects unexpected alterations in the code. Intel has opened a Security Intelligence Center to guide customers in Federal Information Processing Standard (FIPS) 140 compliance. If a customer reports suspicious activities on its network, Cisco, Siemens and Intel all have response teams at the ready.

The next morning in the General Session, attendees heard from Bran Ferren, a Disney-trained futurist, who said that business survival demands adventuring into the future now, by piloting projects that leverage new mobile, cloud and analytics technology. The same set of dueling imperatives—staying secure versus staying technologically competitive—reemerged again and again during the pre-conference Intelligent Buildings Boot Camp and Smart Building Integrator Summit, as well as during the many sessions of the official two-day program.

Smart buildings consultancy, Intelligent Buildings, LLC, led the IB Bootcamp which focused on top trends revolutionizing the Design/Construction cycle for new buildings and retrofits. The first three of these trends are being led by Master System Integrators and include 1) a preference for open protocols, 2) converging silo-ed building systems onto one network, and 3) connection and control via cloud architectures.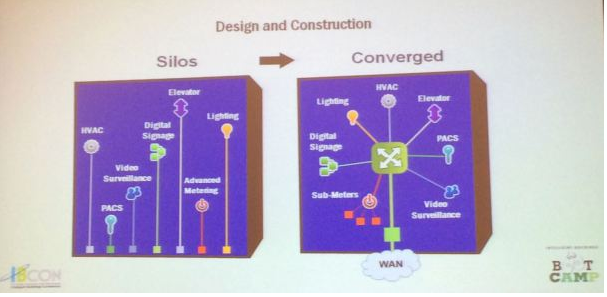 IBcon_Silos

In this interview by Eric Stromquist of Tom Shircliff and Rob Murchison of Intelligent Buildings, LLC, they explain how clients can put a security governance structure in place before acting on these trends. Over in the SB Integrator Summit, Gregg Berkeley covered how Intel was building security into the firmware of the microprocessor-enabled devices sitting at the edge of the Internet of Things. This is critical to those facilities ready to set up the two-way communications needed to not only remotely monitor and do fault detection and diagnostics, but to control remotely when a fault is discovered. Christine Bowles of Intel Smart Buildings and Richard Newbury of KMC Controls explain how Intel is working with controls-industry partners to deliver such open, secure and scalable platforms.


Intel_RCIB

A common point made by both Chip Pierpont, the Government Security Administration's (GSA) Director of Facilities Operations & Technologies, and Daniel Cocosa, Google's Regional Facility Manager, was that, authority to sign off on cloud deployments has moved into IT departments. Recent high-profile data breaches have led to even stricter policies when it comes to allowing Internet connectivity. Cloud-hosted platforms that Facilities could approve just six to twelve months ago would have to pass the scrutiny of IT and the Chief Security Officer today. Pierpont offered this advice to other Facilities Managers:

"Get with your Chief Operating Officer and make sure that IT and Finance are with you from the beginning. It's a three-legged stool, and you need the support of all three. Cyber-security is now the driver."
The imperative to improve building system security was not the only factor contributing to the feeling of exciting discomfort at the conference. There was also consensus that digital natives have different expectations of their workspaces compared to previous generations of occupants, in terms of utility, sustainability and flexibility. Ferren's assessment was that in the future personal office space will be defined by the 8 square inches that it takes to operate a smart phone in your hand. The rest of the facility should be designed to accommodate productivity in this space. Google's Cocosa added that property owners and facility managers need to always be on the look out for technologies that have the greatest potential to improve people's quality of life. They should be driving the change and piloting projects, making it easy for occupants to experience the technology and adjust behaviors.

Cocosa was also a participant in the Day 2 session on Selecting an Intelligent Building Operating Platform, along with Rob Murchison of Intelligent Buildings, Joseph Feuling of CBRE/ESI and McKenney's Leroy Walden representing Inside IQ Building Automation Alliance. This session highlighted one more reason to feel both excited and wary—this with regard to the perennial Realcomm topic of openness when it comes to your building data. Here's a quote from Murchison that captures where the industry is on that topic:

"You may have an IP connection. You may have BACnet or another open API. But you need to ask about naming. How does data get modeled? Is it tied to the application? If so, you're at risk of being locked in by that platform vendor."
There was acknowledgment of Project Haystack and its efforts in open source naming and tagging. But, there are also other meta-tagging systems like sMAP, developed at the UC Berkeley and productized by Building Robotics as Trendr and KGS Clockworks has a built-in naming/tagging system. Location data is an aspect of naming, so it's also worth noting that Apple and Google remain in heated competition for dominance in indoor geolocation mapping. The consensus during this Realcomm panel discussion was that meta-tagging is a critical issue and that we're only in the 2nd inning when it comes to this contest. By any measure, Realcomm-IBcon #17 was a success. Jim Young and Howard Berger suggested that we stay tuned. We may not need to wait an entire year before their next Realcomm-IBcon conference event.

---


[Click Banner To Learn More]
[Home Page] [The Automator] [About] [Subscribe ] [Contact Us]