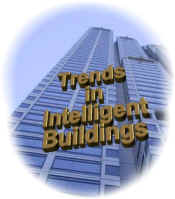 "Trends in Intelligent Buildings"
Our authors provide great insight into our rapidly evolving industry.
Please take the time to read their valuable articles.
Articles - June 2002
The "Right Stuff" What it takes to become a true building system integrator in today's world. Will Podgorski, Product Manager, Siemens Building Technologies, Inc., HVP Division, Staefa Control System
Brilliant Security for Intelligent Buildings The impact of fingerprint biometrics on security is profound - it verifies individuals rather than the cards they carry. Julia Webb, Vice President, Global Marketing, Bioscrypt Inc.
Online Automation Training…are you missing something? This seminar is linking building automation professionals on a global basis with a forum for learning and exploration of building automation and open systems topics. John J. "Jack" Mc Gowan, CEM Energy Control Inc..
Lighting in the Intelligent Building Until recent years the intelligent building was virtually inconceivable. Dannielle Furness, Marketing Manager, Dynalite Intelligent Light
Technology Supports the Village of Effective Work Information technology specialists must work with designers to ensure that the right technology is in the right places - and that the infrastructure has sufficient flexibility. Larry Leete Manager, Workplace Integration and Specification Marketing, The Wiremold Company
New Generation of Gas Detection Equipment Far-reaching International Standards and Regulations Requiring Refrigerant Leak Detection Still Not Generally Known Dr. Lorcan J. Maher, Managing Director, Murco Limited
Increased Focus on Online Training for Building Automation We are providing a virtual online classroom for specialized courses about the large building automation industry. Ken Sinclair, AutomatedBuildings.com
Articles - May 2002
Intelligent and Integrated Buildings Although we as an industry have said the words before we have never reached our potential of providing intelligence or integration in our buildings. Ken Sinclair, AutomatedBuildings.com










Building Systems Commissioning: Let Technology do the Heavy Lifting Having the control network installed early in the construction phase allows the building automation system to do as much of the heavy lifting as possible including centralized data collection, analysis and reporting. Clay Nesler, Director Advanced Marketing, Johnson Controls, Inc.
Knowledge Management Systems and Computer or Web-based Training Data has changed from a "hard copy" medium that was discarded on a periodic basis to create office or storage space to a digital medium waiting to be used in creative and useful ways. SQL servers and databases are becoming the roll-top desk of the 21st century. Edward H. Brzezowski, P.E. Facility Energy Services, Inc.
Optimizing All-Variable Speed Systems with Demand Based Control To ensure that the full measure of savings is achieved, new methods of control along with the new all-variable speed equipment configuration must be incorporated into the design. Thomas Hartman, P.E., The Hartman Company
Australia Review Australia has a yearly air conditioning exhibition called ARBS, which is an acronym for Air Conditioning, Refrigeration, and Building Services. The ARBS show was held in Sydney between 25 and 27 March at the Sydney Exhibition Centre. Jim Henry, Chairman BACnet Interest Group - AustralAsia
Maintaining Your .Calm Let's not panic. Let's maintain our calm. It is just stuff we have to get done as an industry in a transition to today. Ken Sinclair, AutomatedBuildings.com
Alerton Meets Schlumberger's Specification The campus being retrofitted is located in the Texas Hill Country and belongs to the Schlumberger Oilfield Services division. Melinda Bartee, Alerton Technologies, Inc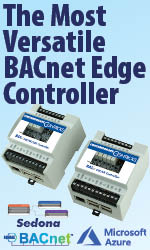 Previous Favourites
The articles most requested by our readers.
May/June
Clay Nesler, Director Advanced Marketing, Johnson Controls, Inc. Building Systems Commissioning: Let Technology do the Heavy Lifting
March/April
Edward H. Brzezowski P.E., Facility Energy Services, Inc. The Evolution and Future of Control Systems
January/February
Eric Craton and Dave Robin, Automated Logic Information Model: The Key to Integration
Nov/Dec
Steve Thomas, Johnson Controls, Inc. Our Industry Should Support New Division 17
Sept/Oct
John J. "Jack" Mc Gowan, Energy Control Inc What's New and Hot in the Building Automation Market?
July/Aug
Steve Tom, AutomatedLogic Web Based Control Systems The Devil is in the Details
May/June
Ken Sinclair, AutomatedBuildings.com, 11 Revolutionary Automation Trends in Large Buildings,
---


[Click Banner To Learn More]
[Home Page] [The Automator] [About] [Subscribe ] [Contact Us]