---
Al Mouton, President
Loytec Americas Inc.

Both protocols have become well established and manufacturers are working to offer building systems supporting both platforms.
The building control market is at the edge of major growth. It is being steered by the recent upturns in the economy and the desire for more control of buildings for the purpose of better optimization of energy, better service for the customer and added security. To respond to these new market opportunities companies are working on standard building control products based on LonWorks ANSI/EIA-709.1 and BACnet ISO 16484-5 protocols. Both protocols offer interoperability of products between manufacturers. The industry can now focus on two major platforms instead of 15 or so proprietary platforms. At one time there were major battles to see which protocol would win out in the industry. It is becoming clear that both protocols have become well established and manufacturers are working to offer building systems supporting both platforms.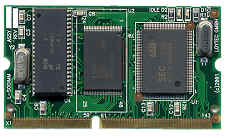 Figure 1 L-Core ANSI/EIA-709 Module












One of the leading companies of tools and network products conforming to the LonWork protocol ANSI/EIA-709.1 standard is Loytec, a European and USA based company. Within all Loytec products is a very powerful module called the L-Core. This module consists of the ARM7 microprocessor, memory, and the complete LonWork ANSI/EIA-709.1 protocol stack. This module is the workhorse for Loytec products which include; Protocol Analyzers, Routers, Switches, System Diagnostics Tools and Network Interface products. Because of the power of the L-Core, Loytec products perform tasks without losing packets, thus increasing network bandwidth and overall network performance. A picture of the L-Core is show in Figure 1 and block diagram in Figure 2.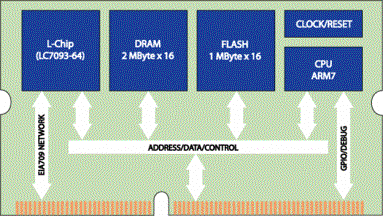 Figure 2 L-Core ANSI/EIA-709 Module Block Diagram
Loytec has been using and selling the L-Core module for the past three years and has been working on a highly integrated replacement. At the November LonWorld conference in Munich, Loytec along with NEC, announced the new LISA chip. This solution integrated the ARM7TDMI-S™ 32-bit RISC CPU, a 10/100BaseT Ethernet port, a full-handshake UART port, and the Loytec L-Chip. By adding Loytec's ORION protocol stack, the new LISA chip can fully implement the ANSI/EIA-709.1 LonWorks protocol. The block diagram of the LISA chip is shown in Figure 3. This Integrated Circuit (Chip) was well received by manufacturers of LonWorks products as being one of the most powerful solutions for high-end LonWorks products. In addition, with the new LonWorks Ethernet standard called ANSI/CEA/EIA-852 a very cost effective and powerful controller can be developed with an Ethernet backbone and a LonWorks interface.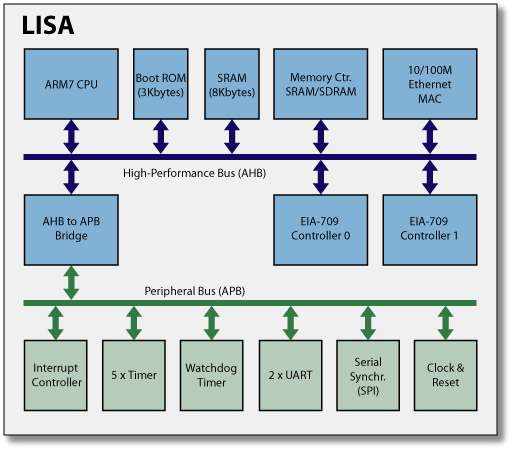 Figure 3 LISA Block Diagram
At January's AHR Expo Automation Showcase, Loytec received much notice from its tools, and network products based on the L-Core, and the announcement of the new LISA chip. This captured the interest of the BACnet camp and Jim Lee of Cimetrics Inc approached Loytec with the thought of working together to offer the first LonWorks and BACnet system solution using the LISA chip. This opens the doors to new opportunities for working to support both protocol platforms. At BuilConn in April, Cimetrics and Loytec announced their partnership offering a BACnet protocol platform from Cimetrics and a ANSI/EIA-709 LonWorks protocol platform from Loytec, both capable of running on the LISA chip. Figure 4 shows a system diagram with both LonWorks and BACnet supported. All the details have not been worked out yet, but there will be tools and support available from both companies with the goal of helping our customers become successful.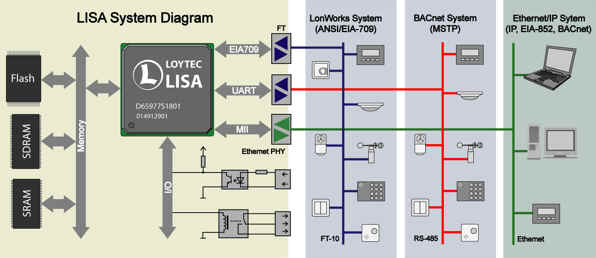 Figure 4 System Diagram.
For the first time ever it is now possible to develop products for BACnet networks as well as for LonWorks™ networks based on the same hardware and software platform. Simply by loading different firmware into the device the node will communicate on BACnet and/or LonWorks networks. This is truly an exciting offering for the industry. It is estimated that the cost will be between 15 and 20 US dollars and product and tools will be available sometime during the fourth quarter this year.
---
About Al Mouton
Al accepted the role of President of Loytec Americas Inc. in December 2003 to better serve the growing market for Loytec products. Al worked at Motorola for 27 years and held the positions of Marketing Director of LonWorks products from 1989-1999, Marketing Director of Communications IC from 1981 to 1989, and various other engineering jobs. Since leaving Motorola, Al ran a consulting/design company near Austin, Texas. He has continued working with customers doing LonWorks based design and promotion, in addition to other control type products. Al holds a patent on Multiplexing of LCD displays and has authored over 100 articles.
About LOYTEC
LOYTEC is a leading European provider of network analysis tools and network infrastructure products for the growing building automation market. With our core technologies L-Chip™, ORION protocol stack (ANSI/EIA 709.1), and L-CNIP (CEA/EIA-852) we offer an open platform for flexible, robust, high performance networking with IP and LonWorks networks. For more information visit www.loytec.com.
About Cimetrics, Inc.
Cimetrics, Inc. headquartered in Boston, MA is the leading 3rd party supplier of BACnet software. Their BACstac™ protocol stack has been implemented in thousands of products made by leaders in the building automation controls industry. Cimetrics has been intimately involved in the design of the BACnet protocol since 1995, and specializes in BACnet development tools and protocol interface solutions. For more information visit www.cimetrics.com
Read July interview with Cimetrics Jim Lee The technology inside the Lisa "BACnet on a chip"
---


[Click Banner To Learn More]
[Home Page] [The Automator] [About] [Subscribe ] [Contact Us]