---
EMAIL INTERVIEW - Jim Lee & Ken Sinclair

Jim Lee, President & CEO, Cimetrics Inc.
Jim Lee, President and CEO of Cimetrics, Inc., founded Cimetrics in 1989 and has built the company into the industry leader in Building Automation Communication Systems and Embedded Networking. Lee graduated from Cornell with a BA in physics, concentrating in electrical engineering. He has worked in audio engineering at DBX, Inc., and was senior engineer for CBS INC. (CBS Records) setting up compact disc factories. He has extensive experience in computer integrated manufacturing, quality control, hardware design, and project management. Lee is founder and President of the BACnet® Manufacturers Association. He and his Cimetrics' staff have worked on developing and establishing BACnet as an open, industry-wide standard since 1993.
---
The technology inside the Lisa "BACnet on a chip"
Sinclair: Tell me about Cimetrics' involvement with BACnet?
Lee: Cimetrics is a technology company that has over the past 15 years been developing connectivity for device networking. In the early 90's we became involved with the BACnet Committee and started to develop numerous BACnet related technology products now in use by a majority of the manufacturers of building automation systems.












Sinclair: What kind of BACnet products have you developed?
Lee: In the early days, we focused on developing the BACnet protocol stack so that control system vendors could shorten their development time of BACnet products. As the use of BACnet increased, we started to develop diagnostic and troubleshooting tools as well as connectivity products to enable integrators to interface their BACnet systems to DDE, OPC, ActiveX, ModBus and other connectivity solutions.
Sinclair: What's your view of the recent development of BACnet as an open system standard?
Lee: Without a doubt we are seeing a significant take up and interest in the use of BACnet in North America as well as numerous world markets. System vendors are realizing that when it comes to interoperability of systems, the BACnet standard dominates. The support by ASHRAE and adoption of ISO of BACnet as a world standard makes it a strong contender for the dominant element of open systems in buildings.
Sinclair: Why is a protocol stack so important?
Lee: Anybody that has seen the BACnet standard will know that it is basically a document, 600 pages in all, that specifies the communication rules of how BACnet devices talk to each other. Cimetrics realized very early on that not all vendors had the resources or patience to develop the significant software required to implement the protocol. We created the protocol stack so that manufacturers could eliminate the development of the network interface and focus on their core competence, normally the system elements of building controls and automation. Our stack is embedded in a significant number of BACnet products today; giving each the knowledge that the communication stack was developed by the company that knows more about BACnet than any other in this industry.
Sinclair: What is the thought process of the Lisa chip?
Lee: Our partner Loytec has a great deal of experience in marketing silicon and in supporting technologies for device networking. They have been working with the LonWork protocol for many years and saw a need to develop a similar low cost hardware component to communicate using BACnet. Their search for a good quality BACnet protocol stack brought them to Cimetrics. This Lisa product is the result of this collaboration.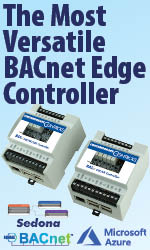 Sinclair: The recent article on the Lisa chip was AutomatedBuildings.com's most downloaded article, why do you think this is?
Lee: I believe this is in support of the comment I made earlier: the interest level for BACnet is growing and the industry is looking at ways of developing and using more BACnet products to implement more BACnet system solutions.
Sinclair: What is the potential application of the Lisa chip?
Lee: Product vendors that currently have either proprietary or LonWork based solutions will find the Lisa chip as an incredibly rapid development path to bring their product into the BACnet standard. They will be able to source a component that solves all of the communication needs of BACnet as well as having a 32bit ARM processor available for their applications.
Sinclair: Lisa runs on a 32bit ARM processor?
Lee: Yes, the base chipset is manufactured by NEC, who have shipped many millions of these. It is based on the ARM architecture, one of the most efficient processing architectures found in many low power devices with hundreds of millions being used in applications ranging from PDA's, Mobile phones to other consumer as well as commercial and industrial devices.
Sinclair: I understand that the Lisa chip can also use the LonWorks protocol?
Lee: Yes, depending on the software you chose to use, the Lisa chip can communicate using BACnet or LonWorks; this is an incredibly powerful feature that allows device vendors to develop their hardware ONE time for the TWO dominant protocols in building automation today.
Sinclair: This seems to be an incredible solution to the open systems quandary
Lee: Yes it is, and it's more fuel for the rapid adoption of BACnet.
---


[Click Banner To Learn More]
[Home Page] [The Automator] [About] [Subscribe ] [Contact Us]