---



Across My Desk

snippets, blog bits, tweets, linkedIn posts, and url links that are about to fall off my desktop

Ken Sinclair

Founder, Owner, Publisher AutomatedBuildings.com
Every month there is a blizzard of information contained in the emails and newsletters that cross my desk on their way to AutomatedBuildings.com. Some of this information is not in the form of any type of content we can publish but I feel I should share with you these snippets, blog bits, Tweets, LinkedIn posts, and URL links that are about to fall off my desktop.
On a daily basis I tweet as @Ken_Sinclair https://twitter.com/Ken_Sinclair

I actually now have a few moments ;-) https://twitter.com/Ken_Sinclair/moments
Tweet links I think will be of interest and part of our rapid industry evolution.

Also, http://automatedbuildings.com/ maintains this LinkedIn online blog for the magazine, a great place to interact.
I also write a column twice a month for Contractor Mag http://www.contractormag.com/author/Ken-Sinclair
And a column once a month for facilitiesnet Home of Building Operating Management & Facility Maintenance Decisions Magazines

But I still have stuff falling off my desk I feel I should share.
My Top Tweets, posts, podcasts, and video interviews
Video/Blogs/Podcasts
CT Video Sept Issue join 29 mins
CT Video about August Issue
Recalibrate join at 27 mins
Discussion of June Issue
Your People Networks
Discussing our Cybersecurity Issue
How will AI Affect You?
Building Emotion at the AHR Expo
Collaboratory at AHR video
Open Hardware Software AHR
Digital Mindfulness in Smart Building
Mindful Machines
Digitally Mindful Buildings
https://twitter.com/Ken_Sinclair
https://www.linkedin.com/in/ken-sinclair-8246965/detail/recent-activity/p osts/
Desk Droppings
Earlier in 2019, Vancouver's city council declared a climate emergency and adopted a new set of climate-action targets that pushed its already aggressive goals to a new level. In response to the urgent need to hold global warming to below 1.5°C, the city set a new goal of being carbon neutral by 2050.
What is Amazon Sidewalk? A number of wireless standards are used to connect IoT devices, each of which have their own advantages and disadvantages. Bluetooth offers high bandwidth but limited range, Wi-Fi promises low power consumption and high capacity but coverage isn't universal, while 5G will include provisions for IoT – once network deployments are complete. Sidewalk uses unlicensed spectrum in the 900MHz band (reserved for amateur radio transmissions) to deliver low bandwidth and long-distance connectivity. It has a range of between 500 metres to one mile, making it ideal for devices that require low-cost and low-power transfers of small amounts of dataThe standard is also secure, meaning developers can issue over-the-air updates and devices have more protection.
5G IoT installed endpoints for outdoor surveillance cameras will reach 2.5 million in 2020, 6.2 million units in 2021 and 11.2 million units in 2022, but will be surpassed by connected cars in 2023. "Cameras deployed by city operators or used to ensure building security and provide intruder detection offer the largest addressable market as they are located outdoors, often across cities, and require cellular connectivity," said Stephanie Baghdassarian, senior research director at Gartner.

"We have this vision where one smart building is asking for resources from another smart building, and communicating with other actors in a smart city," says Erik Wallin, CEO of Idun Real Estate Solutions and Co-creator of ProptechOS and RealEstateCore. "To make this a reality, we need more buildings to join. And this is where having a common language is key."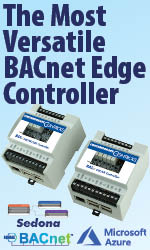 Top LinkedIn posts
Benefits of Cloud-Connected Buildings 4168 views Adopters of cloud computing such as building owners or end-users, however, may need to know what the cloud can do to improve building operation and occupant conditions.
https://lnkd.in/gH7vU_3
#creative #connectedbuildings #smart #design #connections #workplace #future #digitization #education
Smart Metering and Its Importance in Shaping an IoT Enabled Smart City 4625 views https://lnkd.in/gSkAnam https://lnkd.in/bFZjQG8 #connections #future #workplace #smartcities #education #technology #connectedbuildings #buildingautomation
The Emergence of Building Services Networks in Australia 4840 views The Australian Government has set the standard around Building Services Networks (BSN) as a holistic solution which extends far beyond just a fibre backbone. https://lnkd.in/gHPAWWf connections #design #connectedbuildings

---

[Click Banner To Learn More]
[Home Page] [The Automator] [About] [Subscribe ] [Contact Us]