Navigating Never Never with Mr Linkair
http://automatedbuildings.com/ was started in 1999 before blogging was a thing, we called it an online magazine or emagazine.

Episode 380 ControlTalk NOW with Ken Sinclair (aka Mr. Linkair) Automated Buildings' October Theme: Transformation + "Tossing Transformation Torches"

Ken Sinclair aka Mr. Linkair, began his crusade in 1999. Ken's natural instincts and his selfless desire to collect, link, and share relevant BAS and HVAC information has led to the growth of Automated Building's unparalleled on-line readership. Now, during the most disruptive period of the BAS and HVAC evolution, we are grateful that Ken and Automated Buildings continue to hold the torches of transformative change high enough for us to see our way forward.

The new evolving model of AutomatedBuildings.com is to connect and link to the amazing amount of articles and blog bits that folks like you and many others are publishing on your own blogs and newsletters. We leave them in place as published and as illustrated but tell the world where they are and provide links to them. They are amazing content and know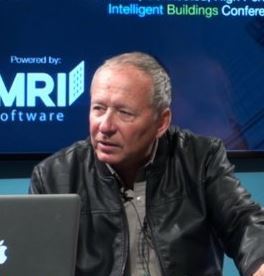 n well by your networks but no one else knows about them. I feel we can add new value by linking them to a subject matter website like Automated Buildings.com and feel this would be a good transition for us and of value to the industry.

As an old guy in the industry it looks to me like our online magazine 1999 roots when we and everyone else started their own dot com and no one could find them until we started linking them together under the umbrella of a subject matter B2B website. I have alway been Mr Linkair, this is just business as usual in an unusually transformed world.

Everyone is now in the online publication industry and doing it much better than us but these self created flaming torches are burning everywhere on your own websites and on many social media platforms with a dated posting. There is a need to collect these industry gems on a subject matter online service like ours to curate, document industry discussion and explore the interaction of the tossed torches and find new value in our core. Discussing who is getting ignition from the flames and who is burnt in place are important discussions.

Please read both our November reviews
Navigating Never Never Our Transformation is deep inside where we said we would never, never, go; we all need more information and discussion to successfully navigate our new never. "You are Never coming back once you transform"
Mr. Linkair Do not just talk about Transformation and how it links our past knowns to the uncertainties of our future unknowns. "Just Do It!"
Here are some examples of some Mr Linkair links we feel are important to you,
The CREM's Digital Toolbox Download the workplace leader's handbook of digital tools today and step up to the challenges of tomorrow. Locatee
Hub & Spoke Workplaces: the Good, the Bad & the Ugly Memoori Published: October 13th, 2020

I am very impressed with the efforts of James Dice; and his Nexus offering
Great resources on enocean Website

ISA looks toward the future through the prism of globally transformative forces Bill Lydon is an InTech contributing editor with more than 25 years

Tracking the impact of COVID-19 McKinsey & Company Interactive data displays to inform decisions on protecting lives and livelihoods amid the COVID-19 crisis
Very Pleased with the contributions from our Contributing editors for this issue.
Eight Months In In just a few months' time, the COVID-19 crisis has brought about years of change, has disrupted the economy, accelerated shifts in how we do things, and created changes that will be with us forever Marc Petock Chief Marketing & Communications Officer, Lynxspring, Inc

"The Call of the Wild" Answering a Request for Proposal in Innovation Nicolas Waern "The Building Whisperer"
Very pleased that Nicolas is becoming our newest Mr Linkair providing a great collection of who is who in today's rapidly evolving wild world of innovation.

Versatile Edge Controllers Powered by Raspberry Pi Advanced features, convenient form factor, and cloud connectivity – giving you the ability to make any attached equipment a cloud-connected asset Zach Netsov Product Specialist, Contemporary Controls

Cameras are Watching Let us make them watch the world for us to make our lives easier and more productive and fun Sudha Jamthe is a Technology Futurist and CEO of IoTDisruptions
Interview | Scott Cochrane and Greg Fitzpatrick, CxA Greg introduced the concept of the MSIP, or Multiple Systems Integrated Platform, as a way to connect all the BAS systems at the various facilities to one common software platform on the district-wide area network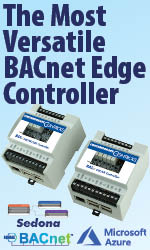 As always this new issue is a collection of great articles, resources, columns, reviews, new products, interviews and of course the steady stream of news depicting our rapidly evolution Navigating Never Never

Tell all our sponsors you saw their ads on the AutomatedBuildings.com web-site and thank them for supporting your free access to evolving Automated Building Industry information. Click on their ads and view their valuable products and services. Please review all Our Sponsors.

The news just keeps flowing thru our web-site, and RSS feeds daily, and of course the only way to find what you are looking for in the vast quantity of information on our site is with our site search engine
http://www.automatedbuildings.com/search/sitesearch.htm

As always lots of new products, plus be sure to check our event calendar to see the number of events we have in our future.


---

[Click Banner To Learn More]
[Home Page] [The Automator] [About] [Subscribe ] [Contact Us]