---
Let's Talk Facility IT



I am talking about the use of information technology to ensure that the building systems are performing and delivering on the needs of the organization who pay for and rely on the facility. I call this Facility IT.




Anto Budiardjo, Fractional Entrepreneur
anto@budiardjo.com

Originally published New Deal for Buildings blog.
For a while now, I've been unsure how to answer the question of what industry I work in. Though I mainly hang around building automation people, my discipline has been much more in line with information technology.

When I tell people I'm in building automation, they typically stare at me blankly, though not as bad as when I mention HVAC. If I try and explain that I work with buildings and facilities, they may react, "Aha! You help manage offices", close, but no cigar. Sometimes I try and talk about information technology in buildings, but here, the disconnect between the two is, in many people's eyes, way too hard. Most see IT as modern, app- and mobile-centric sector, and all about software, while buildings are the old, physical and decidedly un-digital infrastructure of life. The two don't mix they think!

If this were just a personal grudge, you'd be forgiven to see why it's relevant. However, lately, I've heard similar rumblings from industry thought leaders, especially in the area of analytics. These people understand that the technology they market is more in line with today's tech companies, while the "space" they occupy, and the data they deal with is mostly emanating from buildings; automation and control systems, energy meters, lighting and many others. Moreover, often these days, the target of the resulting information is the facility managers who manage the day to day operation of facilities. So, what industry are they in?

Another way this has surfaced in recent months is the so-called "IT-OT debate." Who, the debate goes, are responsible for these new systems? The IT department, or the people who manage the "Operational Technology"? Of course, that is the wrong question. Armed with self-interest, people from both side would say "we do!", this debate doesn't help.

There has to be a better way to think about this problem.

I suggest that if we look at fundamental problems with these three sectors (BAS, IT and FM), we can see challenges that can be solved with a simple and elegant way forward. Let's look at these challenges.

For BAS (controls, HVAC, lighting, security, and others), a challenge today is to differentiate the value created by information technology from the value created by their core function. In HVAC, for example, the core function is to ensure comfortable temperature and environment. When focused on information technology, a better value definition would be to ensure that the investments made to facilities are enabling the facilities to deliver on the needs of the occupier. Automation is primarily installed to ensure efficiency, in other words, a cost mitigation exercise on an already small portion of the enterprise's expenses. Information technology, on the other hand, is promoted by the 'C' suite as a productivity tool to improve the top line performance of the enterprise; in areas such as ERP, CRM, and Supply Chain, IT has enabled considerable increases in the top- and bottom-line performance. The BAS industry is not in a good position to persuade buyers of this higher value since questions related to BAS are typically pushed down to the boiler room where it has been for decades.

For companies in the IT space (big data, analytics, infrastructure, and ERP), IoT is an opportunity to bring information technology to the digitization of the physical space. This is an opportunity that is very appealing to them since, in essence, they think that BAS and FM are just information systems! These attempts have been going on for decades, I have witnessed first hand over my years in the space. However, the building sector has been hard for IT to penetrate; enterprise and consumer tech is subtly different from buildings tech. Also, the typically closed industry and its quirky channel dynamics haven't precisely lent welcoming arms to IT's overtures.

Lastly, the FM (Facility Management) sector lie at the tip of the spear of the disconnect between the technologically aware, mobile phone carrying occupants they serve, and FM's inability to fully orchestrate their facility's multitude of systems. FM is primarily a low-skill service industry, serving the needs of the occupants, using disjointed and siloed systems found in buildings, from maintenance ticketing, energy management, staffing management, enterprise systems, and so on. All this makes it impossible for them to deliver the sort of service their occupants get when they leave the building and order an Uber, use OpenTable, Yelp or jump on a Lime Bike.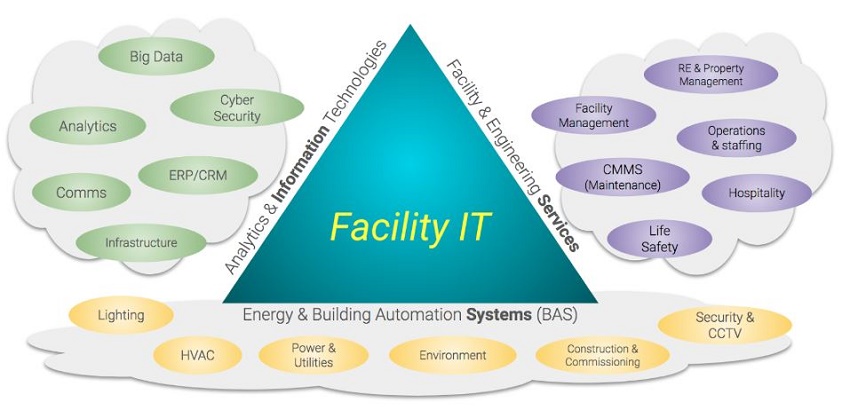 I believe that the intersection of these three disciplines is the nexus from which a new discipline is emerging. I am talking about the use of information technology to ensure that the building systems are performing and delivering on the needs of the organization who pay for and rely on the facility.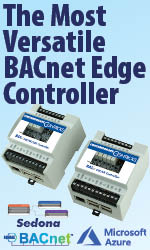 I call this Facility IT.
For Facility IT to be successful, it cannot merely be an extension of BAS, FM or IT. Facility IT has to be its own space where these disciplines meet, collaborate and deliver what facility owners and occupants desire and deserve; a modern, information-aware facility that is comfortable, cost-effective, safe, responsible and functional for their needs.
For the needs of facility owners to be truly realized, and for this emerging industry to deliver on its promise, we need to address and highlight this space, and as an old boss use to tell me, "everything has to have a name."
My call-to-action to professionals from these industries is to consider Facility IT as a way to forward and expand their respective markets. Do remember that Facility IT is inherently collaborative, your Facility IT offering should acknowledge new customers, people, and companies from adjacent industries that have a similar but different problem than you. Done right, this will expand your user base; a great business opportunity!
Many of you reading this are already doing Facility IT, let's call the rose by its correct name.
So, what industry are you in?


---

[Click Banner To Learn More]
[Home Page] [The Automator] [About] [Subscribe ] [Contact Us]