---
News Briefs - Updated August 22nd
E.M.S. Technologies's Corporate Training Facility To Announce Expansion Of Classes Offered
As employees retire and new hires come on board it has been increasingly difficult for customers to receive training on their older building automation systems. Due to this increasing demand for legacy product training EMS Technologies has expanded its course offerings to include SVW 2.6 and SVW 3.0 training as well as the current WebCTRL course schedule. For course outlines and training schedules please visit the training center link on the EMS home web page www.emstec.com.
---
Health & Education Security Technology Seminar
Westley Hotel, Birmingham on the 16th September 2004. The common theme of this event is the utilisation of IT networked infrastructure and the latest Internet Protocol (IP) technologies to provide integrated security surveillance, monitoring and data storage solutions across existing computer networks. IP based technology offers open systems, massive functionality, flexibility, simplicity and cost saving which traditional systems may not have been able to offer. Most IP products can interface with legacy systems and ALL adhere to the now universally accepted TCP/IP standards.
The IP UserGroup™ is an independent security technology forum with the mission to present how the latest security and surveillance technologies can reduce crime, prevent anti-social behavior and increase profitability. Whether involved in the safety & security strategy of a health or education authority or responsible for the maintenance of the CCTV camera system, this presentation will have something for you. For more information visit www.ipusergroup.com

---
Tridium Takes Major Role in OASIS' oBIX Technical Committee
Richmond, VA. August 2004 –Tridium, Inc., a leading provider of software to enable integration of automation and control devices, is playing a key role in the oBIX Technical committee recently organized under the auspices of OASIS, the Organization for the Advancement of Structured Information Standards. The oBIX group consists of industry professionals working to develop a standard web-services protocol for connecting facility systems to the enterprise. oBIX will help improve operational efficiencies for end users by bridging the gap between facility systems and enterprise applications. Facility operators, building owners, and tenants will be able to make decisions based on a comprehensive view of their enterprise including life-cycle costs, environmental considerations, operations, and other performance factors. OASIS, an international standards development consortium, will help advance the protocol which will reach across all verticals in the facility management space. With Tridium's guidance and support, industry stakeholders in HVAC, lighting, security, refrigeration, and others, will define and promote the standard. As a founding member of oBIX, Tridium has taken a leadership role in the Data and Web Services working group.
---
AHR 2005












ADVANCE REGISTRATION AND HOUSING ARE NOW OPEN!
Register today and join more than 50,000 industry professionals from Feb. 7-9, 2005 at the Orange County Convention Center in Orlando, Florida, USA for the 2005 AHR Expo. Meet suppliers and peers from around the world, hear the latest news, see the newest technology and products, network with colleagues, and attend cutting edge educational programs.
Make Your Reservations or View a List of official Show hotels. Shuttle Service will be provided for all hotels on the list that are not within walking distance of the Orange County Convention Center. A number of paid and free educational opportunities are available throughout the three days of the Show. Show Sponsors, a number of Endorsing Associations, and Show Management will all be presenting useful educational sessions. Please look for updates and further information on our website and in the forthcoming Show Preview.
For more information and a current list of exhibitors, visit www.ahrexpo.com.
---
Echelon and LonMark International Announce Impressive Industry and Government Support for LonWorld 2004 Expo and Conference in Shanghai, China
Echelon Corporation announced that they are receiving overwhelming support from both Chinese industry corporations as well as the Chinese government for their LonWorld 2004 event to be held in conjunction with the UPnP Summit. This support predicts a successful 2004 for the event, to be held in Shanghai.
Sponsors include: Nico Technology (China), Samsung Electronics (Korea), TAC AB (Sweden), ShenYang Huatang (China), Samsung Heavy Industries, and TELDA (Korea), ARC Informatique (France), Distech Controls (Canada).
LonWorld 2004 has also gained the support of key government organizations including the Shanghai Information Commission, Shanghai Construction & Management Commission, Shanghai Economic Commission, Shanghai Science & Technology Commission, and the Shanghai World Expo Bureau. Initial speakers from, Integer House China, Tongji University, Samsung Electronics Co., Ltd., Mori Building, Shanghai Construction Commission and the Shanghai 2004 World Expo Bureau were also announced.
To see the press release in full, please visit: http://www.echelon.com/about/press/LonWorld2004SponsorSpeaker.htm
---
Presidential candidates concentrate on indoor air
Environmental newspaper publishes exclusive interviews with Bush, Kerry
ROCKVILLE, Maryland – Nine million American children have been diagnosed with asthma. Insurers reeling from million-dollar payoffs to homeowners earlier this decade have now begun limiting their coverage of incidents related to mold. In 49 states, no laws are on the books that would keep anyone from claiming to be qualified to remove mold from homes and businesses. While the frightening implications of indoor air quality sometimes fail to garner appropriate media attention, the topic did grab the attention of President George W. Bush and Sen. John F. Kerry in exclusive interviews obtained by the newspaper Indoor Environment Connections.
With the newspaper's August 2004 issue, Indoor Environment Connections has become the first media organization to publish responses from the two leading presidential candidates to a number of questions addressing their approaches to indoor environmental pollution.
---
Echelon Corporation announces the creation of LonUsers España in Spain.
The new LonUsers group is the the 14th in Europe to support the LonWorks platform. A LonUsers group is a country based organization typically comprised of manufacturers, end-users, consultants and integrators using the LonWorks device networking platform. The new group intends to accelerate the adoption of the LonWorks platform in the Spanish home and building automation markets through education and market programs with institutional, trade, educational and commercial organizations. Additionally, the group will serve as a marketing and training resource for manufacturers, end-users, and integrators new to LonWorks networking. The group aims to make LonWorks the automation standard in Spain.
To see the release in full, please visit: http://www.echelon.com/about/press/lu-spain.htm
---
Vibratech develops a true RMS meter specifically for vibration measurements
When monitoring the output of an accelerometer and normalising amplifier this meter can be used to indicate the value of complex signals. Indications include the True RMS signal value, Peak value and also includes a Peak hold function. Incorporating an analogue meter enables the Lab Technician to view trends in the signal that are not easily tracked with a digital readout. Designed for use in the vibration test and measurement field where the user needs visual confirmation of the vibration level for the unit being tested or analysed this meter is accurate to very low signal levels across a large frequency range.
---
Clasma Expands Technical Expertise with Addition of Industry Stakeholder
IRVING, TX — Clasma, Inc. announced a plan to expand their network of technical expertise with the appointment of industry stakeholder, Paul Ehrlich, to Program Development Director to create objective and relevant material for the organization's numerous buildings industry events that include BuilConn, BuilSpec, XML Symposium and M2M Expo and Conference. Ehrlich's initial responsibility will be to develop the curriculum for BuilSpec, a series of regional seminars speaking directly to the consulting, specifying and in-house engineer on how convergence, open systems and whole building integration will directly impact their profession, their business and them personally.
---












Berkeley Lab Study of Niagara Mohawk Customers Responses to Real-Time Pricing
Berkeley, CA — Researchers at Lawrence Berkeley National Laboratory and Neenan Associates have released a study demonstrating that a major power utility's real-time pricing (RTP) tariff was successful in motivating some large customers to shift and curtail loads in response to hourly wholesale market electricity prices posted day-ahead. The report documents the complexities of commercial and industrial customer behavior when faced with complex incentives, including the volatility of wholesale market-based electricity prices as default tariff service, ISO-administered demand-response programs, opportunities to buy power from competitive suppliers, and customers' own changing power needs and electrical load profiles. The research was funded by the California Energy Commission's Public Interest Energy Research (PIER) program.
---
EN-Gauge Recognized in 50th Annual International Design Review
ROCKLAND, MA – MIJA, the makers of EN-Gauge,® the first multi-patented electronic monitoring capability for fire extinguishers and extinguishing systems, today announced that EN-Gauge® received honorable mention in the equipment category of International Design (I.D.) Magazine's 50th Annual Design Review.
Available for both commercial and residential uses, EN-Gauge® enables fire extinguishers to be electronically monitored ensuring that they are available and functioning in an emergency situation.
---
Honeywell - New Distributor Class Represents Multiple Air Cleaner Product Categories
MINNEAPOLIS - Honeywell (NYSE: HON) Commercial Air Products announced the launch of Health & Critical Environments, a new distributor class. This new class will have access to and the ability to represent six categories of products for a multitude of commercial indoor environments that require cleaner air. For more information visit www.honeywell.com .
---
TAC at ASIS International 2004
TAC, a world leader in building IT, security systems and energy solutions, will exhibit its latest security product offerings at booth 1349 during ASIS International 2004 in Dallas this September. This year at ASIS, TAC will highlight the Xenta 527, a Web-based graphical interface to access TAC's I/NET® Seven high-performance security system. For further information visit www.tac.com
---
IIPSEC goes from strength to strength
IIPSEC (International IP in Security Exhibition and Conference) 2005 will be 30% larger to meet the ever growing demand for IP solutions. The three day event which takes place at Stoneleigh Park near Coventry over the 25th – 27th January can now boast to be Europe's largest TCP/IP Technology Event combining a rich mix of the very latest digital products and solutions. The show delivers world-class exhibitors and visitors from all corners of the globe. With more than fifty presentations, seminars and workshops the event continues its heavy bias on knowledge, education and learning.
The security market is undergoing its biggest change in decades as many mainstream products including CCTV, Access Control and Intruder Detection are now IP or network enabled. This small yet significant connection is changing the market dynamics of the industry forever and as the power of networks, capacity of storage and sophistication of software increases, the security industry will be swept into a new age. Europe's largest security technology event IIPSEC is poised to become the world's premier event for digital security solutions. At past events the emphasis has been on stand-alone products. Whereas, IIPSEC is the only technology show worldwide that brings together all relevant digital solutions and services for managing today's security processes - at one venue and at one time.
---
WebGen Systems Recognized By Frost & Sullivan with Customer Value Enhancement Award
Cambridge, Mass. – WebGen's proactive approach in Enterprise Energy Management was recognized lby Frost & Sullivan with the 2004 Excellence in Customer Value Enhancement Award at an awards banquet in Boston. Frost & Sullivan's Customer Value Enhancement Award acknowledges a company's unparalleled customer service support and its ability to keep pace with changing end-user demands. It is also a tribute to WebGen's superior technological ability, acceptance within the market, and impact on the existing competitive landscape. WebGen's Intelligent Use of Energy (IUE) provides building owners and managers with a predictive, automated energy management solution that applies best practices in energy management, including precise forecasting tools, to measure and optimize energy consumption. This results in reduced energy costs and improved energy efficiency while also maintaining the comfort of the building occupants.
---
YORK International Announces the Launch of the ISN ConneXsys Control Line
YORK, PA - With the introduction of its new Integrated Systems Network (ISN) ConneXsys line of controls, YORK International Corporation becomes the first HVAC manufacturer to offer a control system that provides complete BACnet connectivity from the smallest terminal unit to the largest chiller. BACnet is the communication standard supported by the American Society of Heating, Refrigeration and Air Conditioning Engineers (ASHRAE). ISN ConneXsys controls provide cost savings, unsurpassed communication capability and greater system control flexibility. The ability for YORK International to bundle its superior equipment with factory packaged controls provides customers with one point of contact for a complete HVAC system. The ISN ConneXsys Operator Work Station (OWS) uses industry leading graphics to display system status. Taking advantage of Internet technology to provide unsurpassed communication capabilities, the ISN ConneXsys Web option provides Internet access to controllers through a standard browser interface. Displays, setpoints, reports and schedules can be managed anywhere there is Internet access. Alarms can be sent to email, cell phones and pagers reducing labor costs, minimizing downtime and improving system reliability.
---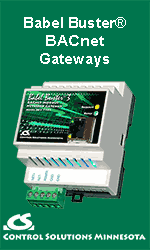 Matrikon and Nova Biomedical Develop OPC Server for Nova BioProfile® Analyzers
(Edmonton, Alberta) – Matrikon and Nova Biomedical announced the availability of the OPC Server for Nova BioProfile Chemistry Analyzers. This new software provides OPC connectivity to Nova BioProfile Analyzers, enabling the analyzers to transfer analytical data on key chemistries to any bioreactor controlling software that is OPC compliant. This critical data enables controllers to initiate real-time feedback control to optimize the bioprocess.
---
Jungo Adds Enhanced QoS for VoIP
Jungo recently added enhanced QoS for VoIP to its OpenRG software for voice gateways. The software supports a number of QoS features to ensure that VoIP packets are handled with higher priority than data. Related features include implementing RTP/RTCP protocols in kernel mode to reduce latency due to task switching, sending VoIP packets with IP TOS/Difffserv bits set to ensure higher priority handling on the network, and ensuring that VoIP packets are handled with higher priority by the Gateway high priority queues in the WAN interface driver. The latest version of OpenRG for voice gateways is available for Intel IXP425 platforms and Infineon's INCA-IP and ADM5120 platforms
---
The Home Computer is evolving into hub for multimedia experiences
Dallas, Texas - A recent study by Parks Associates of more than 4,000 U.S. Internet households reveals that people with platforms such as Microsoft's Windows. XP Media Center Edition are redefining the PC's role through applications such as photo editing and video recording. In the survey, both current owners and likely buyers of Media Center Edition home computers reported significant differences compared with the entire U.S. Internet population in terms of their use of and interest in applications such as listening to digital music, creating custom CDs and DVDs, editing photos, and recording and viewing television and movies.
---
All day seminar on HVAC controls Tuesday August 31st in Orange County California. Please click the link below to see the course description and details. Hope to see you there. http://home.earthlink.net/~hvaccontrol/
---
Fundamentals of Energy Trading & Hedging
Paradigm Strategy Group, Inc., a premier energy trainer, proudly brings its rarely taught "Fundamentals" programs to Los Angeles from September 20-23, 2004. These courses are specially designed for those needing an in-depth introduction to the tools and practices of energy trading and/or option hedging.
September 20-21 - Los Angeles, CA
Fundamentals of Energy Trading & Hedging
This course introduces you to the fixed-price concepts (price curves, basis, etc.) and tools (forwards, futures, swaps) central to contemporary energy markets and hedging techniques.
September 22-23 - Los Angeles, CA
Fundamentals of Energy Options & Option Hedging
This complementary course focuses on options and optionality - an obviously effective hedging instrument essential to functioning in the energy sector. Together, these two programs provide an understanding of the full scope of ideas that underlie today and tomorrow's energy market.
---
Game, set, match: PI Vision wins Wimbledon order
PI Vision has provided a 36-camera network video recording (NVR) system for The All England Lawn Tennis and Croquet Club. The system was active throughout the 2004 Wimbledon Championships and will continue to provide security for the Club throughout the year. The system comprises PI Vision's Universal Video Management System (UVMS™) model 5000 with inputs for 36 cameras recording at 6 pictures per second over 14 days using MPEG2, the most thoroughly tried and tested compression algorithm for video capture. It comprises a total of 1.5TB of storage in a RAID5 device. The NVR replaces an existing videotape based system and gives the management at Wimbledon the opportunity to upgrade seamlessly to IP network cameras in the future. The upgrade to digital video storage was part of a CCTV refurbishment contract, which was won by ADT. Significantly, the UVMS™ takes advantage of the Club's existing IT infrastructure which means that images can be securely viewed by security and facilities management staff from a number of PC access stations around the site, meaning staff are no longer tied to a central monitoring control room.
---
ABB drives for HVAC applications profiles benefits of new technologies for building engineers, personnel
("Peace of Mind ? Built In")
NEW BERLIN, WI, - A comprehensive profile of the full range of features and benefits built into the new ABB drive for HVAC applications, the ACH550 seires, is showcased in this new brochure. See the full document online at:
http://www.abb-drives.com/StdDrives/RestrictedPages/Marketing/Documentation/Documents/ACH550-US-01-Web.pdf
---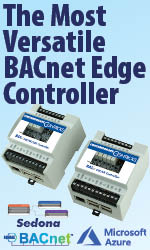 ABB University adds new training courses
WICKLIFFE, Ohio - ABB, the leading power and automation technology group, has expanded the course offerings of its ABB University training operation, which support new and existing products. New course series include those for the recently introduced Industrial IT Extended Automation System 800xA, and new ABB Drives. The ABB University course schedule now includes information regarding Gas Chromatograph, Continuous Gas Analyzers, and Mass Spectrometer course offerings. For more information on course descriptions, dates and locations, as well as on-site training, contact the ABB North American Customer Service Center toll-free at 1-800-435-7365, or 1-440-585-7804. Course information is also available on-line at: www.abb.com/abbuniversity.
---
Phoenix Controls Releases New Local Data Display Unit
ACTON, MA—Phoenix Controls Corporation has introduced a device that eliminates the cost and complexity of redundant data acquisition systems as part of building automation and control. The Local Display Unit, the latest offering in the company's Celeris® digital product line, connects directly to any room-level control network and displays up to 250 network variables in 50 display screens, including temperature, humidity, offset (polarity), room pressurization, and the occupancy status of a space. A six-button keypad provides easy navigation through the screens and allows variables to be changed directly from the unit.
In addition, the LDU reads variables from room-level, non-networked devices that are connected to the Celeris system, such as the temperature settings and alarm contacts from ovens and freezers. The product is available with two mounting options, surface and flush.
Phoenix Controls Achieves ISO 9001:2000 Registration
ACTON, MA—Phoenix Controls Corporation, a recognized leader in the design and manufacture of precision airflow control systems for critical room environments, announced that its Quality Management System conforms to the "ISO 9001:2000 Quality management systems–Requirements" standard and is registered. The scope of the company's QMS registration includes the design, development, manufacture, sales and service provided and used to control the environment and airflow of critical spaces (e.g., laboratories, clean rooms, animal research facilities, health care, etc.).
---
TAC Establishes Office in Washington D.C. to Serve Key Market












WASHINGTON, D.C. – TAC, a world leader in Open Systems for Building IT®, security systems and energy solutions, has opened a branch office in the Washington D.C. metropolitan area to serve both the government and private sector customers in the mid-Atlantic region. Located in Vienna, Va., the branch office provides customers in the region with systems integration and local service and access to TAC's solutions for building automation, security and energy management. Key products available through this office are TAC Vista®, an interoperable facility and energy management system and I/NET® Seven, TAC's high performance security system.
For more information on TAC visit www.tac.com
---
Andover Controls Awarded Multi-Million Dollar Security Project with Verizon
Andover, Mass. - Andover Controls, a leading manufacturer of "Smart Building" facility management systems, announced that the company has been selected by Verizon Communications to provide a fully integrated access control and alarm monitoring system for 527 sites across California. A Fortune 20 company, Verizon Communications (NYSE:VZ) is one of the world's leading providers of communications services, with approximately $68 billion in annual revenues. Verizon companies are the largest providers of wireline and wireless communications in the United States.
Several local Andover Facility Automation Representatives will install Andover Continuum® card access control with full alarm monitoring in Verizon Central Offices, Administration spaces, and remote switching facilities all across California. All sites will be networked to an existing central database at Verizon's Alarm Response Center in Irving, Texas via Verizon's IP backbone. At many of the sites, the new card access control system will be added to an existing Andover environmental control and alarming system or will serve as a platform to add environmental control and alarming at a later date for a fully integrated facility management solution. The state-wide project is expected be completed in 18-24 months. Visit www.andover.com for more information.
---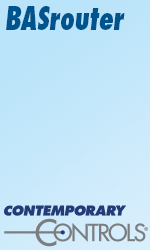 TALON VAV Controller Improves Comfort With Advanced Supply Air Control
BUFFALO GROVE, Ill. - A new TALON® Predator® Variable Air Volume (VAV) controller with Supply Air Temperature (SAT) Response has been added to the family of Staefa® TALON HVAC Controllers. Predators are integral components of the open protocol TALON HVAC control system from Siemens Buildings Technologies, Inc. This LonMark® Certified HVAC controller improves comfort in spaces served by VAV systems, especially those with DX cooling. This controller features an advanced thermal control sequence that automatically adjusts air flow to maintain cooling as supply air temperature changes. It improves VAV DX cooling zone control by eliminating room temperature disturbance due to frequent cycling of DX systems. The varying supply temperature causes an adjustment of air flow rate in response to supply temperature as well as to room temperature. The VAV with SAT Response application is factory loaded and available in both Predator VAV Actuator and Predator reduced point VAV controller platforms. See www.sbt.siemens.com for more information.
---
LONWORKS Open Systems to Help Keep the 2004 Olympics Running Smoothly
SAN JOSE, CA – Echelon Corporation (NASDAQ: ELON), the creator of the LONWORKS® device networking platform for connecting everyday devices to each other and the Internet, today announced that smart LONWORKS open systems including heating, ventilation and air-conditioning (HVAC) as well as energy management will be used in the baseball, softball and hockey venues at the 2004 Summer Olympic Games in Athens, Greece. The system utilizes a flat architecture built on Echelon's LNS® network operating system and includes interoperable devices, automation functions and system management. The simple to manage, reliable, expandable, and highly cost competitive system is based on LONMARK® certified interoperable products from Honeywell (Excel 5000 products) and Continental Controls (the WattNode energy sub-meters), managed by Honeywell's LNS based CARE network management tool.
More information is available at http://www.lonmark.org. Further information regarding Echelon can be found at http://www.echelon.com. Echelon is a sponsor of the LonWorld® Exhibition, the world's largest event devoted to the networking of everyday devices, to be held October 20-21 in Shanghai, China. More information on the show can be found at http://www.lonworldexpo.com.
---


[Click Banner To Learn More]
[Home Page] [The Automator] [About] [Subscribe ] [Contact Us]