---
BACnet Web Services Addendum Proposed for Review












ATLANTA – Simplifying access to building energy and performance data is the goal of a proposed addendum to the American Society of Heating, Refrigerating and Air-Conditioning's (ASHRAE) BACnet® standard.
ANSI/ASHRAE Standard 135-2004, BACnet - A Data Communication Protocol for Building Automation and Control Networks, is the only open, consensus-developed standard in the building controls industry.
At ASHRAE's 2004 Annual Meeting, the Standard 135 committee proposed addendum 135-2004c for public review. The proposed addendum specifies the use of "Web services" to provide a means to integrate building automation and control systems with other enterprise computing applications.
Web services provide for computer-to-computer applications many of the same advantages that the World Wide Web provides for human-to-computer information access, according to Bill Swan, committee chair.
Potential uses of the technology include simplifying access to building energy and performance data for inclusion in spreadsheets and other management reports; accessing equipment run-time data for use by maintenance management systems; allowing tenant control of space temperature setpoints; coupling of room scheduling with ventilation and comfort control; and many more.
The proposed addendum is in two parts. The first proposes an Annex M to BACnet that defines the BACnet Web Services interface, BACnet/WS. This interface is intended to be communication "protocol neutral" in that the defined Web services can be used with any underlying protocol including BACnet, Konnex, MODBUS, LON or legacy proprietary protocols. This has been accomplished by defining how to read and write the common elements of all building automation and control systems such as values, schedules, trend logs and alarm information using services such as "getValue" and "setValue" that use a simple "path" to define the intended data source. An example of such a path would be: "/ABC HQ/Conference Room A/Space Temperature."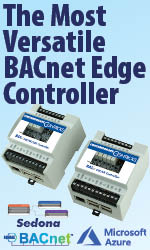 The proposed addendum also provides powerful mechanisms for "localization" where certain types of data such as time, date and numbers can be formatted according to local custom and language, according to Swan. Text names and descriptions may also be accessed according to the local language.
The second part of the addendum contains an addition to BACnet's Annex H, combining BACnet Networks with Non-BACnet Networks, that prescribes how a gateway should be constructed that translates web service requests specifically to and from BACnet messages.
The committee is continuing to develop new services for future publication. Future versions of this standard may include such things as subscription services for alarming or notification of changes within the system.
The combined effect of the BACnet/WS annexes is to provide a set of generic web services that can potentially interface to any building automation protocol as well as to describe exactly how this interface would work with underlying BACnet systems.
ASHRAE, founded in 1894, is an international organization of 55,000 persons. Its sole objective is to advance through research, standards writing, publishing and continuing education the arts and sciences of heating, ventilation, air conditioning and refrigeration to serve the evolving needs of the public.
---


[Click Banner To Learn More]
[Home Page] [The Automator] [About] [Subscribe ] [Contact Us]