New Products Updated April 1st
---

Easy to use, versatile, and powerful. The KD 451 is a light weight hand held IAQ monitor. Base unit includes CO2, CO, temperature, relative humidity and 2 additional channels for user-specified electrochemical sensor configurations (i.e., O3, NO2, H2S, etc.) or external analog input options. The comprehensive Windows-based software allows the user full control over graphs, reports and data output. Features include:simple electronic calibration, 4x20 alphanumeric display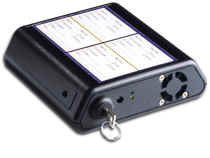 , delay start, flexible intervals, and lock out capabilities. For more information on this product click on www.teamkd.com
The Simple Solution for IAQ Monitoring. The IAQ Observer is small, secure and easy to use. Designed for unattended monitoring, it offers tamper-proof testing with key-locked on/off controls and security lock and cable. Data is easily retrieved through a secure website or disk. Available for rental only, the IAQ Observer eliminates the time required to learn to operate the instrument or to install and use software and does away with costly equipment investment, maintenance, and calibration. For more information on this product click on www.IAQ-Rental.com
---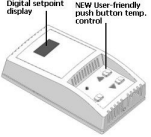 Introducing New Microprocessor Based Temperature Sensors!!!
LCD indication of temperature and setpoint Optional override switch 24 Vac/dc or 5 Vdc power supplies Celcius or Farenheit display (User Selectable) Thermistor or RTD sensing element Custom logo application NEW functional and attractive enclosure Installer-friendly wiring access Highest quality double-sided FR4 PCB's
Greystone Energy Systems Inc. response@greystoneenergy.com
---
SiteTRAK™ is the remote interface for real-time database systems (SiteTRAK automatically brings real-time data from your distributed industrial locations into your central information server. It is an innovative combination of RTU, datalogger, real-time database client, and telemetry interface, all in a compact, low-cost, and installation-ready package. It's loaded with industrial features and is completely configurable - no programming is required! Your IT department will have it up and running in record time. SiteTRAK's flexible communications allow it to connect to your central site via Ethernet, the Internet, phone lines, cellular, GSM, radios, and more.
http://www.sixnetio.com/special_index_pages/index_sitetrak.html
---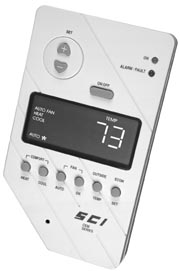 Comstat Controls only 3-1/4" x 5-5/8", are the perfect energy management tools. Install it in your main residence, a vacation home, office, boat or any place where you want to save on heating and cooling costs. With this system you can easily monitor or change your heating and cooling temperatures when you are far away. Simply call it up on the phone and change the settings.

The system is simple to install and simpler to operate. It comes complete with "Smart Sensing" to prevent rapid recycling of your heating and air conditioning unit causing a possible breakdown.

One phone call and the Commstat Control from SCI will provide you with up-to-date voice information as to the actual temperature and whether the system is in Economy""Comfort" mode. It's an all digital system. The remote communication controls are micro-processor based, using the most advanced technology, to assure trouble-free operation. Settings have been pre-programmed but can be quickly changed by telephone or by just pushing the up or down buttons.
---
Plexus Technology Ltd releases the NetServer range of Web Servers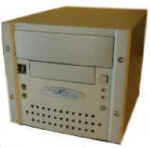 (London, England - 28th February 2002) Plexus Technology Ltd today released the NetServer range of Web Servers providing seamless, reliable and secure connectivity between LonWorks control networks and any corporate IP (Internet Protocol) data network or the Internet while maintaining true LonWorks interoperability.
The NetServer products provide real-time monitoring and override capability to LonWorks network variables through a Java Applet application downloaded to Web browsers. Logical navigation and graphical representation of the buildings automation system provide the user with an interface that is dynamic and universally available.
Further information on the company and products range is available at www.plexus-technology.com
---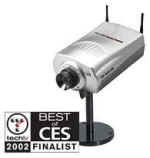 D-Link VGA-Quality Streaming Video Network Camera with Wireless Capabilities
The D-LinkAir DCS-1000W is a versatile wireless Internet camera with VGA quality resolution.
An ideal solution for remote security monitoring or broadcasting of live events over the Internet, the D-LinkAir DCS-1000W combines the functionality of the video/surveillance camera with the reliability and scalability of 802.11b wireless and Fast Ethernet.
A built-in web server for the D-Link Wireless Internet Camera provides easy to use remote access from anywhere in the world over the Internet with a web browser, such as Microsoft Internet Explorer or Netscape Navigator. The D-LinkAir DCS-1000W also includes e-mail notification that will inform you the instant a picture is taken with a message sent to any address you designate.










For more information www.dlink.com/products/DigitalHome/DigitalVideo/dcs1000w/
---
BAPI's new Vivarium Sensor is now available
Cross Plains, WI. -- The Vivarium Room sensor is a room sensor which provides both humidity and temperature measurement. This unit has been designed for washdown or wipedown areas where the unit will be exposed to high moisture levels. The transmitter circuitry and sensing elements* have been protected from moisture by encapsulating them with BAPI's specially formulated epoxy. To further protect the unit, etched Teflon leadwires are used and twist-on sealant filled connectors are provided for all terminations.
*Note: The humidity sensor cannot be encapsulated since it is an active sensor (it must be exposed to the moisture in the air in order to measure the relative humidity), so it may need to be replaced periodically.
For more information log onto web site at www.bapihvac.com
---
Contemporary Controls Products
EIM Miniature Hub Combines Cost and Convenience
Downers Grove, Illinois Contemporary ControlsŇ DIN-rail EIM miniature repeating hub in the CTRLinkÔ family saves space and money for the user in building automation applications. Model EIM4-10T is classified as a compact, four-port Industrial Ethernet hub, capable of increasing network distances beyond the 100-meter limit of the 10BASE-T specification. One port can be used as an uplink port to connect two hubs together; thereby, eliminating a crossover cable. It supports the signaling requirements of 10BASE-T while conforming to the standards for IEEE 802.3 repeater units.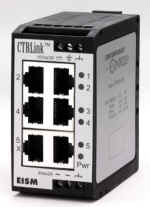 EIS Miniature Switch Delivers Affordable Ethernet in a Compact Size
Contemporary ControlsŇ EIS miniature switching hub in the CTRLinkÔ family features a breakthrough in switch technology. The EISM5-100/T is designed for control panels where space is at a premium. It combines reliability and flexibility with increased network performance, all with cost-savings in mind for building automation applications such as environmental control.
The EISM5-100/T is designated as a five-port Industrial Ethernet switching hub, comparable in function and capabilities to its larger EIS8-100T counterpart. One port can be used as an uplink port to connect two hubs together; thereby, eliminating the need for a crossover cable. Similar to other switches, it segments the Ethernet network into five separate collision domains, acting as a bridge to increase network diameter.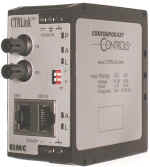 Media Converters Prove a Trouble-Free and Cost-Effective Approach for Adding Fiber to Networks
Contemporary ControlsŇ Industrial Ethernet Media Converters in the CTRLinkÔ family are the perfect solution for building automation networking needs, requiring conversion between copper to fiber media. Appearing as transparent devices, media converters prove a trouble-free and cost-effective approach for these industrial applications.
For more information on any of these three products visit www.ccontrols.com
---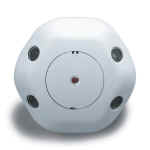 The Watt Stopper Introduces New Ultrasonic Sensor for Lighting Control Panels
SANTA CLARA, CA - The Watt Stopper has introduced an ultrasonic occupancy sensor designed to integrate with the company's low-voltage relay lighting control panels. With the capability of controlling individual or groups of relays via the panel, the WP sensor affords combination of occupancy-based and scheduled control for a wide variety of applications such as offices, conference rooms, restrooms, lobbies, and corridors.
Further information is available at www.WattStopper.com
---
---

[Click Banner To Learn More]
[Stay Informed - Subscribe to our Update Mailing List]
[Home Page] [Contact Us] [The Automator - Current Issue]
[News] [Resources] [Products] [eDucate] [About]

Visit Home Toys to Learn about Home Automation
Web Design by Enviromation