New Products
Updated February 1st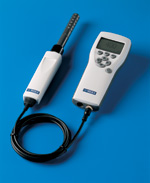 Vaisala's NEW GM70 Hand-held CO2 Meter offers fast, accurate measurement with long-term stability.

Woburn, MA - The GM70 Hand-Held Carbon Dioxide Meter accurately measures carbon dioxide from low

(0…2000 ppm) concentrations to high (up to 20%) concentrations of CO2. Due to its short warm-up time, the GM70 is ideal for spot-checking measurements. Typical applications include laboratories, greenhouses, HVAC and industrial health investigations. In addition, the meter can be used as a tool for checking Vaisala's GM20 and GM220 Series CO2 transmitters. The GM70 can also be used to adjust Vaisala's GM220 Series transmitters in the field.

For more information see www.vaisala.com
---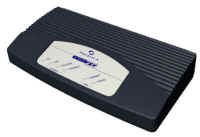 Popular Ether232, Ether422 and Ether485 access devices improved for better building automation










Ottawa, Canada - Precidia Technologies, the leader in IP enabling technology solutions, announced today that its line of remote access devices has been released with new features designed to improve building automation systems such as HVAC, fans and controllers.
The Ether232, Ether422 and Ether485 access devices connect stand-alone serial equipment in industries from building automation to energy management to LANs or WANs via Ethernet. By connecting their RS232, RS422 or RS485 based equipment to an existing LAN/WAN, users can remotely manage each device from any location on the network, in real time. Users can reduce their maintenance and help desk costs by eliminating on site visits, and VARs can augment their solution portfolio by offering a low cost solution, which allows their customers to extend the life of their existing equipment.
For more information visit www.precidia.com
---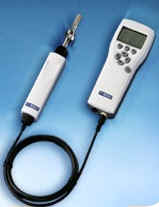 Vaisala's compact DM70 Hand-held Dewpoint Meter offers stable and fast measurement for industrial dewpoint applications.
The DM70 Hand-held Dewpoint Meter's excellent stability and rapid response time make it ideal for temporary dewpoint measurements in industrial dewpoint spot-checking applications, such as compressed air lines and plastic molding processes. DM70 can also be used as a tool for reading the output of fixed Vaisala dewpoint transmitters, such as the DMT242 and DMP248. The DM70 incorporates Vaisala's advanced DRYCAP® technology, which is known for its reliable and high performance dewpoint measurement. DM70 features include: a wide measurement range, of -60 °C to +60 °C; a rapid response time between start-up from ambient conditions, to low and high process dewpoints; a versatile and easy-to-use, menu-based user interface; and a graphical LCD display with data-logger function. In addition, the probe withstands condensation and also measures directly in pressurized spaces.
For more information see www.vaisala.com
---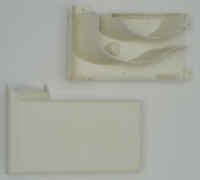 New Corner Drop and Transition Fittings for Wiremold® 5400 Series Raceway
WEST HARTFORD, Conn. - The Wiremold Company has introduced new fittings that expand the function, flexibility, and aesthetics of Wiremold® 5400 Series raceway. New components include corner drop transition fittings and a FiberReadyŌ bend radius entrance end fitting.
Corner drop transition fittings enable 5400 series raceway to be fed from the MXN corner drop raceway. This aesthetic, unobtrusive solution allows horizontal runs of the raceway to be fed from overhead without placing a large raceway drop on the middle of a wall.
For more information www.wiremold.com
---
The Watt Stopper Introduces New Ultrasonic Sensor for Lighting Control Panels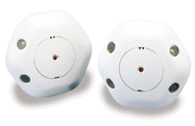 SANTA CLARA, CA - January 2002 - The Watt Stopper has introduced an ultrasonic occupancy sensor designed to integrate with the company's low-voltage relay lighting control panels. With the capability of controlling individual or groups of relays via the panel, the WP sensor affords combination of occupancy-based and scheduled control for a wide variety of applications such as offices, conference rooms, restrooms, lobbies, and corridors.
The WP sensor features a 32KHz operating frequency, omni-directional Doppler technology, and Advanced Signal Processing to eliminate false triggers. Users can adjust detection sensitivity as well as a time delay of 15 seconds to 30 minutes. The sensors are available for coverages of 600 - 2200 square feet as well as hallways up to 90 linear feet. The Watt Stopper's low-voltage relay lighting control panels include the Smartwired Control and Complete Control panel products.
For more information visit www.wattstopper.com
---
Solidyne Announces CT 100 Current Transducer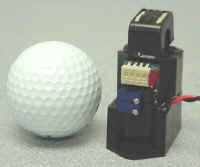 CT 100-with the advanced micro miniature technology Solidyne has used in its development, offers unique capabilities never before available in a current transducer.
The CT-100 Current Transducer has the following capabilities: · Low Cost--actually one-third the cost of current transducers previously available. · Has split core, clamp on construction. No need to disconnect existing wires to sense current. · 4-20 mA Signal Output · Selectable for: 0-2.5 Amps Load current = 4-20 mA 0-10 Amps Load current = 4-20 mA 0-20 Amps Load current = 4-20 mA 0-50 Amps Load current = 4-20 mA 0-100 Amps Load current = 4-20 mA · Reverse voltage protection · Current output limited to 23 mA for over range · Load current (LED) strength indicator · +/- 1% accuracy for entire operating temperature and voltage range · Works from 12 VDC/AC up to 35 VDC/AC main supply · Designed for 24 VAC operation with NO EXTERNAL DC power supply · Extremely small size: 1.00" x 1.00" x 2 ¼ " ; Weight 1.7 oz.
For more information visit www.solidyne.com
---
---










Andover Controls Announces XPress Access
An Easy to Set-Up, Affordable Security Management System That Grows With Your Needs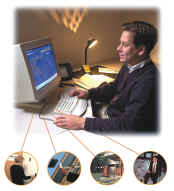 Andover, Mass. - Andover Controls Corporation, a leading high-tech manufacturer of integrated building management systems, announces XPress Access, an easy-to-use, affordable access control system for smaller facilities.
Perfect for small sites, but expandable to enterprise-level applications, XPress Access provides access control for 28 doors and up to 78,000 cardholders, plus a host of security management and monitoring utilities.
XPress Access is ready to go right out of the box. You can be up and running - controlling doors, adding card records, responding to alarms, viewing history reports - in no time! XPress comes with step-by-step instructions, built-in menu pages, and a pre-configured database. On-line help and system diagnostics are also built in.
XPress Access is sold as a cost-effective bundled hardware/software package - the XPress Windows-based workstation software plus Andover's Continuumä network controller and power supply. Add up to 32 Continuum I/O field modules per each network controller to meet your exact application needs - door control, intrusion detection, alarm annunciation, etc. Additional operator workstations, network controllers, and I/O modules can be added later to meet your growing access control requirements.
Because XPress Access is fully compatible with Andover's flagship Continuumä Security Management System, you can integrate XPress with all your facility subsystems - HVAC, lighting, CCTV, digital video recording, fire alarms systems, power monitoring, and more.
To find out more about Andover Controls and their new product line, XPress Access, visit their web site at http://www.andovercontrols.com.
---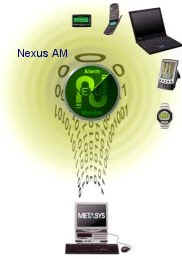 EMG Brings Low Cost Email-based Alarm Management to Johnson Controls' Metasys Systems
HALIFAX, NS - EMG introduces their latest software for use with Johnson Controls' Metasys digital control systems. The Nexus Alarm Monitor responds to critical alarms by sending email messages to designated addresses.
Nexus AM assigns each email address its own availability schedule and permits easy filtering of unwanted alarms. The Nexus Alarm Monitor is available as a stand-alone package or as part of a suite that includes the Nexus Professional reporting and data visualization software for Metasys. All Nexus products are intended for use on Metasys PMI (9.01 or later) workstations running Windows 9X/NT 4.0. Nexus products support an unlimited number of Metasys networks.
Established in Canada in 1995, EMG Energy Management Group Inc. develops engineering and energy management software. For more information contact info@emg-inc.com or visit www.emg-inc.com.
---
Adjustable Frequency Drives Feature Direct Serial Communication as Standard
MILWAUKEE, WI -- Danfoss Graham, a division of Danfoss Inc., introduces the Metasys N2 serial communication option for the VLT 2800 adjustable frequency drive.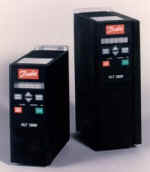 Johnson Controls' proprietary serial communication protocol, Metasys N2®, is included as a standard feature on each VLT 2800 drive. Serial communication is directly established between the Johnson Metasys building management system and the VLT 6000's RS 485 port. N2 communication allows the user to remotely monitor and control the adjustable speed drive and the fan or pump being operated. A broad array of drive control and monitoring readouts may be changed or observed remotely.
The VLT 2800 adjustable speed drive features a built-in PID controller, high carrier frequency without derate (14kHz), automatic motor tuning, and automatic temperature compensation. The VLT 2800 is available in ratings from 1/2 to 25 horsepower. Input voltages include 208 and 230 volts, both single and three-phase, and 460 volts.
Danfoss Graham manufactures adjustable speed drives for HVAC in the United States and Canada. Danfoss drives are sold worldwide for HVAC, Industrial and Water applications.
For more information, Email: graham@grahamdrives.com; Website: www.grahamdrives.com.
---
---

[Click Banner To Learn More]
[Stay Informed - Subscribe to our Update Mailing List]
[Home Page] [Contact Us] [The Automator - Current Issue]
[News] [Resources] [Products] [eDucate] [About]

Visit Home Toys to Learn about Home Automation
Web Design by Enviromation