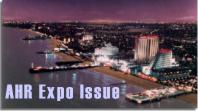 Articles - January/February 2002
AHR Expo Issue
Our authors provide great insight into our rapidly evolving industry.
Please take the time to read their valuable articles.
Industry Trends










Information Model: The Key to Integration There has been much attention paid to the relative merits of various protocols in the Building Automation industry. The key to successful integration lies not in the protocol, but in the information model that it represents. Eric Craton and Dave Robin, Automated Logic
Standardization & IT Technology will shape the BACS Industry The application of a standardized and internationally accepted protocol for specific applications is still no guarantee that a device by manufacturer A can be exchanged for one supplied by manufacturer B. For this purpose, further standardization of design and of the exact functionality of a device is necessary. Hans R. Kranz & Othmar Gisler, Siemens Building Technologies Ltd
Trends in Intelligent Buildings in the Asia Pacific In the Asia Pacific, the notion of an Intelligent Building is becoming inextricably linked to the broader idea of the Intelligent City. Hari Gunasingham, Eutech Cybernetics Pte Ltd
Terrorism and Building Automation Systems - What Makes Sense? There is little from science in this article, but a lot from common sense. It appears to me that common sense is exactly what we need during times like these. Len Damiano, Ebtron, Inc
Expanding Horizons for System Integration As evidenced, it is now possible to Internet-enable everything from electric meters to data loggers, and expand System Integration to new horizons. John J. "Jack" Mc Gowan, Energy Control Inc..
LonWorks Web Servers There are now a number of LonWorks Web Servers available in the market place today. We take a look at how this technology is rapidly replacing the traditional GUI software typically installed on desktop PC's to manage a building or facility and what to look for when selecting a LonWorks Web Server. Gary Bark, Plexus Technology Ltd
Building Automation Globalization Access to global media is everywhere proven by the fact that I am preparing this month's column in Australia. Ken Sinclair, AutomatedBuildings.com
Technologies
Thermistors versus RTDs The challenge in comparing these two sensors is that thermistors are generally specified using accuracy and RTDs are generally specified using tolerance. Steve Allison, BAPI
Selecting HVAC Control Valves Ball vs Globe - White Paper, Jeff Dahnke, Siemens Building Technologies Inc
Free Show Sponsored Sessions on Building Automation AHR Expo Atlantic City January 14-16, 2002 Ken Sinclair
Marketing and Business
Successful Contracting: BAS Cost Estimating Issues It is to the owners' benefit when all contractors are able to achieve their planned profit levels, since in the absence of contractor success, conditions and cooperation can quickly deteriorate. Al De Wachter, Independent Control Specialists Inc
Previous Favourites
The articles most requested by our readers.
Nov/Dec
Steve Thomas, Johnson Controls, Inc. Our Industry Should Support New Division 17
Sept/Oct
John J. "Jack" Mc Gowan, Energy Control Inc What's New and Hot in the Building Automation Market?
July/Aug
Steve Tom, AutomatedLogic Web Based Control Systems The Devil is in the Details
May/June
Ken Sinclair, AutomatedBuildings.com, 11 Revolutionary Automation Trends in Large Buildings,
March/April
Tracy Markie, Engenuity Systems Seamless Connectivity
January/February
John J. "Jack" McGowan, CEM Energy Control Inc. DDC's Future 1-01
---


[Click Banner To Learn More]
[Home Page] [The Automator] [About] [Subscribe ] [Contact Us]