Updated December 1st
---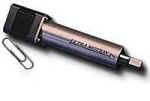 ULTRA MOTION has Precision Miniature Stepper Actuators for Low to Moderate Power Applications
Our electromechanical mini-linear actuators generate high force and precision positioning in small light packages and are an alternative to hydraulic and pneumatic systems.
For more information www.motioncontrol.com/newsletter/new.cfm?id=1152
---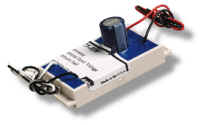 BAPI's new VC75 Voltage Converter is now available.
BAPI has designed the VC75 for applications where DC voltage is required for a peripheral device (i.e. a BAPI sensor), but only a 24VAC is available. With it's compact size, double sided foam tape, and low price, the VC75 can be placed in small areas where larger voltage converters cannot be used or would not be cost effective.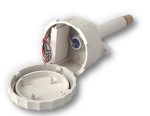 BAPI's new EU Enclosure is now available.
The EU enclosure is designed for temperature and humidity sensors in duct and outside air applications. The duct model is made of flame retardant, ABS plastic, and the outside model is made of a UV resistant plastic. The EU has molded in mounting feet for easy installation, is aesthetically pleasing, and it's light color reflects sunlight, minimizing reading error. When used in conjunction with our ruggedized humidity transmitter, our etched teflon leadwires, and our sealant filled connectors, you get the best weather tight package available today.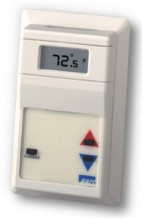 BAPI's new Combination Temperature/Humidity Sensor is now available.
The BAPI combination temperature/humidity sensor, the X-combo, has been designed to meet those applications which require local indication of temperature and humidity in one aesthetically pleasing enclosure. This unit features a user adjustable rate by which the LCD toggles between temperature and humidity. The combination temperature/humidity sensor provides the user field replaceable humidity elements without the need for any recalibration. Users can specify the type of sensor (thermistor, RTD) they require for the direct temperature output.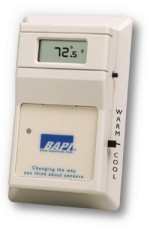 BAPI's new RuPS is now available.
The RuPS provides local temperature measurement and display with setpoint adjust and override. Room temperature is measured and is displayed on an easy to read LCD readout. The setpoint adjust is a vertical slidepot which provides an analog output (resistive or voltage) and is available with a warm/cool legend imprinted on the units base.
An optional communication jack can be mounted in the base to provide direct access to the controller. The RuPS provides analog signals/values/outputs and can be configured for "common ground" or "differential" controller inputs.
Please direct reader responses to: e-mail: prdlitrls@bapihvac.com
For more information log onto our web site at www.bapihvac.com
---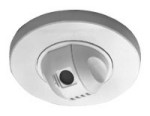 Yamatake Radiant Temperature Sensor TY7321
The TY7321 ceiling mount radiant temperature sensor detects radiant heat from walls and windows around the perimeter of a room. Thermal radiation affects perceived temperatures. This sensor enhances comfort by compensating measured temperatures and adjusting perimeter air conditioning levels.
For more information http://www.yamatake.co.jp/html/howdo/produ/buiau/sen/sen_09-a.htm
---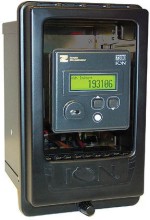 New Switchboard-case Retrofit Option Reduces Installation Costs and Simplifies Meter Upgrades
Victoria, BC (October 22, 2001) - Power Measurement, a leading provider of enterprise energy management systems, now offers a switchboard-case retrofit option for its ION 7300T, ION 7330T, and ION 7350T power meters. When equipped with this option, the meter comes pre-wired within a sturdy metal frame, complete with a control panel and LCD display mounted in its removable front cover. Installation is then a simple matter of plugging the device into an existing GE S-1 or ABB FT-21 switchboard case. Ideal for replacing older metering devices, this option makes it quick and easy to install or remove a meter. A quick-disconnect system allows the user to remove or "draw out" the meter electronics in one easy action without having to manually disconnect any wiring.
Visit the Power Measurement web site at www.pml.com.
---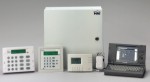 HAI Introduces Omni II, a Powerful Integrated Security and Home Automation Controller
HAI, the leading manufacturer of integrated automation and security products since 1985, has announced the introduction of the Omni II, a fifth generation controller designed for residential and small business use. The Omni II will replace HAI's popular Omni model, which was first introduced as part of HAI's best selling Omni Family in 1995.
HAI's Omni Family consists of three different systems, the OmniPro for commercial and larger home applications, the OmniLT for smaller homes, condos, or apartments, and the new Omni II for mid-range applications. All three include HVAC and lighting control for energy management, integrated UL-Listed security for enhanced safety, and the convenience of telephone and Internet access and control.
For more information on the Omni II or any of HAI's other award-winning products, please visit www.homeauto.com
---
---

[Click Banner To Learn More]
[Stay Informed - Subscribe to our Update Mailing List]
[Home Page] [Contact Us] [The Automator - Current Issue]
[News] [Resources] [Products] [eDucate] [About]

Visit Home Toys to Learn about Home Automation
Web Design by Enviromation