Articles - November 2001 - Making Sense of Sensors
Making Sense of Sensors The integration of low cost sensors into our Building Automation Industry over the last few years has helped propel a rapid industry growth. Extremely accurate, low cost solid-state sensors have allowed us to penetrate into many new markets. Ken Sinclair, AutomatedBuildings.com










Second Generation Sensors - New Johnson Controls Humidity, Temperature Sensors Erika.L.McGinley, Johnson Controls Inc

Marketing and Business

Successful Contracting: Beyond the Technical Issues - The best scenario is that the job gets done right, gets done just once, and everybody involved makes a profit margin according to their plan. Al De Wachter, Independent Control Specialists

What got you to where you are… won't! If you are waiting for a manufacturer to differentiate your business, don't hold your breath. Darrell Matocha and J. Rand Arnold, P.E. ControlShop

Automation Systems Financing … a new trend? Now is the time to become a little more aware of the financing options and present these to owners as solutions. John J. "Jack" Mc Gowan, CEM Energy Control Inc

Industry Technical Trends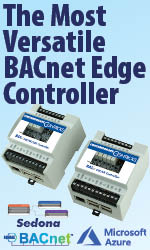 Our Industry Should Support New Division 17 I encourage every reader of automatedbuildings.com to do everything you can to learn about and support this new proposal. Steve Thomas, Johnson Controls, Inc.
Ideal World, Ideal Protocol, Ideal System Evolving to internet-worked intelligent building services through open communication protocols. Jim Henry Founder, Chairman BACnet Interest Group – AustralAsia (BIG-AA)
Wireless Monitoring and Control Wireless monitoring and control of an EIB fieldbus using PalmV/Bluetooth and iPAQ/802.11b Trond Lokstad, Neils D. Aakvaag, and Jonny Skalvik, ABB Corporate Research, Norway
Integrated Facilities Management No longer can the facilities manager, energy manager or financial manager continue to exist independently of the corporate mission. William J Stermer, SRS - Strategic Resource Solutions
"The Indispensible Internet" Web Ways are Winning. Ken Sinclair, AutomatedBuildings.com
Real Life Projects
Ultra-efficient LOOP Chilled Water Plant Control At Bellevue Corporate Plaza LOOP control manages valve opening and pump speed to automatically maintain minimum flow at all times a chiller is in operation. Thomas Hartman, P.E.
The Hartman Company
Intelligent Variable Air Volume Controllers Intelligent variable air volume controllers in the most innovative working environment of Scandinavia Lars van der Haegen, Belimo Automaton Ltd., Switzerland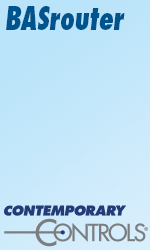 Advanced Measurement Labs In order to provide the level of environmental control required by NIST, the space pressurization and ventilation for the interior of the labs demanded dependable and consistent airflow and temperature inputs. Len Damiano, Ebtron
Previous Favorites
The articles most requested by our readers.
Sept/Oct
John J. "Jack" Mc Gowan, Energy Control Inc What's New and Hot in the Building Automation Market?
July/Aug
Steve Tom, AutomatedLogic Web Based Control Systems The Devil is in the Details
May/June
Ken Sinclair, AutomatedBuildings.com, 11 Revolutionary Automation Trends in Large Buildings,
March/April
Tracy Markie, Engenuity Systems Seamless Connectivity
January/February
John J. "Jack" McGowan, CEM Energy Control Inc. DDC's Future 1-01
---


[Click Banner To Learn More]
[Home Page] [The Automator] [About] [Subscribe ] [Contact Us]