Our interview section allows busy industry leaders to quickly provide insight into rapidly evolving industry issues. If you have subject matter or industry issues you would like insight into or would like to be interviews yourself contact us. sinclair@automatedbuildings.com
---
LonWorld2001 Show
Frank Capuano, TAC Americas
It appeared to me that 90% of the exhibitors were showing solutions in 3 markets, the Building IT market, home automation, and the security industry.
---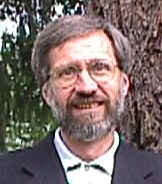 The Effect of New Control Technologies on Sensor Selections


Tom Hartman, The Hartman Company
Demand based control is a lot simpler than conventional control and can reduce the size and complexity of the HVAC systems, but a basic change in how the system is operated has to be made first to achieve this simplicity of configuration and operation.
---

Are All Sensors The Same?


Steve Allison, Building Automation Products, Inc. BAPI
We need to remember that the details in the design and manufacture of a sensor DOES make a difference in its long-term performance, and reliability.
---

"The Effect of Industry Restructuring on the HVAC Sensor Industry"


Steve Allison, Building Automation Products, Inc. BAPI
We believe the industry is a long way from every sensor being intelligent and interoperable, but the trend toward high tech sensors will continue.
---

Where are Open Systems Today?
Anto Budiardjo, TAC Americas

The technology needs to be usable by a large number of vendors in many different parts of the building from components, controller and end devices, infrastructure pieces, engineering and analysis tools to operator side products such as HMI, database, alarm handlers and so on.
---

BACnet in AustralAsia
Jim Henry, Chairman BACnet Interest Group – AustralAsia (BIG-AA)
BACnet is widely accepted in Australia by the consulting community and we see a large percentage of specifications now calling for BACnet...... Recently, I went to both Korea and Japan. There is a great deal of interest in both countries, as well as China in BACnet.
---

New Tridium Vykon Energy Product
John Petze, Tridium Inc
No longer is it necessary to travel from site to site, chasing alarms. The learning curve is dramatically lower than with complex proprietary applications. Simply log on to any browser and check performance in real time.
---

Selling New Automation Concepts
Jack McGowan, Energy Control Inc - Most Requested October 2001
Take the time to analyze and understand customers and what their needs are in your target market. Develop a quality approach to selling systems that meet the customers needs and help them to carry out their business more cost-effectively, while helping them to achieve their goals.
---


[Click Banner To Learn More]
[Home Page] [The Automator] [About] [Subscribe ] [Contact Us]