---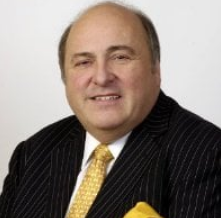 ADAPTING TO SMART GRID RESILIENCY:A MUST-HAVE FOR SMART CITIES

INTERVIEW WITH JAMES CARLINI
James Carlini is a visionary and strategist for mission-critical networks, technology, and intelligent infrastructure. He has been president of his own consulting and research firm since 1986

Today as Smart Cities are being discussed, there is a convergence of real estate, infrastructure, technology, and regional economic development. This paradigm shift was predicted in James Carlini's book, LOCATION LOCATION CONNECTIVITY, in 2014.
---
He also defined the Platform for Commerce in a whitepaper on Intelligent Infrastructure, written for the US Department of Homeland Security back in 2009, a framework visualizing 5,000 years of expanding trade routes through the creation of different layers of infrastructure. This framework was also later adopted and referred to by the US ARMY Corps of Engineers in their publications as "the business definition of Infrastructure and economic growth". The common thread across each layer of infrastructure is the transportation of goods and services on the expansion of trade routes across land, sea, air and finally, electronically. (See Chart 1)
Mr. Carlini recently spoke at the SMART CITIES INTERNATIONAL SYMPOSIUM which was held in February of this year. His framework depicting infrastructure is critical because it provides a more universal look at what encompasses the layers of infrastructure for today's global economy, rather than what many people hold as a partial and traditional definition of infrastructure (roads, bridges, railroads, and maybe the power grid).
We are here today to interview him on what he predicted and what we are now experiencing as we are approaching another a paradigm shift that few are prepared for.
CHART 1: THE PLATFORM FOR COMMERCE
"FIVE THOUSAND YEARS IN THE MAKING"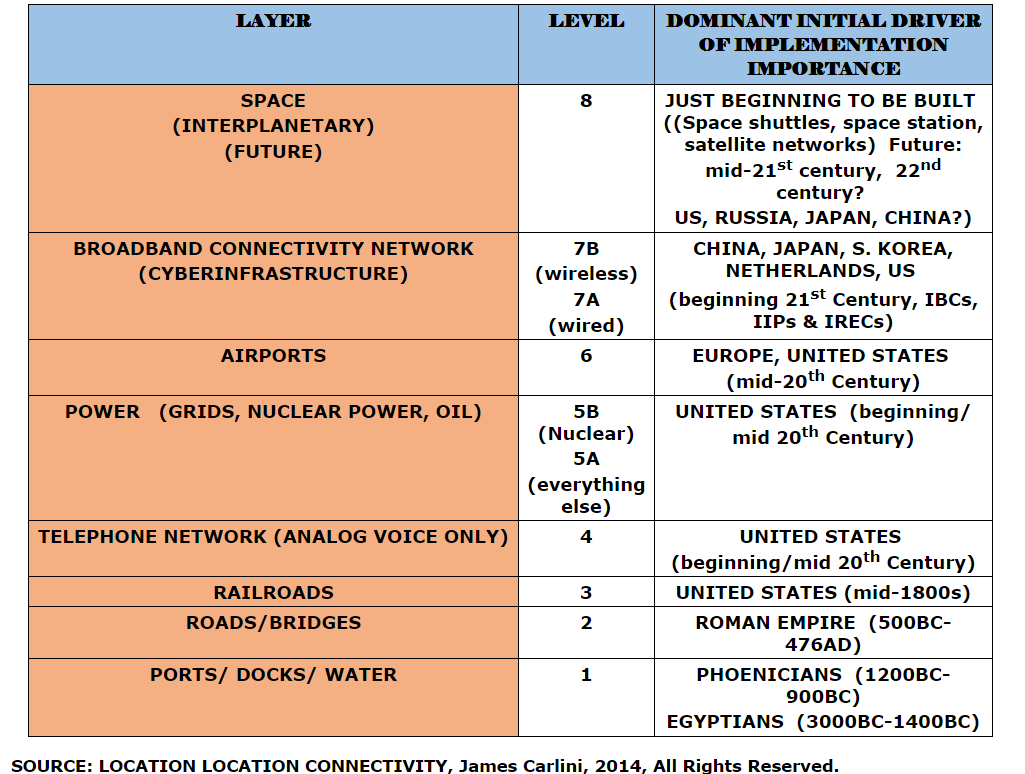 -----------------------------------------------------------------------------------------------------------------
SINCLAIR: Summarize for us the vision in your book which has actually transpired in the last seven or so years. Tell us about the origination of the "Platform for Commerce".
CARLINI:
The concept and visual framework of the "Platform for Commerce" was formalized into a whitepaper, "Intelligent Infrastructure: Securing Regional Sustainability", written and submitted to the U.S. Department of Homeland Security. It was selected for presentation at their Conference on Aging Infrastructure" at Columbia University, in New York in 2009. It was further refined to become the global "Platform for Commerce" in Chapter Four of my book, published in 2014.
In the last decade, what was once considered diverse industries and disciplines, have converged and have impacted regional sustainability. The areas of real estate, technology, and intelligent infrastructure (both Power and Broadband Connectivity) now have common ties, interconnected technologies, and strategic foundations which should be incorporated into real estate development projects, Intelligent Buildings, and Smart Cities as well as existing commercial and industrial space. (See Images 1 and 2)
IMAGE 1 -- Different industries converging into next-generation real estate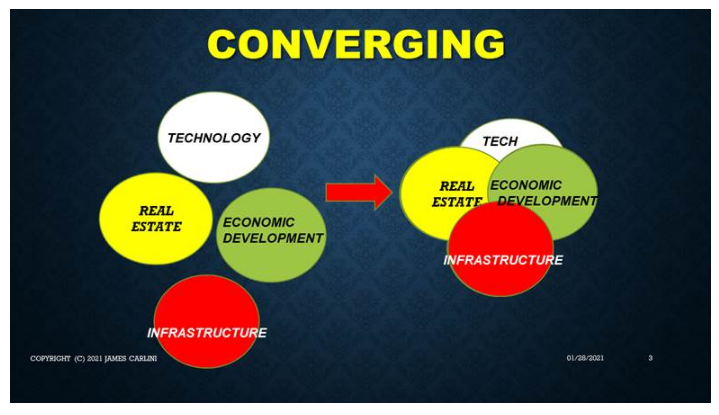 IMAGE 2 – The current market of next-generation real estate (Smart Buildings, Smart Cities, Intelligent Business Campuses)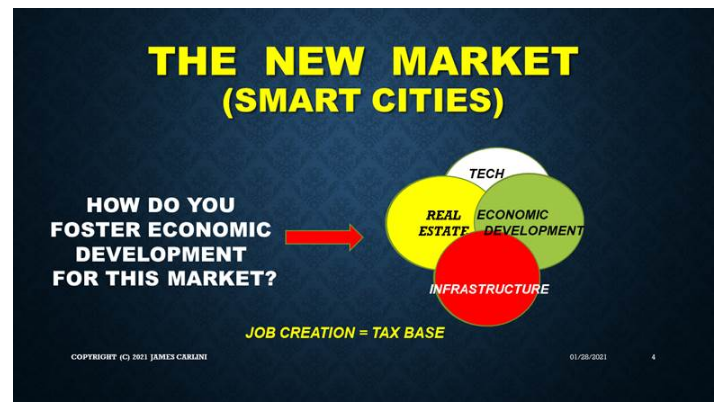 SINCLAIR: How do cities and regions become successful in a 21st century global marketplace? What needs to change?
CARLINI:
In order to be successful in the 21st century, municipal governments as well as corporate organizations have to realize this paradigm shift and understand how they now interact with one another. This means there must be an investment in Intelligent Infrastructure, for both power and broadband connectivity, so it can support corporate mission critical applications. Mission critical applications are on the rise from one out-of-every-three applications to one out-of-every-two applications. Mission critical means everything within a system or process needs to have redundancy.
You cannot have any single points-of-failure. When you do, disaster becomes amplified and its duration is lengthened. Just look at impact of the lack of redundancy in the power connections going into Atlanta's International Airport. That was only a few years ago and it shutdown the nation's air travel. A more recent example is the lack of redundancy in the Texas Power Grid.
SINCLAIR: What if the city or region makes the wrong decision and decides not to invest into this layer of infrastructure?
CARLINI:
The best example of a bad decision on not adding the next layer of infrastructure can be clearly seen in this graph I have used over the years. It shows the shortsighted decision St. Louis made to restrict the Railroads from coming over the Mississippi River into St. Louis.
Going west to California was important to the railroads and St, Louis' decision killed their growth and in ten years, Chicago became larger than St. Louis. In 25 years, Chicago became one of the top five cities and St. Louis stagnated, never to regain its prominence as the "Gateway to the West" because the railroads got shut out of St. Louis. (See Image 3)
IMAGE 3 – St. Louis was a more prominent city than Chicago right after the Civil War, until the railroads built their regional hub in Chicago. In 25 years, Chicago became one of the Top Five cities and St. Louis stagnated into a lower tier of cities.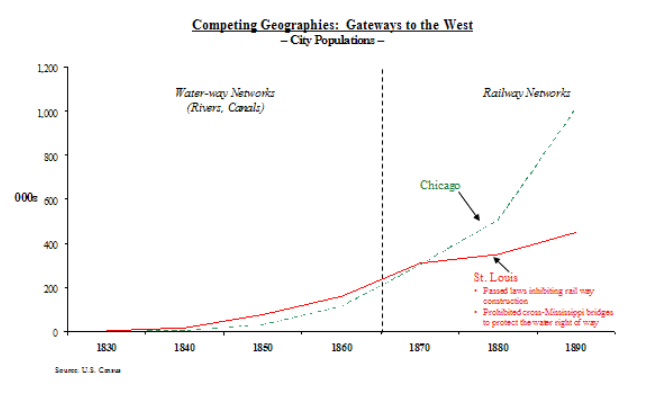 SINCLAIR: How critical is the infrastructure in every municipality?
CARLINI:
ALL municipalities need to look into improving their infrastructure, whether they are 5,000 in population or 5,000,000. With more people opting to "work-from-home", the need to have good broadband connectivity has become a must-have, and not a hoped-for. Power is another area where the dependence on clean, reliable power has become common.
In order to understand how to apply the complex strategies of today, city planners, politicians, and other government officials have to understand how concepts from different disciplines are inter-related and merged together in order to create the support systems and intelligent infrastructure for downtown buildings as well as rural business parks/campuses.
SINCLAIR: How do we insure better reliability in Smart Grids?
CARLINI:
The Four Rs of Smart Grids need to be addressed within the Platform for Commerce. Power needs to be Reliable, Redundant, have Reduced Operational Costs and have Routing Diversity in order to be Resilient when it comes to supporting buildings and mission critical applications. (See Image 4)
IMAGE 4 - THE FOUR R's of SMART GRIDS (They all add up to SYSTEM RESILIENCY)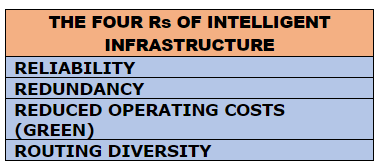 SOURCE: LOCATION LOCATION CONNECTIVITY, James Carlini, 2014, All Rights Reserved.
Economic development decisions affecting regional sustainability must include all facets of the infrastructure in order for them to be viable and support mission critical applications.
CHART 2: IMPACT OF INTELLIGENT AMENITIES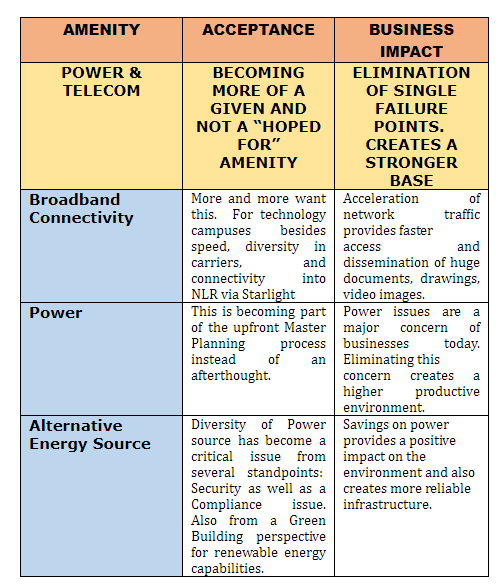 SOURCE: LOCATION LOCATION CONNECTIVITY, James Carlini, 2014, All Rights Reserved.
SINCLAIR: How does better reliability effect Smart Grids?
CARLINI:
It's all about the downtime and downtime costs more than money. Time is not money, money can be replaced – Time cannot. ANY application today should focus on being at a Reliability Factor of Five Nines.
The reliability of networks and power are measured by the concept of "Five Nines. (See Image 5). This means there is only an expected downtime of about five and a half minutes a year. As more applications are developed and the need for reliability becomes even more important, the focus on attaining Six Nines will become a new goal.
IMAGE 5: RELIABILITY/ DOWNTIME CHART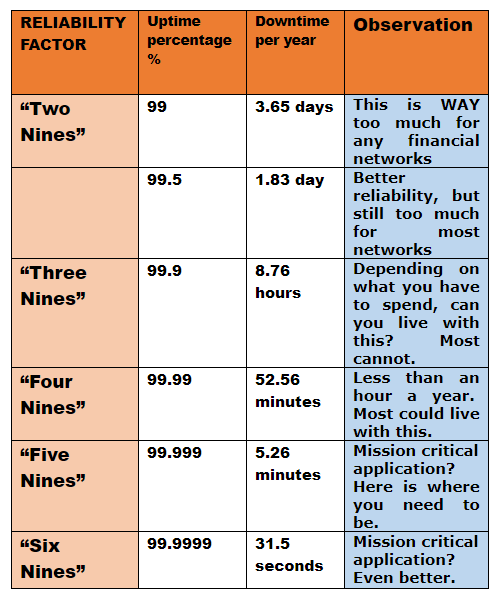 S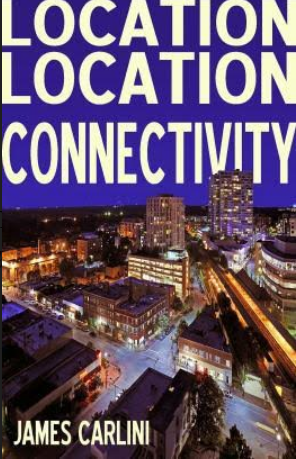 SOURCE: LOCATION LOCATION CONNECTIVITY, James Carlini, 2014, All Rights Reserved.

CARLINI CONCLUDES:

Today, world-class broadband connectivity and wireless connectivity are critical requirements in many new Intelligent Business Campuses (IBCs) and other next-generation real estate venues. It is definitely a distinct competitive advantage now for multi-venue environments, which include retail, entertainment, and convention centers. It could turn into a competitive necessity very shortly as more people opt to go with Smartphones and Tablets as their new edge technology and the new trend of "work-from-home" has begun to take hold.

When it comes to power grids, solid resiliency is a must-have today and not a hoped-for in the future for Smart Cities.

As observed in my book: This integrated concept has been percolating over the last three decades as consulting and advising work on various projects have provided a rich insight on what is important, what is gaining traction, and what is obsolete.

BIO

James Carlini is a visionary and strategist for mission-critical networks, technology, and intelligent infrastructure. He has been president of his own consulting and research firm since 1986. Prior to that he was a Director at a Big Four firm (Arthur Young, now Ernst & Young)

He is the author of LOCATION LOCATION CONNECTIVITY: Next-Generation Real Estate, Intelligent Infrastructure, Technology, and the Global Platform for Commerce (published 2014).

Carlini, who holds an MBA degree, is a former award-winning adjunct faculty member at Northwestern University in both the Executive Master's and undergraduate programs (1986-2006), developing and teaching courses in strategic technology management, team dynamics, Six Sigma, Network Security, and international applications of technology. He also serves as an expert witness in civil and federal court on mission-critical networks and infrastructure.

His original "Platform for Commerce" definition of infrastructure and its impact on economic growth was written in a 2009 whitepaper for the U.S. Department of Homeland Security, titled "Intelligent Infrastructure: Securing Regional Sustainability," and was later adopted and referred to in the U.S. Army Corps of Engineers handbook, Infrastructure and the Operational Art (2014) and its 2016 publication of Infrastructure in Subpopulations. He has written several whitepapers on military intelligence topics for the American Intelligence Journal.

Copyright 2021 - James Carlini

-



























---

[Click Banner To Learn More]
[Home Page] [The Automator] [About] [Subscribe ] [Contact Us]