---
DDC Integrations - The End User Manual

Save your capital through these easy principles






Zach Denning
Engineering Sales
Controlco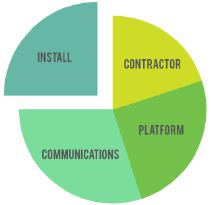 The world of building automation has been rapidly evolving since the introduction of the first DDC control systems. With the decline of pneumatics, electronic building automation took a foothold in the mechanical industry in the late 80's and early 90's with the creation of individualized systems by major manufacturers. The 2000's brought another evolution in the world of building automation with the introduction of Tridium and a new face for DDC; one with interchangeable parts, an OEM (Original Equipment Manufacturer) product line, and a Microsoft business model designed to cut costs and increase product flexibility in integrations. So what does that mean to an end user? With the introduction of Niagara A/X, Tridium brought a new idea of "integrating" to the automation world. An idea that allows up to 50% reduction in capital expenditures in comparison to a "rip-and-replace" mentality by eliminating major installation measures. Certain key principles are required to integrate building automation quickly and effectively, maximizing savings and lowering downtime.
Traditionally the "rip-and-replace" business model has been the core principle to replace or upgrade building automation systems. Under this methodology a controls contractor would remove the existing system an attempt to install a new, proprietary brand of controls and mimic the present sequencing. By replacing unitary controllers (controllers containing I/O) integration costs typically increase %25-30 due to control sequencing re-commissioning. In the event that the existing sequence documentation is lost for the controls, an end user would also have to hire a mechanical contractor to re-rewrite the controls sequences; a process that can often double the services cost for a project and increase the price %40-50 including re-commissioning. So what's the solution? How can you integrate without replacing unitary controllers?
The Tridium business model allows contractors to find creative alternatives compared to the more traditional integration patterns. By leaving the unitary controllers in place, a contractor can integrate to the existing automation through a Tridium JACE and a driver. Tridium drivers are developed by multiple manufacturers allowing the platform to extend its communication flexibilities to incorporate popular protocols like Johnson N2, Trane Comm 3 & 4, Barber Coleman ASD, BACNet MS/TP & I/P, and LON. By only replacing the supervisory portion of the existing system (server & routers) programming time is greatly reduced and existing equipment life is maximized.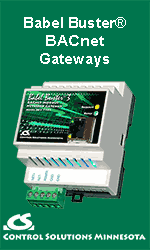 Integrating to the existing automation unitary controls is not always a possibility, even with the Tridium platform. What if the current unitary controllers are failing? Is your current controls product still supported by the manufacturer? If the only upgrade solution for your controls is to "strip-and replace" the key to saving capital is to analyze your installation costs. Can your current bus be recycled to a BACNet MS/TP or LON protocol? Most unitary controls manufacturers represent one of these communication protocols and can competitively bid on a retrofit. By recycling wiring and existing conduit, an end user can expect to save up to %40 on total project cost. This does not account for installation downtime associated with current tenant occupation in the local zones where VAV boxes and thermostats will have to be replaced.
Integrations have drastically changed over the course of the last ten years as every contractor has adopted their own upgrade techniques. So which method is correct? Understanding the principles of integration will allow any end user to provide a base scope for their next controls project that will narrow the possibility of going over budget. By identifying existing wiring structures an engineer can specify the next communication protocol necessary for integration; a choice that could potentially save thousands from not having to pull new wire or install new conduit. If integrating via Tridium and a driver an end user should have a "plan of attack" in case of unitary controller failure. By installing BACNet or LON devices, any controls company can replace the existing unitary controller in a "plug-and-play" approach (swapping the existing device for a new one without having to run new communications wire between devices). Before your next controls integration, identify your current system and the savings you can generate through these simple, effective measures.
---
About the Author

I currently maintain an engineering sales position at Controlco. Our business is consulting customers on energy consumption through a combination of BAS and analytic systems. I'm an avid follower of the industry and am always open to new opportunities and approaches. You can reach me at z.denning@controlco.com or my cell at 510-318-4456.



---

[Click Banner To Learn More]
[Home Page] [The Automator] [About] [Subscribe ] [Contact Us]