---
Security Technology Plays Central Role In Hotel Automation

Comprised of wireless digital thermostats, occupancy sensors, door position interfaces, remote server software and a comprehensive dashboard reporting interface, these integrated solutions help avoid unnecessary energy consumption without disrupting guest comfort.


Tim Shea

President

ASSA ABLOY Hospitality
Contemporary hotel guests tend to be travelers tethered to tablets and smartphones, and these tech-savvy consumers desire a hospitality experience that centers on connection, convenience and comfort. Automation is a theme from initial booking to check-out, and hotel locking manufacturers are playing a central role in making the streamlined hotel stay a reality. It is easier for guests to engage in automated self-service than to wait in a long queue to interact with hotel staff at the front desk. Moreover, from the perspective of hoteliers, building automation in the form of communicative locking platforms and integrated room management systems are making hospitality far more efficient and cost-effective than ever before.
Hotel locking vendors have begun deploying integrated energy management systems that interface with guestroom locks and central room monitoring systems, creating a centerpiece of hotel automation that is saving not just energy but also a tremendous amount of money for hotels in the form of increased efficiency. Comprised of wireless digital thermostats, occupancy sensors, door position interfaces, remote server software and a comprehensive dashboard reporting interface, these integrated solutions help avoid unnecessary energy consumption without disrupting guest comfort. Some of the more advanced solutions automatically assume control of ambient temperature when guestrooms are unoccupied, never allowing them to become either too warm or too cold; upon guests' return, the system automatically resumes the preset temperature settings. They can also interface with the hotel's property management system to pre-condition the room upon guest check-in and automatically engage enhanced energy savings mode upon check-out.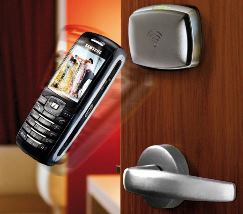 Advances in mobility, along with communications protocols like RFID and NFC, are helping hotel locking systems themselves become largely automated. Today's hotel locking systems can simplify the key administration process by automating the distribution and termination of access privileges, including cloud-based solutions that can deliver access encoding even before arrival, meaning that guests can gain entry to their rooms without even needing to check in at the front desk. The last thing travelers want to do after a long flight is to stand in line at check-in, so these types of innovations mean a more leisurely and pleasant arrival experience for guests. Hardware add-ons for tablet computers enable guestroom keycards to be encoded and activated from anywhere, whether from a lounge chair in the hotel lobby or in shuttle en route from the airport.
Some hotel companies have begun turning loyalty cards into renewable room keycards using RFID. Guests skip the front desk queue by receiving their room number via text and proceeding straight to the room, where the electronic RFID lock automatically recognizes the loyalty card and grants entry. Despite limited marketing of it, the concept has proven tremendously popular, with one brand already boasting 10,000 registered users.
One of the most exciting advances in hotel automation technology centers on Near Field Communication, or NFC. Mobile devices with NFC are beginning to flood the market and will become commonplace over the next few years. With NFC, guests can receive digital room keys straight to their enabled mobile device, sent over the air and held securely in dedicated, encrypted applets. Guests can access their rooms by simply touching their device to the NFC-compatible keycard reader.

Those consumers who have already had a chance to use NFC digital hotel keys in a real-world setting really seem to love it. A hotel that recently piloted the technology surveyed participating guests and found that almost all said they would take advantage of the technology again if it were available. Most said the service enhanced the enjoyment of their stays, and every single one expressed appreciation at not having to wait in a check-in queue. More than half said the self-service offering shaved at least 10 minutes off the normal check-in process.
While we cannot say precisely when NFC will achieve critical mass among consumers, hotels being built or undergoing renovations today need not wait to install this technology. Hoteliers can select electronic locking systems that are dually compatible with both RFID and NFC, meaning guests tech savvy and not can both feel comfortable running the same hardware—and these systems come at a reasonable price point that makes them feasible options for even select-service and midscale properties.
The automation capabilities of NFC and RFID locking systems boast security advantages over physical keys and magnetic keycards, as well. The best solutions include features that prevent unauthorized use of lost or stolen mobile devices to access rooms, allowing hotel managers to instantly and remotely add, remove or update access rights for any users—regardless of whether the door locks are online or offline. Some of these solutions interface with central property management systems and servers, enabling the reviewing of remote audit trails. Text messages and emails can be automatically sent to hotel managers whenever a designated event occurs.
Software integrates with the hotel's property management system, employing RF-online communication to eliminate the need for property managers to travel to and from guestrooms to perform tasks like reprogramming individual locks and identifying or changing low batteries. Because such systems can communicate remotely with individual locks in real time, they provide a significant extra layer of security. In the event of a lost or stolen keycard, access privileges for that card can be immediately revoked, preventing unauthorized individuals from gaining access to guestrooms.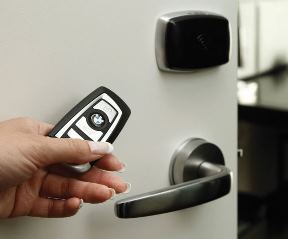 Automation and digital locking systems are even changing the way we book hotels in the first place. Automakers have begun beta-testing integrations to vehicle navigation systems that allow drivers to conduct voice-command searches for available hotels nearby, and then interface with the selected hotel's property management system to reserve a room. Once the reservation is booked, the navigation systems guide the driver to the hotel and communicate the assigned guestroom number. Upon arrival at the property, the guest can proceed straight to the room. The guest's NFC-equipped car key wirelessly receives an access code for the guestroom lock, allowing the car key to double as a hotel room key.
Complementing the theme of hotel automation is the evolution of a minimalist aesthetic made possible by advances in RFID and NFC locking systems. No longer must guestroom doors be cluttered by unsightly lock hardware components, as all electronic components can now be hidden inside the door itself to make the access devices practically invisible to guests.
With these rapid advances in technology, the simple hotel lock of yesterday continues to evolve into a core component of building automation that is designed to ensure both security and guest convenience for the future.

---

[Click Banner To Learn More]
[Home Page] [The Automator] [About] [Subscribe ] [Contact Us]