---
EMAIL INTERVIEW – Gajendra Ratnavel and Ken Sinclair

Gajendra Ratnavel is CEO of L Squared Digital Signage, global digital signage provider of multi-channel interactive marketing products for small to enterprise level businesses. With a HQ in Toronto, Canada, L Squared offers an end-to-end service for businesses looking to adopt digital signage to promote, engage or educate colleagues and/or end users. The company was founded by Gajendra in 2005. In the years since, it has grown to become a global player in multi-channel interactive marketing products for several verticals.
Gajendra is a Computer Engineering graduate at University of Waterloo. His expertise includes business strategy, end-to-end technical project management, computer science, digital networks, display advertising, and software development.

---
Why is Digital Signage Important to Building Automation?

For the first time ever it's now affordable for the average business to utilise digital signage, digital wayfinding and content automation software.

Sinclair: Why is Digital Signage important to Building Automation?

Ratnavel: For the first time ever it's now affordable for the average business to utilise digital signage, digital wayfinding and content automation software. This offers small and medium sized organisations, alongside the bigger guys, a chance to communicate better at point of influence. That's why digital signage is one of the fastest growing sectors within internal corporate communications and marketing today!
Sinclair: Tell us about L Squared Digital Signage?
Ratnavel: L Squared is an end-to-end provider of Digital Signage network products and services including a proprietary automated content management software called the Hub which allows businesses to schedule (or update in real-time) branding and messaging to attract, engage and inform audiences in retail environments, schools, hospitals, corporate lobbies and more.

Sinclair: What services do you offer?
Ratnavel: Well, we'd like to think that our full-service offering makes Digital Signage deployment and maintenance an effortless operation. We offer services from Project Management and consultation through installation, digital content deployment and ongoing support.

Sinclair: Why did you get into Digital Signage?
Ratnavel: Over the past decade of building world class Digital Signage solutions, we realized the technology required to fill the needs of the average business was not being met by the Digital Signage solutions that were built for narrow cast advertising.

In 2012 we set out to change all that by building an enterprise Digital Signage product that any business can use to enhance their core operations. We designed a program around our technology to deliver this solution from start to finish as a turn-key solution and tied it all together with the best service and maintenance program in the industry.

We're proud to say that the end-to-end solutions we offer today offer an essential piece element of buildings automation in 2014.

Sinclair: What recent developments have you noticed?
Ratnavel: Content has been king for most communication channels for a while now but Digital Signage sadly lagged behind. Not anymore! The recent explosion of interest in creating, managing and updating content displayed on screens and D00H has been staggering. I feel honoured to be at the head of a Digital Signage firm at this exciting turning point in the market.

Sinclair: What do you see as the future of digital signage in buildings?

Ratnavel: As costs continue to fall and more content software tools become available, I think we'll see a steep increase in the number and diversity of automated, engaging content shared on DOOH screens.

Sinclair: What are your biggest challenges?

Ratnavel: Education and awareness. Although the world is starting to sit up and take notice of the impact of digital signage we find that many people still simple don't understand what Digital Signage really is. For example, I was at a networking event recently in Toronto and, as a fun exercise, my colleague and I thought we'd do a poll of people at the event – asking them what Digital Signage meant to them. The answers were diverse and often off-point. It highlighted to me that there's still a long way to go before the industry achieves the recognition it deserves within B2B let alone by the average consumer.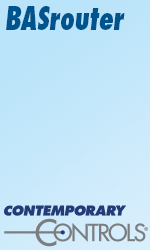 Sinclair: What have been your biggest successes so far?

Ratnavel: Wow! That's a tough question. We've come a long way since we started the company. There have been some bumps in the road and also some fantastic wins such as our involvement in an award-winning project with the Ontario Ministry of Health. I'd guess if I'd have to point to one area which I'm particularly happy with, I'd say that it would be our approach to clients. We've been careful not to believe our own hype and to always stay grounded as we continue to win new projects and build our brand.

Sinclair: How can Automatedbuildings.com readers learn more about you and L Squared?

Ratnavel: I'd invite anyone looking to learn more about Digital Signs, Wayfinding, meeting boards or kiosks to contact me through info@lsquared.com or call our team on 877-344-1548.
To learn more read this month's review Digital Signage
---


[Click Banner To Learn More]
[Home Page] [The Automator] [About] [Subscribe ] [Contact Us]