---
Digital Signage


Working together, separately with the IoT.

Pleased to provide a review of a Digital Signage company that works together, separately with several organizations. These are the models that we all are moving towards, showing our clients who we work with and our separate added values. Our Building Automation companies will be judged by our collaboratory of resources of all aspects of not only automating but IoTing our buildings. As we move rapidly to the IoT and the convergence of everything we will need to find companies to work with and one of the drawing cards will be their known collaboratory of folks that they work with to provide their separate value added services.

Take a look at the partners in their collaboratory.
http://www.lsquared.com/blog/partners/
But they function and educate us as individuals who provide a broad range of solutions.
Their web site blog is all about helping us learn about Digital Signage. This is a model we need to evolve to. Often we need to educate our new clients about many things they do not know so they can better understand why we can separately add value to the industry we work together with.
What we do: L Squared provides complete end to end Digital Signage solutions. Digital Signage offers a powerful opportunity to reach your audience at the right place and at the right time.
They provide good examples of various projects they have done that allow us to quickly and simply display, attrack, engage, interact.
A project example follows:
This project was undertaken in three phases as each was independent of the other and had different priorities in terms of complexity and need.

First, we addressed the most critical of the three issues. The conference centre screen's existing signage was not working well. It was wasting time for staff and not providing the level of service the customers came to know and expect from The International Centre. L Squared retrofitted the existing Digital Signage screens with an upgraded media player to eliminate the constant down time, then upgraded the software platform to a cloud based solution that integrated with the backend meeting scheduling system (EBMS) and put the system on the managed service for remote monitoring and support. This drastically reduced technical problems and eliminated double entry saving the event management staff valuable time and improved customer service dramatically by allowing customers to use Logos and accepting changes to meeting information at the last minute.
Next phase was to replace the existing backlit advertising screens with Digital Signage to expand the number of advertising opportunities through a rotational system. This was a simple rollout of a Digital Signage network based on L Squared cloud software. This was implemented quickly and allowed the International Centre to immediately start generating additional revenue. It increased the revenue potential by providing up to 20 advertisers on the same screen.
The last phase of the project was to implement large format Interactive WayFinding kiosks in the heavily used entrances. The interactive WayFinding system shows 2D rendered map of the International Centre with all the key areas and outlets. The user can easily understand the map and navigate their way to any show or designated hall. To make using the kiosk even easier, the software was integrated with the meeting engine. Everyday, the events taking place were also displayed on the WayFinding, and users had the option of selecting either the event by name or location and an animated path was drawn on the kiosk map from that location to the selected destination. QR codes were also integrated for mobile compatibility and takeaways.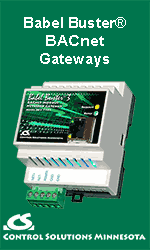 Overall, the projects were completed with excellence with little disruption to work flow and at a very cost effective price point within budget. L Squared remains the technology advisor to facility operation and is completing Food and Beverage digital menu project in the summer of 2014.
Summarized in this video

Complex thoughts well presented educating us while they explain their added value.
The Digital Signage market of course grew up with marketing but the Building Automation Industry did not. I feel it is of value to take a look at their approach to marketing their services and of course think about how we can best incorporate Digital Signage in our projects.

To learn more read the August interview Why is Digital Signage Important to Building Automation?
---


[Click Banner To Learn More]
[Home Page] [The Automator] [About] [Subscribe ] [Contact Us]