---
Articles - August 2020

Our authors provide insight into our rapidly evolving industry.
Please take the time to read their valuable articles.

"We shape our buildings; thereafter they shape us." Quote, Sir Winston Churchill More than structures? We are creating environments of trust. - Marc Petock, Chief Marketing & Communications Officer, Lynxspring, Inc.
BAS Trek: An Ongoing Mission to Explore New Smart Building Opportunities - Scott Cochrane, President, CEO, Cochrane Supply & Engineering
Metering – the basic step to optimisation "If you don't measure it, you can't manage it," for metering, we should add one more statement before it "if you can't collect it, you can't measure it," - Monika Musielak, Product Manager, Global Control 5.
Strategies for a Safer and More Humane Built Environment The great news is that we have the technology to make our buildings safer and adaptable in order to minimise transmission of COVID-19 - Philip R. Juneau, Chief Commercial Officer

FeverWarn According to the CDC, they recommend some form of temperature monitoring device be implemented before entering a manufacturing facility, commercial/business space, or school - technology from MachineSense (www.machinesense.com).
Creating 'clean economy' jobs Today we're going to talk about job creation - Lindsay Baker Sustainability & social impact leader
Jump into the Monday Live! Conversation Here are some interesting pull quotes from just one show – and it happens every week. - Therese Sullivan, Customer Marketing Leader, Tridium Inc. Contributing Editor

Occupancy Analytics Becoming an Essential Building System in the Post-COVID Era - James McHale, Managing Director, Memoori
Solving the skill shortage gap, forever. We are not only looking at a skill shortage gap, but also the skill transfer/knowledge transfer gap. - Nicolas Waern, "The Building Whisperer"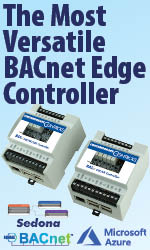 Energy Storage Key to Carbon Neutral World in order to support the economics of renewables, energy storage allows for the capture of energy produced at one time for use at a later time and is the key to ensuring a carbon neutral world. - Ron MacDonald, President, CEO, Zinc8 Energy Solutions
Taking Charge of Your BAS Career in the Age of Pandemics …the fear of loss is greater than the desire for gain (unless we are threatened.) - Skip Freeman, Senior Technical Recruiter, BASI Solutions, Inc.
A Year of Innovation I have been impressed by many of the forward-thinking companies who are changing the way that we work, live and play. I like the Remix - Manny Mandrusiak CD.Vocational Rehabilitation Consultant, Contributing Editor
Building Communities of Trust Trust is the new currency, a commodity we need to create as part of our remote renaissance. - Ken Sinclair JUL 23, 2020
Creating Outcome-Based Platforms of Trust The new corporate mandate requires that all employees be assured that they are safe at home, at the office, and in the in-between. - Ken Sinclair JUL 09, 2020
---


[Click Banner To Learn More]
[Home Page] [The Automator] [About] [Subscribe ] [Contact Us]