---

Aesthetically Attractive Digital Solutions for Today's Buildings

Jason Leslie
Sales/Marketing
Euro Touch Kiosks
The old saying goes: "You never have a second chance at a first impression". But is this true for commercial buildings? We get one impression from the elevation as we approach and another when we enter the lobby. Kiosks and digital signage are changing the face of buildings and lobbies. The convergence of up-to-the-minute information with controlled content helps tenants and guests to make their visit more informative, more productive, and memorable.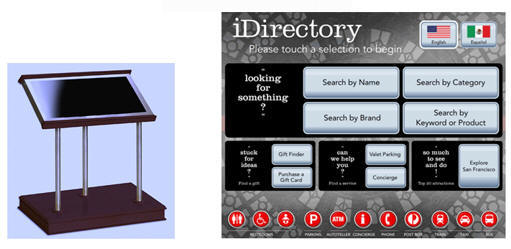 Inform, Empower and Interact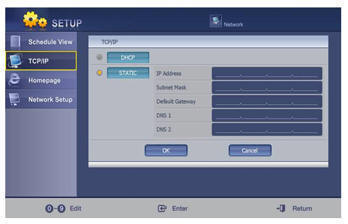 Today's kiosk enclosures and digital signage solutions allow you to build a powerful information network whose content can be controlled from a remote source over the internet, while being beautiful and making a powerful image statement. A building directory becomes interactive and allows a guest to locate individuals as well as get exact directions to a specific location or amenity within the building. During emergencies, kiosks and digital signage can be immediately utilized by security forces to notify or direct traffic flow. Content for digital signage is created by your IT team or by professional content creation specialists, who can bring in standard web applications combined with their creations. Software programs then easily control the delivery of this content on a scheduled or on demand format.
Add Services for your Guests
What information do your tenants and guests need at their fingertips? Touch a button on the screen and instantly see airport flights, traffic reports, weather, train and bus schedules and local amenities in real time. Did they forget where they parked? Display a map of your parking areas with prompts to help guide them. Are they interested in another property such as residential complexes offered by the owner? Give them a virtual tour, and allow them to input their information for contact. Bring in your web applications. Other options include improving ROI by streaming advertising from third parties, or placing options within the software to direct guests to them. A perfect application would be displaying the details and flow associated with energy conservation.
Improve Security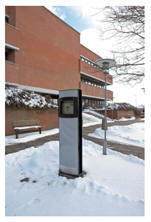 As we expand on the potential for digital solutions in building technology, we see the ability to leverage security capabilities. It is possible to direct traffic from inaccessible areas to proper evacuation routes by changing content, turning on or turning off screens remotely, as well as broadcasting necessary information to specific areas within the network. Web-cams and speakers can be utilized to give security personnel eyes and ears where and when they need them the most. Biometric or card swipe applications allow digital solutions to perform gatekeeper functions.
Don't Limit Yourself to the Inside
Tenants, guests and building management professionals need not be confined to inside spaces for this technology. Often, it is necessary to access applications outdoors, or provide interactive information capabilities outside. Today's digital solutions are temperature controlled, vandal resistant, and full sunlight-readable.
The "Wow" Effect!
Combine information delivery with drama! Let your imagination take you where no other engineer has gone before! From 10 inches to 20 feet and larger, digital signage takes your building to the next level! You can easily have several panels within a video wall that are interactive while other content, possibly some from third-party advertisers, plays on the rest.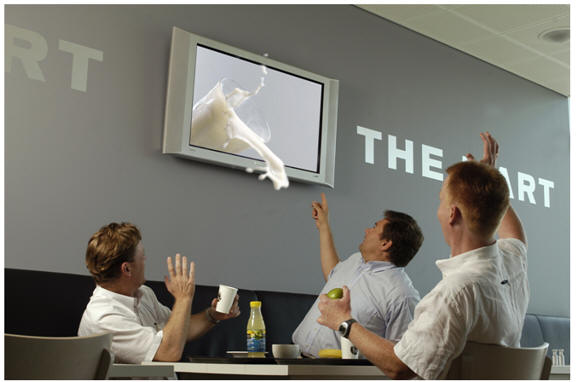 ---
About the Author
Jason Leslie - Graduate, Hofstra University, BA, University of Miami, MBA Marketing and Finance, 20 years experience delivering solutions to help business improve their bottom line and increase customer satisfaction. EuroTouch Kiosks and Mr. Leslie will be available for consultation at the National Retail Federation annual convention, January 14-17, New York City. They will be part of the premier "X07" display, the showcase for the event. Several EuroTouch Kiosk enclosures and digital signage solutions will be on display. Mr. Leslie welcomes your questions and comments and can be reached at Jason@eurotouchkiosks.com, or 866.401.EURO (3876).
---

[Click Banner To Learn More]
[Home Page] [The Automator] [About] [Subscribe ] [Contact Us]