---

When it comes to developing 3D graphics, most controls companies do not have the resources or software tools to design high level graphics.

Dan McCarty
Quality Automation Graphics
Why do companies outsource control graphics?











A common reason companies outsource graphics to a company like ours is because of time constraints on a project. A majority of our business includes providing graphics for controls companies, designing graphics using their symbol libraries. A large staff of professional designers allows us to complete projects in a fraction of the time it takes these companies to do it internally. The cost benefit ratio is easily justified.
Companies are also realizing that focusing on their core competencies and outsourcing graphics to design houses like ours, is very cost effective. We have developed internal tools that make us efficient when developing graphics, therefore affordable. We adhere to strict verification processes; all projects are reviewed through three levels of verification before being delivered to the customer.
When it comes to developing 3D graphics, most controls companies do not have the resources or software tools to design high level graphics. We utilize award-winning 3D software to develop 3D graphics, along with rendering software and extensive hardware rendering farms.
How can someone update their existing symbol library, or create a new one from scratch?
Our company provides these services as one of our core competencies. It is relatively affordable depending on how many symbols you have and the level of design you choose. Customers simply provide us with existing symbol libraries, pictures of devices, or drawings. We quickly development new symbols based on this information and return the new symbol library in your desired format.
The advantage of having your own symbol library opposed to buying particular graphics for one time use is change management. What happens if your customer wants to change the graphic? Changes have to be made by the original designer resulting in additional time and cost. Having your own symbol set, with source files, changes can be made internally.
In this competitive industry companies are trying hard to distinguish themselves from other competitors. Developing a symbol set unique to your company is one of the best solutions to separate yourself from your competitors. Not only does it furnish you your own graphics, it also provides graphic design standards and graphic consistency for ever project.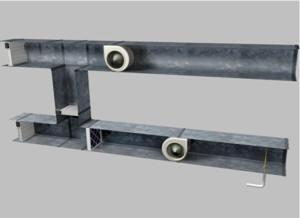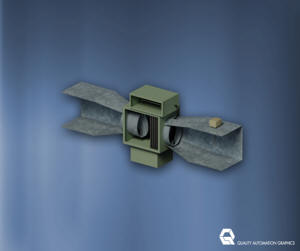 How has the building controls industry reacted to the advent of 3D graphics?
Until recently most major controls companies have been late adaptors of 3D graphic design. Some of this is due to the fact that software used by these companies, is not capable of handling the design parameters. Many companies are now realizing the benefits of photo realistic graphics, allowing easier navigation of building automation systems for end users.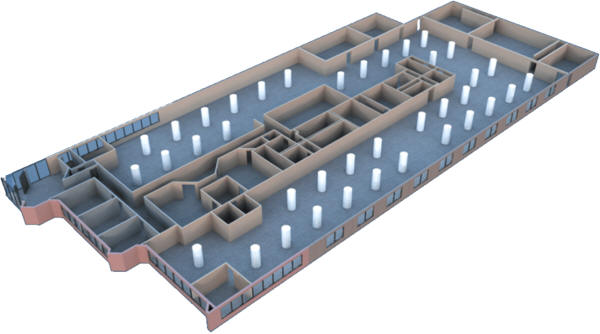 Do nice graphics really win projects?
Like any bid project, graphics alone will not win a project. However, great graphics do win projects when itís a competitive decision. Submittal graphics that we have completed for customers in competitive bid situations have a 90% success rate. Yes, pretty pictures definitely sell.
In another area, our customers are seeing the value of 3D graphics are by going back to their existing customers and up selling them with new and improved graphics. In many instances, large facilities have multiple systems with different looking graphics in place,. A solution we have provided to is a complete overhaul standardizing the graphics throughout the facility, regardless of the system they are using.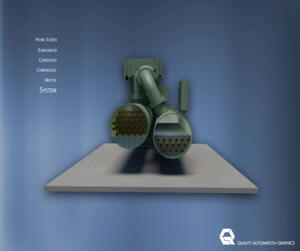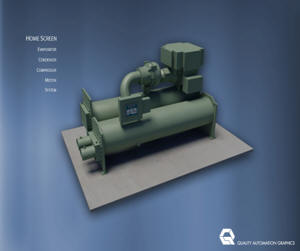 What are the affects of recent college graduates and the paradigm shift within our industry for better control graphics?
Utilizing recent college graduates in our company, most who have Interactive Graphic Design degrees, is a real eye opener. If you think back over the last 10 years and look at the video games and television graphics, you have your answer. The new era has arrived and this generation expects outstanding graphics and visually stimulating content.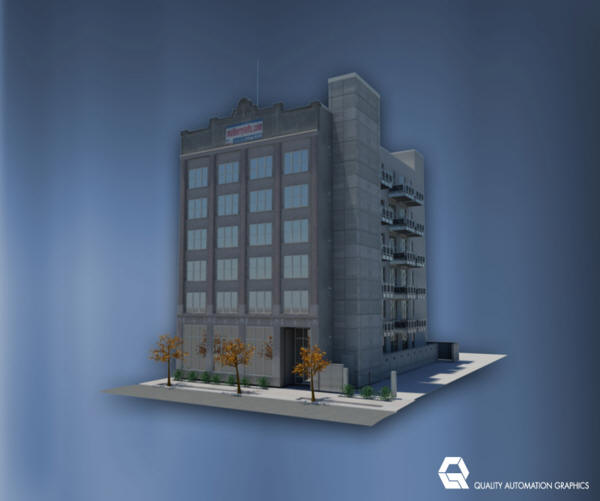 About Quality Automation Graphics
An industry leader in control systems graphic design for the building automation industry, our company has 8 years of experience providing control graphic solutions. Our team consists of 10 full-time, degreed graphic design professionals.
Our core competencies are graphic design services for the controls industry, focusing on: graphic design outsourcing services, 2D and 3D (for most building control software), 3D symbol library creation, graphic design standards development, and productivity tool design development. www.qagraphics.com
---

[Click Banner To Learn More]
[Home Page] [The Automator] [About] [Subscribe ] [Contact Us]