| | |
| --- | --- |
| | |
| AHR Expo Chicago in Review | Ken Sinclair |
---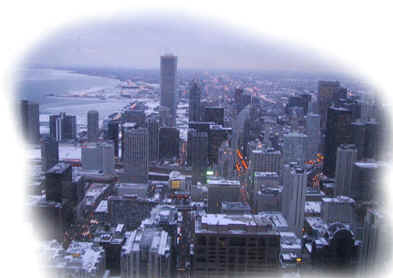 Chicago in Review
"My kind of town Chicago is" was not my thought before I went to AHR Expo, but I certainly saw a better side of Chicago at this year's Expo. I was in Chicago in the early 1980s and the images of rusty train trestles downtown and an inexhaustible supply of turn of the century abandoned warehouses, coupled with a record breaking cold snap had made Chicago not my first choice of large American cities.












What a renaissance the city has gone through! People have been convinced to move back into the city core by making it a live-able and even desirable place to be with parks, bike trails and skating rinks. The natural beauty of the lake side location was rediscovered by changing the gritty look of yesteryear into a comfortable feeling in a desirable major city core. The renaissance still continues as old warehouses are being converted to up scale living units. Jane and I were able to walk several miles in both directions from our hotel in comfort while admiring the smorgasbord of old and new world class architecture. This picture was taken with my digital camera from the 96th floor of the Hancock Tower.
It was a very successful event for the Large Building Automation Industry and International Exposition. The AHR Expo Building Automation & Control (BAC) Showcase was bulging with excitement and new web based ways and device interconnections. The showcase covered:
Building Automation Systems

Energy Management Systems

Climate Controls

Network Integration Protocols

Facility Management Solutions

Internet Connectivity

and more
Products were designed to woo the building owners intent on using today's technology to increase their Return On Investment "ROI". Elegant web based solutions that mesh with the corporate enterprise rather than custom created proprietary solutions were the order of the day. Browser based presentation rules and slick dynamic updated spreadsheets and word documents allow a familiar office type interface with our industry's real time data. The description offered by one vendor was that we are living in a time when our building interfaces can be anywhere from Mayberry to StarTrek.
Our industry's task is to help building owners make these awesome transitions. I had several good discussions with industry leaders about repackaging the industry to sell StarTrek solutions.
The bit suppliers of the industry all had a common theme of stuffing more functionality into their products while supporting identified interconnection paths. Traffic was brisk as much information exchange was needed by all to explain the feature rich products and services. All exhibitors provided connection to the power of the web to continue their messages and relationships after the show.
Our advertisers were well represented at the show click here for more information about the products they displayed.
Dave Branson and I, pictured above, had fun putting on our Four Building Automation Sessions. We had good interaction with the attendees and look forward to Anaheim and moving towards more on line interactions and presentations.
---

[Click Banner To Learn More]
[Home Page] [The Automator] [About] [Subscribe ] [Contact Us]