---
The Reinvention of Building Automation (BA)

Building Automation is evolving to a web service that is greatly enhanced with online services.

Ken Sinclair
Editor, AutomatedBuildings.com

As submitted for
ASHRAE/AHR Expo
Show Daily
Chicago, January 2009
My 10th year of presenting Building Automation free education sessions at AHR Expo as the editor/owner of AutomatedBuildings.com has allowed me to see a lot of changes in our industry, including a rapid metamorphosis into web-enabled controls. This has greatly enhanced the already powerful direct digital controls while allowing our buildings to become an interactive part of the Smart Electrical Grid. Internet capabilities allow HVAC equipment connected by our open BA standards to be viewed as a controllable load for GridWise and Demand Response thinking.











The power of enterprise languages such as XML coupled with a movement to Open Source software solutions is fueling our reinvention. Building Automation is evolving to a web service that is greatly enhanced with online services. Our new found connectivity allows more to be achieved with less human and natural resources. In our present economical situation we must use less while providing better services and still communicate our successes with digital signs in the lobby and with building centric web sites; both now part of BA.
One trend is to use the BA as a remote commissioning tool. This allows online web services to be connected to continually optimize and commission. Low cost camera technology allows remote viewing of critical equipment.
Net zero off the electrical grid building designs now depends heavily on BA's connected interaction to orchestrate renewables such as solar and wind with or without the electrical grid interaction.
Day Lighting (substituting outside ambient light to replace internal electric light) requires a significant BA interaction with clients and ambient light sensors as well as motorized fenestration control. Open standards are making this possible.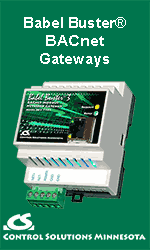 Our buildings must be green, but present a financial blue bottom line of sustainable connected real estate. Our existing stock of large buildings in North America, which typically use up to 50%A more energy than they should, presents a huge opportunity for reinvention. Use your visit to AHR Expo Chicago to increase your understanding of the BA revolution. Be part of the free education sessions as well as visit the Building Automation Showcase on the exhibition floor.
A Typical heating, ventilation and air condition systems are 50% efficient compared to fully integrated systems. Source: U.S. Green Building Council, Cisco Systems, The Hartman Co.
GridWise is an entirely new way to think about how we generate, distribute and use energy. Using advanced communications and up-to-date information technology, GridWise will improve coordination between supply and demand, and enable a smarter, more efficient, secure and reliable electric power system.
Smart Electrical Grid. http://www.nist.gov/smartgrid/
Welcome to the NIST Smart Grid project website. Our goal is to provide you with information about what NIST is doing in response to the Energy Independence and Security Act of 2007. In Title 13 "Smart Grid" of that legislation, NIST is called on to coordinate standards interoperability of the Smart Grid. Full text of Title 13 is available here.
---


[Click Banner To Learn More]
[Home Page] [The Automator] [About] [Subscribe ] [Contact Us]