---
My AHR Expo 2018 Takeaways

Expo's education sessions have created an annual pop up learning venue that keeps our industry-current, while encouraging industry sages to bring their younger mentors, their "IoT mini Me's" to the show.

Ken Sinclair

Founder, Owner, Publisher AutomatedBuildings.com

Just back from the greatest show on earth, AHR Expo 2018 Chicago the largest ever over 72,000 folks.
It was a very busy time for us, but we were very pleased with our six educations sessions while being part of the 61 education sessions
These education sessions have turned this event into an annual pop up learning venue that keeps our industry current. A trend I saw this year was that the industry is starting to bring their younger mentors and new employees to the show; their "IoT mini Me's" ....big smile. So that is my first take away that this ever-growing event has become the melting pot for the old and new to get a toehold in our rapidly changing industry.
As Automatedbuildings.com is part of the show, we depend on others to report on what they saw. Below are links to their reporting in no particular order.for

This was my favorite takeaway which was captured on video by ControlTrends.org. Thanks, guys excellent reporting of industry insights. As always I learn so much from this event.
Sixth Annual Connection Community Collaboratory — A Panel of Industry Thought Leaders Deliver a Successful Session Moderator Ken Sinclair, Automated Buildings, was joined by a panel of veteran industry experts: Marc Petock, Trevor Palmer, Troy Davis, George Thomas, and John Petze at the Sixth Annual Connection Community Collaboratory held at the AHR 2018 in Chicago. The session was very well-attended by a mixed audience of Manufacturers, Building Owners, Engineers, System Integrators, and HVAC Contractors — and began with each panel member giving an overview of their perspectives on a range of current industry topics such as IoT, Edge Devices, Edge Processing, and the impact of IoT micro-controllers — advancing into several highly interactive discussions. Ken Sinclair summed up the success of the collaboratory best: "In the past, our sessions have primarily focused on software, analytics, and protocols. For the first time ever, hardware started to enter into the conversation with the likes of Raspberry Pi's, Beagle boards, Amazon Echos, and Hey Google's; a very interesting transition, which led to some extremely interesting discussions."
How Will We Create Value From Our New Found Edge Data and Bring It Back to the Hive to Discover New Ways of Providing Comfort, Health, and Satisfaction in Our Buildings?
Transforming our industry with IoT at AHR Expo Everywhere you look at AHR Expo 2018 you see the transformation of products and services; our complete industry intertwined and being transformed with the Internet of Things (IoT).
LEARNED AT AHR EXPO 2018: THE OPEN, INTELLIGENT EDGE OF BUILDING AUTOMATION - Scott Cochrane, president and CEO of Cochrane Supply & Engineering, addressed a full room at an AHRExpo Education Session on Monday January 22nd, 2018. He talked about how new ways of operating within the controls & automation business were emerging as the PC client/server era, transformed into the Cloud era, which is now giving way to the era of smart devices and edge computing. Edge devices and mobile apps are starting to change how we manage HVAC, security, refrigeration, lighting and other facilities management services. Cochrane recalled the day almost 30 years ago when his father, who founded Cochrane Supply, first grasped how the change from pneumatic controls to DDCs would forever alter his business. The elder Cochrane said, "Son, we are going to sell a lot of computers."

Growing the open, intelligent edge This Monday afternoon education session at AHR Expo 2018 was moderated by Ken Sinclair, owner/publisher of AutomatedBuildings.com, with Therese Sullivan of Building Context, Ltd., and Anto Budiardjo, Fractional Entrepreneur, as speakers.
Great job Phil thanks for providing this valuable course for our industry. Phillip Zito Online Training Courses + Books | Helping Building Automation Professionals Advance in Their Careers I had a great time presenting Building Automation 101 at the ASHRAE Expo. And I was extremely fortunate that I was able to record the presentation. For those of you who missed the presentation, you're in luck. @Ken Sinclair Thanks for connecting me with this opportunity.

Aaron Gorka Innovation Manager - ANT Technologies Ken Sinclair ... You challenged to engage MORE young-people in our HVAC & Control Industry --- ACCEPTED : )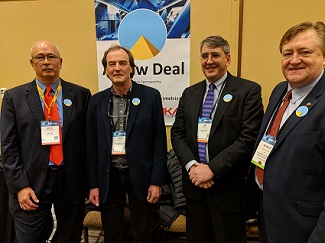 The New Deal Initiative Today, the industry is grappling with the impending disruption brought about by information technology, specifically the "digitalization of everything" under the moniker of the Internet of Things. - Jim Lee, CEO Cimetrics, Inc. The blog became the inspiration for a white paper to be created under the auspices and guidance of CABA (the Continental Automated Building Association), the industry body that lies at the center of industry discussion, education, and advancement.
Can building automation improve productivity? Short answer: yes. Long answer? If done correctly it can improve attraction, retention, and engagement of employees.
The future of intelligent buildings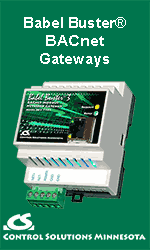 The CABA-presented seminar reveals the results of a $130K research project. Ron Zimmer, president of CABA, speaks at the Intelligent Buildings: Design and Implementation seminar at AHRExpo 2018.

Lynxspring and SkyFoundry to Demonstrate New Embedded Analytics Solution for Building IoT Applications During AHR Expo 2018 By embedding SkySpark® Analytics on the Onyxx® hardware platform, advanced analytics can be processed locally at the device-level, providing real-time intelligence without requiring data be sent to the Cloud for analysis. The Onyxx® SkySpark® Edge Analytics solution supports data access via BACnet IP, Modbus TCP, Obix, Project Haystack, SNMP, Sedona, OPC UA, MQTT, SQL, CSV import and a REST API to enable connection to the vast majority of equipment and control systems found in buildings. "Building owners and operators are looking for faster, near real-time analysis of the mass volumes of data produced by equipment systems to improve operational decision-making. It can now be said that the data produced by a device is now more valuable than the cost of the device," said Marc Petock, Chief Communications Officer, and Vice President, Marketing at Lynxspring. "Real-time access to data within buildings and facilities is now mandatory and no longer optional. We are in an era where data technologies and analytics need to provide customers a way to capture data from different sources, make it consistent and meaningful, and use it across multiple applications."
AHR FAQ 2018 What is new from Distech Controls? A customizable, best-in-class touchscreen that integrates lighting and HVAC controls in one unit- Trevor Palmer, Vice President Product Management, Distech Controls
Sunday evening, the 2017 ControlTrends Awards took front and center stage at the Hard Rock Cafe in Chicago. Marc Petock and Kimberly Brown co-hosted the ControlTrends Awards ceremony for the superstars and heroes of the HVAC and Building Automation industries. The 2017 Top Gun Awards recipients were recognized (see below), as was the 2017 Petock Award winner Trevor Palmer, Distech/Acuity Brands, and the ControlTrends Awards Hall of Fame inductees.
Trying to get our industry message to a larger audience while engaging the IoT community Ken strives to be a Catalysis/Harbinger of the IoT future. His goals are to inform his readers of the future of building automation, which will involve the full embrace of IoT. Ken believes that systems will be smarter, self-learning, edgy, innovative, and sophisticated and that they will automatically configure and integrate new equipment to optimize themselves, to self-manage and self-heal while reinventing purposeful, productive, desirable buildings and accommodations. And Ken wants to help grow our only real resource/asset, our younger people, by reaching out to youth with messages about our vibrant, vital and rewarding industry.
---


[Click Banner To Learn More]
[Home Page] [The Automator] [About] [Subscribe ] [Contact Us]