---
| | |
| --- | --- |
| Editorial Comments by Ken Sinclair | |
Channelling Change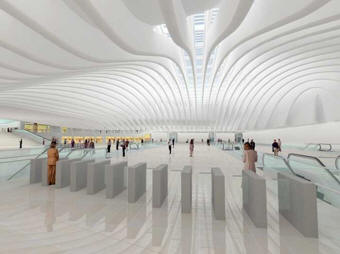 Our last three issues have talked about the significant changes that are going on in our industry; our July issue tackles the task of how can we best channel our efforts to become part of this change. It has become very clear that no one identity will provide the complete changes we are describing and we must all organize or channel our products and services and choose our partners so we become the change we seek. We are very pleased that AutomatedBuildings.com's connected technologies and supporters have the power to provide the changes and seize the new opportunities that abound.
Contributing editor Jim Sinopoli starts us off with providing his The Top 10 List For Successfully Integrating Building Systems while Mark Walters, Chairman, Z-Wave Alliance tells us about his wireless path in his article Wireless Control and Automation Made Practical and his interview RF Interference Problems.
Anto Budiardjo is Looking Back and Ahead while telling us about the opportunities surrounding Demand Response (DR) that exist at the DR-Expo™ in Chicago. Tom Hartman asks the question; " Are Industry Groups The Solution or the Problem?" to achieving SUSTAINABLE BUILDINGS.
An article on BAS Graphics - Past, Now, and Future tells us about the power of new graphics and shows us how web pages and BAS graphics are becoming one in the same. It was nostalgic for me to link back to some BAS Graphic history l wrote in 1999 SO HERE IT IS - "My prediction for the future is that we will see the separation of the vendors involvement in the graphics and data presentation. Both Internet or Intranet type HTML multi platforms available anywhere presentation, will become the standards. This will allow the data to be easily organized into a common non proprietary presentation application. We are presently working in this exciting area. Existing vendors will be required to concentrate their traditional hardware data into TCP IP protocol, to pass information to a dynamic internet database. Virtual operating systems will allow control from any browser on the internet or intranet.".Radical words in 1999.
A new channel of opportunity in day lighting control is discussed in the article NRG Systems Energy Savings with photosensors constantly monitoring outdoor lighting levels and controllers automatically adjusting the fluorescent lighting to maintain the desired ambient levels.
I attempt to demonstrate my math skills with an article Connectivity + Convergence + Confluence = Change
Steve Widergren the Administrator for the GridWise Architecture Council tells us how Grid Interop: is Closing the "Distance to Integrate"
Drop-in Networking Solutions enables breakthrough applications in new physical locations that were not previously possible and facilitates product/service differentiation, new levels of customer service and potentially new revenue streams.
Our second ever control column by Steven R. Calabrese tells you how to control packaged rooftops RTU Operation
July Reviews Still Waiting. . . for SOAP provides insight for Lighting Opportunities for Change

Connectivity Changes Everything
Our last two issues of AutomatedBuildings.com have focused on change in our industry; this change is being driven by the powerful ever evolving connectivity. This new found substance "connectivity" is no longer a concept; it is a reality that is changing how we work and what our industry will look like in the near future. Connectivity concepts such as the smart grid, the greening of buildings with better connections to everything, coupled with connections to powerful web services plus the notion of Buildings 2.0 are all creating new directions and markets for our industry. This requires that we all re-examine our core business models and make adjustments for connectivity. Our June issue gives you a peek at how connectivity changes everything as our authors talk about aspects of this new virtual substance that you may not have even thought about.
Building on BuilConn - Anto Budiardjo tells us about his successful ConnectivityWeek / BuilConn in Chicago in which Convergence took a significant step forward. Imagine a complete week to discuss Connectivity. Frank Capuano shares industry views from this event in his Connectivity Daily. In an interview with Denis DuBois we increase AutomatedBuildings.com connectivity with connection to his sound bits of interviews from Chicago in MP3 format as our first connection to podcasts.
Put your headsets on or turn up the volume and explore this new connectivity medium
Of course the GridWise movement is built on connectivity and Jack McGowan connects us to the practitioners that are making it happen.
Toby Considine writes this about the next level of connectivity and provides us connection to his Blog in his interview New Daedalus "Today pervasive intelligence in every aspect of the design, construction, and operation of the building, as well as the intelligent interaction of the building with the outside world, is making the most profound changes to the way we build and operate buildings since Daedalus. I think it is time we discuss the new archetypes."
From the review oBIX, Building 2.0 from Toby's Blog this new connectivity avenue is unfolding; "What is more interesting is the interest being shown to oBIX external to the buildings domain. The National Building Information Modeling Standard (NBIMS) and the oBIX committee have met to explore relationships between the standards, focusing on whether Energy Models developed directly against NBIMS models can be compared to live data from control systems read by oBIX to produce live models (or instantaneous commissioning)".
Tom Hartman gives us his view of how connectivity can be turn into accountability in his article Making Energy Efficiency Accountable "With the current state of controls and integrated networks, the accountability requirements for such a financial process do not require large budgets for measurement and verification nor ongoing commissioning. The reporting system can be easily built into each project and like my loan officer, the efficiency program manager should be able from her or his desktop computer to click on each project and see if we are up to date in our energy savings payments."
Find out how even your car is getting connected in an article by Jim Sinopoli Smart Parking Garages? Integrated building technology systems can improve the functionality and value of buildings, even those such as parking garages. Increasingly, technology will shape how a variety of facilities will be managed and how users will work, live, even park their cars.
In the article Truly Brilliant Buildings Deke Smith, AIA, Executive Director, buildingSMART® Alliance National Institute of Building Sciences tells about his vision in which ever piece of building data is connected. The primary principle is to ensure that you collect and store data once when it is generated and then re-use it throughout the lifecycle of the facility.
In this month's article "Confluence, Convergence, Confusion….Kaboom" The need to create standards for delivering automated building systems information real time to first responders en route to an incident. Allan Olbur applies connectivity to real time tasks few of us have thought about and tells us how this will changes everything and advise us that the Automated Building Systems industry must move towards meeting standards for "rich content" delivery of information, with particular emphasis on delivering life safety information to first responders.
New Advances in Digital Display Technology tells us about how the next generation of digital signage has removed the need for costly cabling and complex installations Utilizing data cellular and internet protocol technology,
A new feature of this months issue is our column on back to basics like Interlocking of AHU Safety Devices by Steven R. Calabrese, Automated Logic Chicago
Of course all our interviews keep with the connectivity theme.
With connection to new Blogs that Exploring Intelligent Buildings and their interactions with the world around them sound bits in what the industry is saying and our new column feature AutomatedBuildings.com is doing what we can to keep you connected to connectivity that is changing everything.
Of course the news just keeps flowing thru our web site and RSS feeds daily, and of course the only way to truly find what you are looking for in the vast quantity of information on our site is with our site search engine http://www.automatedbuildings.com/search/sitesearch.htm
Be sure to check our event calendar to see the number events we have in our future.
Lots of information and links in this issue use the menu on your left to explore.
We have been working on improving our web site by reorganizing how we handle the great number of news release we receive daily. We now provide a

News Feed ( Which Needs a RSS Feed Reader ) and have provided a New Our RSS news feed rendered into HTML
If you are like I was and do not know what RSS is RSS is a Web content syndication format. The name is an acronym for Really Simple Syndication. Read here for more details http://blogs.law.harvard.edu/tech/rss
We are slowly figuring it all out so bear with us as we install this new news service. Please share with us any suggestions you have to better use this approach and others to keep moving our web site forward to meet your needs. Our News Briefs are now handled as news feed items and archived for now in a similar format as before.
Tell our sponsors you saw their ad on the AutomatedBuildings.com web site and thank them for supporting your free access to evolving Automated Building Industry information. Click on their ads and view their valuable products and services. Please review all Our Sponsors.
Be sure to check our event calendar to see the number events we have in our future.
As I always say, it is a great time to be in the news business for our industry.
Send comments and suggestions to news@automatedbuildings.com
---


[Click Banner To Learn More]
[Home Page] [The Automator] [About] [Subscribe ] [Contact Us]