---

Real-time visualization of sensor data in Excel-generated BIM on Google Earth is a world premier.



Kimon Onuma, FAIA
ONUMA, Inc.
ko@onuma.com


Michael Bordenaro,
BIM Education Co-op
mbordenaro@cs.com

The building industry and the energy industry made an electric connection with BIMStorm® at ConnectivityWeek 2009. During the BIMStorm® live demonstration of web-based Building Information Model software, ONUMA. Inc. showed the first real time connection between live sensor data and web-based Building Information Models. Now building operators can literally see where energy problems are with the help of building models. The BIMStorm® also demonstrated that similarly constructed grid models can allow energy system operators can to see where there are problems on their grids.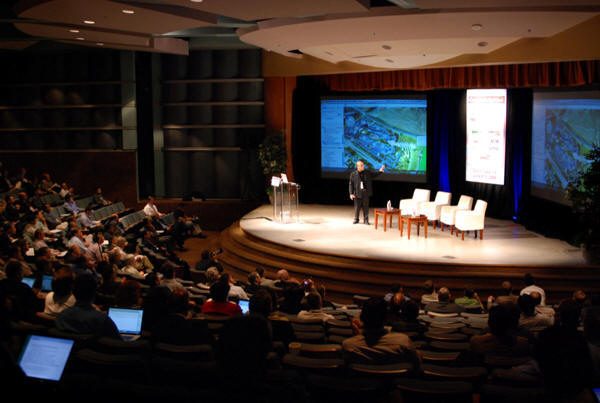 The ability to see the real-time connections between building operations and grid operations in web-based BIM will be at the heart of a rapidly deployed Smart Grid, which is a mission of ConnectivityWeek organizers and participants.

BIM and BIMStorm® "Elevator" Definition

Building Information Model (BIM) software and processes leverage the power of visual relational databases to improve decision making and business processes to revolutionize the building industry.

BIMStorm® is a Cloud Computing collaborative process that leverages web-based BIM capabilities of the ONUMA Planning System® to enable data sharing among multiple software programs including BIM software, GIS systems, Google Earth, Excel and other sources, even hand drawings. These online "Brainstorms" allow surprisingly vast amounts of business processes to be reduced from months to hours while improving accuracy by not recreating data in each step of a project.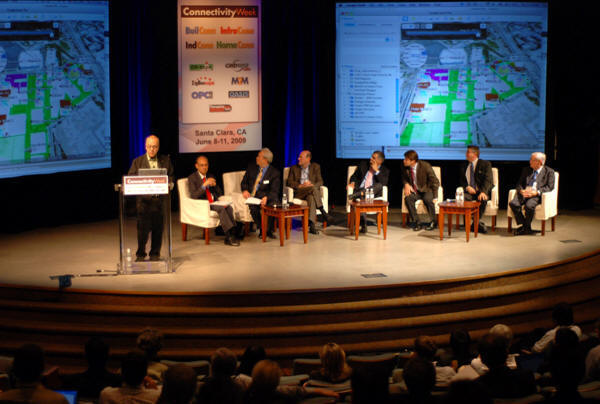 BIMStorm Connect presentation at Connectivity Week
In this first BIMStorm® to create live models of renewable energy Smart Grid components, in-person and remote participants also created simple buildings that were landed on San Jose in Google Earth in a matter of minutes. Although simple massing models, the 20 buildings included early energy consumption estimates, cost estimates and other data including visually representing the size of the buildings on a site in Google Earth.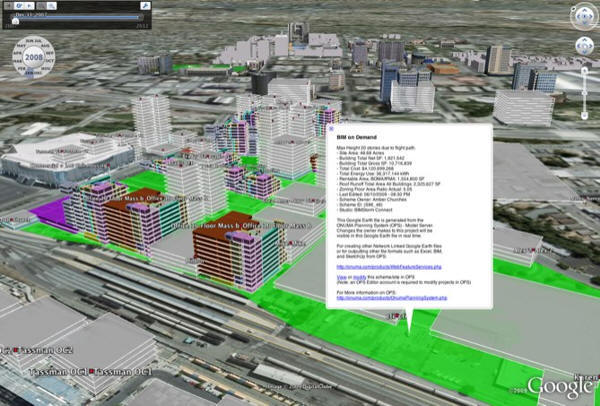 San Jose study created by audience participation.
A San Jose city official in the audience indicated the location of the planned campus was appropriate but some of the building heights were not in line with code. Admittedly a very simple assessment of 1,936,535 square feet of total building space created "in the cloud," but it was a strong demonstration of what is possible today with web-based BIM.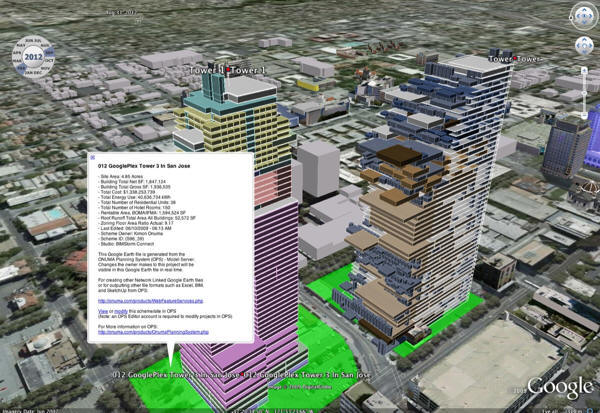 Googleplex landed in San Jose, first in Excel on right and then resolved on left.
In further demonstration of what is possible today, renewable energy generation systems were modeled on-the-fly in a matter of minutes, energy sensor data was shown to be visible live in models on Google Earth and a buildingSMART alliance GSA demonstration model with pre-calculated energy analysis was landed next to the GooglePlex on Google Earth.

Named "BIMStorm® Connect" in the ONUMA Planning System® project files, the demonstration showed that the intelligent object process used to create virtual buildings can be used to create intelligent solar panels, wind turbines, biofuel generation systems, monitors, meters sensors and other component of the Smart Grid.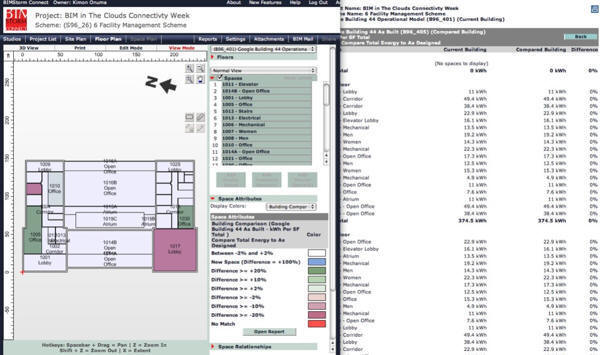 BIMsense™ live sensor data linked to live BIM in OPS
These virtual components can be linked with GIS data, cost data, energy data and almost any other data. The components can then be presented in a visual manner on Google Earth with all of the "intelligence" available for review and for transfer to more complex analysis software when open standards are used.

Smart Grid Models Today

The ability to visualize the virtual Smart Grid components in context can help improve consensus decision making about complex issues. BIMStorm® Connect also demonstrated that a simple Excel spreadsheet can be used to create a 3D object of wind turbines and land them on Google Earth in matter of seconds.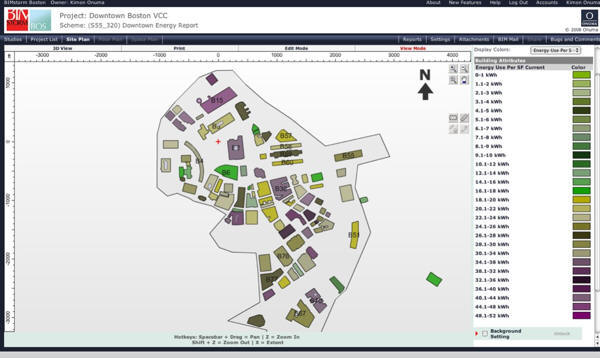 Existing buildings in Boston shown with BIMSense™ data turned on to simulate current energy use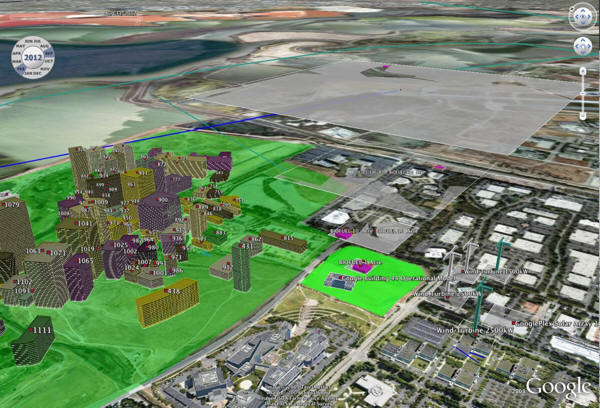 Boston City Building landed adjacent to Googleplex. Energy generators such as wind turbines and biofuel farms shown on lower right
A biofuel renewable energy generation system was described in Excel spreadsheets relating the acreage of plantings to production of seed oil that creates diesel fuel and the amount of electricity created from the plant detritus. (1 acre = 200 gals seed oil = 170 gals diesel fuel + 4 megawatts of electricity from detritus.) There are more benefits to model, but with this basic data from an Excel spreadsheet there was enough visual information created rapidly, but accurately, to achieve consensus that the acreage needed to create a significant amount of renewable energy required moving the system from covering the San Jose airport on Google Earth to a nearby valley.

Solar panels seen on the roof of the GooglePlex on Google Earth and the public solar energy generation data from Google were used to quickly calculate the size of the solar array needed to provide all the energy for a new building adjacent to existing facilities very quickly A new light rail station was added nearby and downtown Boston was also landed across the street to provide a feeling of what a dense urban fabric would look like next to the existing GooglePlex.

Live Data Transfer Demonstration

BIMStorm® Connect featured remote participation from Vladimir Bazjanac, PhD, of University of California at Berkeley and the Lawrence Berkeley National Laboratory. Bazjanac presented energy analysis highlights from a recent buildingSMART alliance and Open Geospatial Consortium demonstration project.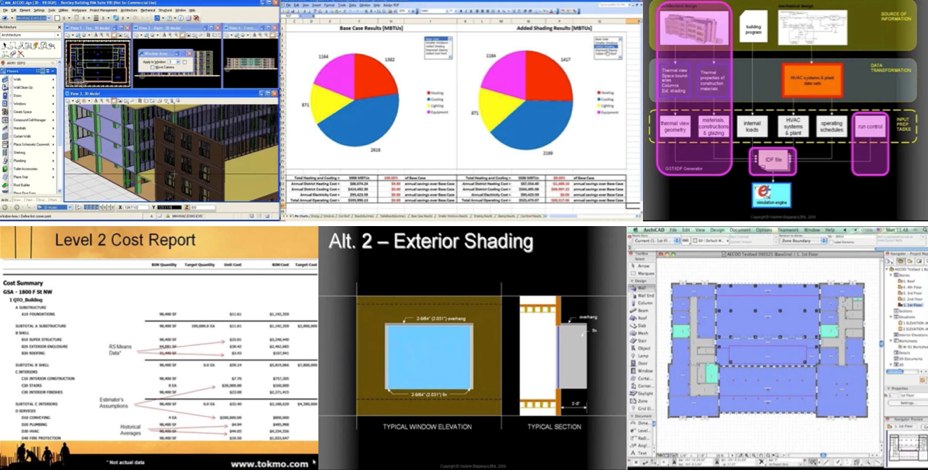 The AECOO-1 Testbed started by modeling a GSA building in Arhicad, included transferring the model data across Bentley's ProjectWise to one of Bentley's many BIM programs for design development, EnergyPlus for energy analysis, Tokmo for cost analysis and scheduling and into other energy analysis programs to show the capabilities of Industry Foundation Class (IFC) standards.
The project proved how multiple software programs that are compliant with the National BIM Standards and Open Geospatial Standards can share data in a way that greatly accelerates planning, design, analysis and modeling of all systems to greatly enhance energy performance of buildings.

Bazjanac showed how some window energy analysis was reduced from 2 weeks to 14 seconds when software properly complies with National BIM Standards.

In the buildingSMART alliance demonstration, an actual General Services Administration building was modeled in Graphisoft's Archicad, transferred through Bentley's ProjectWise project management software to Tokmo for costing and scheduling, EnergyPlus for energy analysis and to other programs.

Additional data transfers to other programs were made and at BIMStorm® Connect the model with all related data was "landed" next to the GooglePlex complete with energy analysis.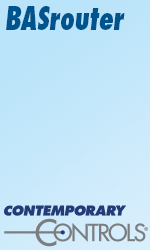 Overview

In a very short amount of time, significant improvements in real-time business process productivity supported by existing technology were demonstrated. Early planning decisions were made quickly based on expert knowledge brought in from a distance, the decisions were captured and used in more detailed designs and passed on to building operators with minimal loss of data.

Early models were then able to be used for real-time sensor data display during building or energy grid component operation.

Using open standards, as demonstrated by the National BIM Standards and the Open Geospatial Consortium GIS standards point to how building data and Smart Grid data can be aligned to provide surprisingly quick increases in productive building and grid inter-operation.

In addition to leading the BIMStorm® Connect, Kimon Onuma, FAIA, participated in the opening plenary session, the closing plenary Mega Panel and three other panel presentations. Also, the ONUMA Planning System® was honored with a Smart Services Buildy Award by popular vote of conference attendees.
---
About the Authors

Graphisoft once again generously provided a software prize to the highest level of participation in BIMStorm®. The BIMStorm® Connect Graphisoft Prize was awarded to the City of San Jose.

Kimon Onuma, FAIA is an architect and a software architect who has been a leading proponent of open standards to improve productivity and reduce waste in the building and energy industries. Pasadena, Calif.-based ONUMA, Inc. has won numerous awards for its significant contributions to multiple professional associations. ko@onuma.com

Michael Bordenaro is a Co-founder of the BIM Education Co-op, whose mission is to accelerate understanding and adoption of Building Information Model software to increase productivity and profitability in the building and energy industries. mbordenaro@cs.com
---


[Click Banner To Learn More]
[Home Page] [The Automator] [About] [Subscribe ] [Contact Us]